It's been a long time since anything has been posted here on Cinema Smack but it simply feels wrong to not celebrate the Halloween season. Though regular content and, most specifically, longform reviews may still be on hold for the time being, we'll again be posting mini reviews of horror films for the entire month of October during Cinema Smack's Second Annual 31 Days of Horror!
Last year, we stated that the goal of our 31 Days of Horror was not to simply cobble together a "best of" list or a history of horror but to curate a list of diverse films from all subgenres of horror that fans should seek out. This goal is largely the same here in 2021 but, given the recent hiatus on this site, we'll be using some of these entries to spotlight new films that haven't gotten the full review treatment. Of course, there will still be genre favorites, classics, and essentials on this list that span across 90 years of horror.
With that said, make sure to check back daily (or on our Facebook page) for each new entry. Now, here's Cinema Smack's Second Annual 31 Days of Horror!
---
October 1st: The Shining (1980)
Our first entry on the 2021 edition of the 31 Days of Horror was a tough cut from last year's list but also a perfect way to get into the horror spirit! As stated in last year's introduction, the omission of certain big name films was only to create a more diverse and interesting list instead of just a cast of usual suspects in the genre. In good conscience though, we certainly couldn't leave off Stanley Kubrick's horror masterpiece, The Shining, for a second straight year. This film sees Jack Torrance (Jack Nicholson) accept a winter caretaker position at the beautiful Overlook Hotel. Upon hearing of the sordid history of the Overlook, Jack still decides to move his family into the isolated hotel in the mountains and soon thereafter begins suffering from a mental breakdown. With no one else being able to provide relief, Jack's wife, Wendy (Shelley Duvall), and the couple's young son, Danny (Danny Lloyd), are largely victims of Jack's deteriorating mental state.
Based on a novel by horror maestro Stephen King, it's no surprise that a marriage between King and Kubrick would be considered a masterpiece. Though, Kubrick's vision was actually quite different from King's and the final product doesn't necessarily do justice to the author's original work. There are similarities, of course, but the performances (especially from Nicholson) don't follow the tone or overall message of the book. Yet, there's something to be said for the Kubrick film and how it has basically transcended its source material as, arguably, one of the best horror films ever made. Even with a TV miniseries remake and a sequel, Doctor Sleep, nearly forty years later, Kubrick's The Shining still stands the test of time and trumps any other iterations of the King novel.
Despite being quite a slow burn of a film, The Shining is one that every horror fan should watch at least once. For some, it may not live up to its legendary hype but it's something that needs to be experienced. The complete psychological breakdown of Nicholson's Jack Torrance is truly a performance of a lifetime. The scenes with Jack conversing with Joe Turkel's Lloyd the bartender or Philip Stone's Grady work to further Jack's paranoia and distance him from reality while providing some of the most chilling moments ever put on film. If you're a horror fan and haven't seen The Shining, then what are you even doing reading this. Go check it out.
October 2nd: Freaks (1932)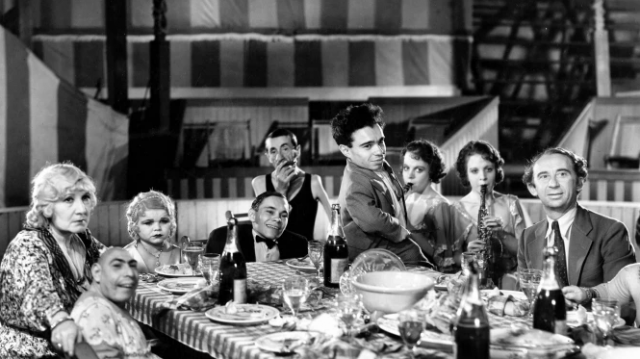 For the second entry on our 31 Days of Horror, we go back to the oldest film on our list and one that's certainly not a product of today's politically correct culture. Perhaps better known for his work on 1931's Dracula, Tod Browning's Freaks was a different experience entirely upon its release in 1932. The film centers on a group of circus performers led by a little person named Hans (Harry Earles) who becomes infatuated with a beautiful "normal sized" woman, Cleopatra (Olga Baclanova). Cleo and the strong man, Hercules (Henry Victor), make fun of Hans and his attempts to woo her until they discover a mass inheritance coming his way. From here, Hans and Cleo are set to be married before the other circus performers discover Cleo's ploy.
As previously mentioned, Freaks is the type of film that probably wouldn't (and moreso couldn't) be made in 2021. Browning used real life circus performers as his "freaks" including a legless man, a half man/half woman, pinheads, and a man with no limbs at all. FX's American Horror Story basically ripped the film off during its fourth season, dubbed Freak Show, but with its usual cast instead of a mostly real collection of circus performers.
Freaks is a tough film to categorize as it often isn't even remotely horror. Yet, it's always credited as a horror film given its final act and the film's overall unsettling nature. While it's often uncomfortable to bear witness to the cruelty and hardships that the "freaks" face, the film's message is quite ahead of its time for 1932 standards. It implies that it's the "normal" people who are the monsters, or the namesake "freaks," even though the circus performers are typically described as such. They're a sympathetic bunch but also not a group that anyone should disrespect or exploit either. The "freaks" stick together and aren't afraid to get their hands dirty if a situation calls for it. Ahead of its time and a marked improvement over Browning's classic, yet very flawed, Dracula, Freaks is another classic that genre fans need to give a chance.
October 3rd: Malignant (2021)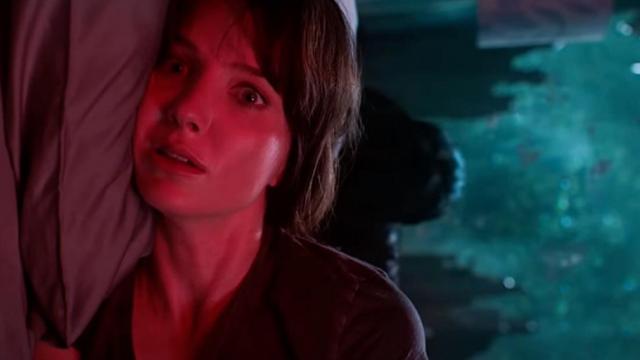 Our third film on this list is also the first of a number of new releases here in 2021. After a brief foray into the world of superheroes with 2018's Aquaman, director James Wan returns to the horror genre with Malignant. Madison Lake (Annabelle Wallis), a young pregnant woman living in Seattle, is a victim of domestic abuse when her husband, Derek (Jake Abel), smashes her head against a wall during an argument. Madison locks herself in her bedroom and dreams that a man breaks into their house and murders Derek. When she awakes, she discovers that her dream has become reality and Madison is also attacked by the mysterious killer. She loses her baby but continues to have frightening visions of real-time murders happening and must find a way to stop them before people start thinking she's crazy or, even worse, responsible.
Malignant is kind of a hard film to summarize without giving anything away. It's one of those films that's best to go into blindly and just watch the madness unfold. Most of James Wan's previous work has revolved around spooky stories, urban legends, and hauntings while something like Saw focused more on twists, turns, violence, and gore. Malignant kind of takes everything that Wan has ever done and combines it all into one nice little package. Yes, there are horror fans who just want another Insidious or Conjuring film and Malignant isn't really that. Then, there will be those that want more torture porn and demented forms of manipulation as in Saw but, again, this film isn't like that either. It's something different and is probably a huge reason why reviews have been so mixed on the film since its release theatrically and on HBO Max.
Criticism of the film certainly isn't unwarranted as it feels like a total mess when watching it for the first time. There are things happening constantly to different characters and in different time periods with little to no context. The thing that makes Malignant so impressive is that Wan is actually able to wrap all of these things up. As you continue watching through the film, the dots start to connect until finally all is revealed and you can soak up the film in all of its insane glory. It's kind of like Psycho meets Upgrade and, at least in our eyes, is high praise especially since Wan pulls it off so well by the film's end. While there are definitely some differing opinions on Malignant, it's a film that really deserves a fair shot from every horror fan. Some love it and some hate it but you can't say that it's not unique. It's a film that Wan wanted to make and he does so all with his own artistic horror flair.
October 4th: The Descent (2005)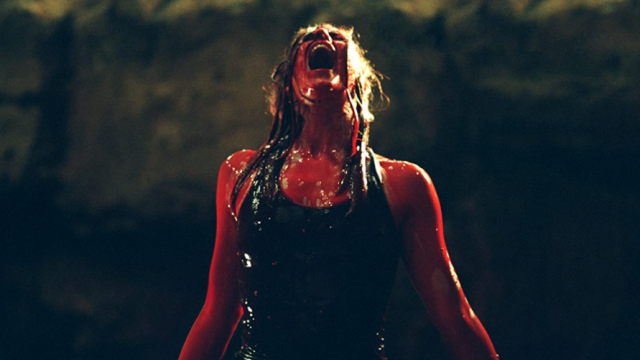 Thus far, we've covered a genre masterpiece, a classic counterculture cult film, and an entertaining, blood-spattered new release that's found itself a niche fanbase. This next entry is one that feels as if it often gets lost in the shuffle when discussing the horror genre despite its positive reception from audiences and critics alike. Neil Marshall's 2005 film, The Descent, centers on a group of friends that go on an Appalachian spelunking trip after one of the friends, Sarah (Shauna Macdonald), suffers a tragedy the year prior. After part of the cave that they're exploring collapses and another girl suffers an injury, the trip planner, Juno (Natalie Mendoza), reveals that she has led the group into an unexplored cave system and that they must find their way out. Not only do the girls have to find a way to escape but it turns out that they aren't alone in the caves as they're also being hunted by humanoid monsters.
The Descent came out at a time when horror seemed to be reaching some new heights in terms of popularity. New franchises like Saw and Hostel were attracting horror fans as well as casual audiences with a greater focus on gore and bloody spectacle instead of more traditional tropes. Even the obligatory classic horror remakes like The Texas Chainsaw Massacre, The Hills Have Eyes, and Halloween put more emphasis on excess and other exploitative practices. While The Descent definitely feels like a product of this time period, it's easily one of the more original horror films of the decade and it continues to hold up to this day.
The man (or woman) versus nature approach to the film's storytelling is brilliant and the film really makes its core group of women feel like invaders to someone else's home. They don't belong in this space and, because of Juno's carelessness, have clearly bitten off more than they can chew even before running into their monstrous foes deep within the earth. There are also some deeper seated conflicts among the women that play out nicely with the more direct threat. Even sixteen years later, it's just shocking how tight and effective Marshall's simple story is from start to finish. It's really not difficult to see how The Descent could be a film that some horror fans may have missed given the barrage of titles to come out during the time period but you'd be hard-pressed to find a more underrated and often forgotten film than this one as well. Forget films like Hostel, Wolf Creek, and Wrong Turn for your 2000's nostalgia and throw on Neil Marshall's The Descent if you're looking for a pulse pounding and bloody good time instead.
October 5th: Candyman (1992)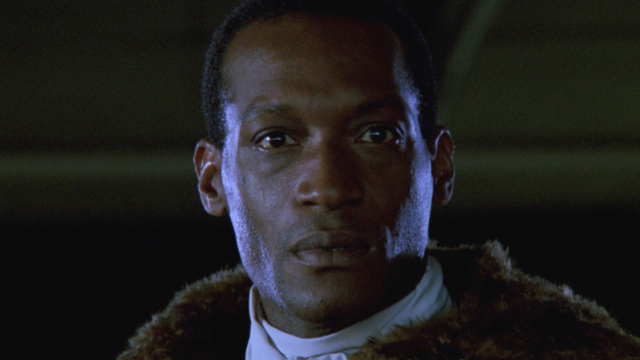 The next film on our list has already been featured on this site as it landed at #9 on Cinema Smack's Top 10 Favorite Horror Films list a few years back and we did a full review of it here. Bernard Rose's 1992 urban horror masterpiece, Candyman, is just that good that we have to discuss it once again. Based on Clive Barker's story, "The Forbidden," the plot sees grad student Helen Lyle (Virginia Madsen) exploring the horrific urban legend of Candyman. It's said that he's a vengeful spirit who kills anyone that says his name five times into a mirror. Of course, Helen is fascinated, yet unconvinced, by the legend as she visits the Cabrini-Green housing project in Chicago to learn more about a supposed Candyman murder. She soon decides to summon him herself and, all of a sudden, Helen's world spins out of control. She finds herself struggling to separate reality from fantasy and awakes at the scene of her own real-life nightmare.
It's crazy to think that, outside of Candyman, Bernard Rose is a name that almost never gets talked about. What's even crazier is that he's still pumping out new films to this day. Yet, Candyman is the only film he's directed that's ever really gotten any traction due to its social commentary on things like racism and sexism. Now, some of you may be wondering why we aren't talking about this year's maddeningly named Candyman that serves as a direct sequel to Rose's 1992 film. Frankly, we're ignoring that one because it's not very good despite the oddly positive critic reviews. The brilliant storytelling and subtle approach to conveying its underlying message is what makes the 1992 version a classic. Nia DaCosta's forceful and heavy-handed racial overtones along with constant talk about gentrification quickly become the focus of the 2021 film and its modern "scares" can't do nearly enough to give it the timeless feel of its predecessor. It's another Jordan Peele produced project that never gets passed the racism aspect. Yes, Candyman is a story built heavily around racial tension. However, Peele's problem is that he always seems to forget that he's a filmmaker trying to tell a story and not just an advocate for a cause.
This is why the original Candyman will never be duplicated. It was far ahead of its time and should be looked back on as not only a brilliant horror film but a brilliant film period. We don't need Jordan Peele and Nia DaCosta's lazy Black Lives Matter version to remind people that racism is bad. We need more films that convey this message without bashing us over the head with an obvious agenda. Bernard Rose's Candyman does this perfectly and never feels exploitive or too heavy-handed in its approach. Plus, how can we not mention Tony Todd as the otherworldly title character? He's simply amazing and should be reason enough alone to watch this 1992 classic.
October 6th: The Night House (2021)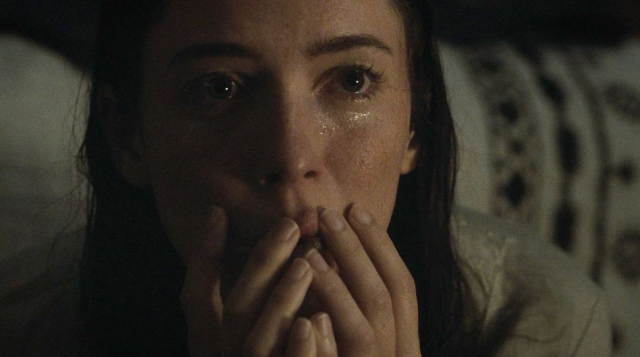 As we said a few days ago, this year's 31 Days of Horror will feature a number of brand new 2021 releases for viewers to add to their Halloween rotation. We change direction a bit with this one and ditch some of the gore of our last few entries. David Bruckner's new film, The Night House, follows Beth (Rebecca Hall), a recent widow whose husband, Owen (Evan Jonigkeit), shot himself out on the lake by their house with a gun she didn't know he owned. Beth tries to live a normal life while spending her nights drinking and going through her dead husband's things. She discovers a picture on his phone of a woman that looks just like her and suspects that Owen was having an affair. Beth starts digging deeper into Owen's life and uncovers some disturbing secrets including a mysterious unfinished house across the lake.
To go into any more detail about The Night House would be doing the film a disservice. It's an experience that any psychological horror fan should immediately get swept up in. Director David Bruckner has shown with his previous work on films like 2017's The Ritual that he won't sacrifice an effective slow burning story for the usual horror spectacle and gore. It should be known that The Night House is NOT your typical horror fare. It's more of a thriller/drama with the usage of real-life type of horror to cause tension and uneasiness in viewers. It's more along the lines of something like Pieces of a Woman than Halloween but it still sets itself firmly in the horror genre with Beth's complete mental breakdown and instability.
To be honest, The Night House has probably been one of the best films of 2021 so far. Despite being such a depressing and mentally distressing experience, the film has a wider appeal than some of the more traditional horror films. A story about grief and overcoming the loss of a loved one is a deeply personal story that anyone can relate to. On top of that, uncovering secrets and information about people you think you know should also strike a note with anyone watching this film. Also, Rebecca Hall has long been one of the most underrated actresses in Hollywood and, again, gives her all to this role. If you've yet to see The Night House, this is one that should immediately shoot to the top of your list this Halloween.
October 7th: Scanners (1981)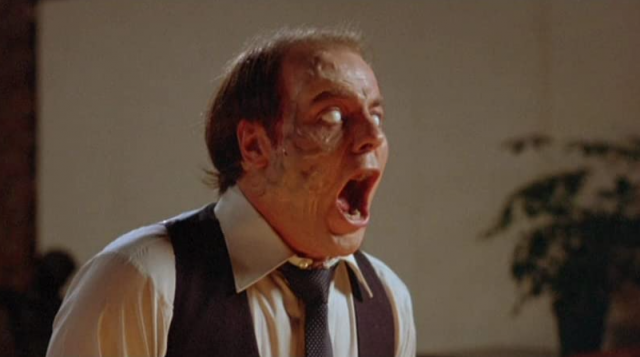 Just as we did last year, it's time to get a little bit weird with this next entry coming from the body horror subgenre. With so many films to pick from in the 1970's and 1980's, the obvious go-to for body horror is writer/director David Cronenberg. Last year, we centered on his 1979 film, The Brood, but this year we turn to his 1981 effort, Scanners. The film centers on Cameron Vale (Stephen Lack), a human telepath (also known as a scanner), as he's tasked with locating and stopping a fellow scanner, Darryl Revok (Michael Ironside), from waging war on the private military company, ConSec. Dr. Paul Ruth (Patrick McGoohan) chooses Vale for the job and injects him with ephemerol as a means to control and focus his Vale's scanning abilities. Of course, this assignment is easier said than done as Vale comes across other scanners along with Revok's own personal army trying to keep any potential enemies at bay.
Scanners is a bit of a strange film to discuss as it often doesn't feel like a horror film. Much of the film's plot is more akin to science fiction than horror. Yet, as the master of body horror, it's simply impossible to keep David Cronenberg off of a list of horror films. While we've always stated that The Fly is not only Cronenberg's best film but also one of our favorites on this site, there's a lot to be said for a film like Scanners. It's proof that horror hasn't always just been about body count and gore even though there's plenty of the latter in doses here. The best horror films have always been about story and execution and Scanners is no different. From the shocking beginning, viewers will be enthralled with the cat and mouse game being played between ConSec, Vale, and Revok while also wanting to know more about the world of the film. Even though it may be a bit light on context, there's always a level of intrigue that will keep viewers locked in from start to finish.
Scanners is often a film that people hear about but so rarely discuss in a casual setting. Much of this is due to the film's more spectacular moments. While we don't want to give anything away here, you probably know the scene we're talking about even if you've never seen the film. For the record, it's just as awesome as you'd expect it to be and so ahead of its time considering the 1981 release date. While Cronenberg never really settles for anything less than spectacular in regards to his films' biggest scenes, the one in Scanners probably lands at the top even over the brilliant effects work in his later films like Videodrome and, of course, The Fly. Speaking of being ahead of the times, Scanners also provides some relevant commentary on technology and the influence of big business in a time when the dangers of both are so often discussed. Though Scanners isn't David Cronenberg's best output, you can still see a true master at work and some amazing special effects that put many of today's to shame.
October 8th: Dawn of the Dead (1978)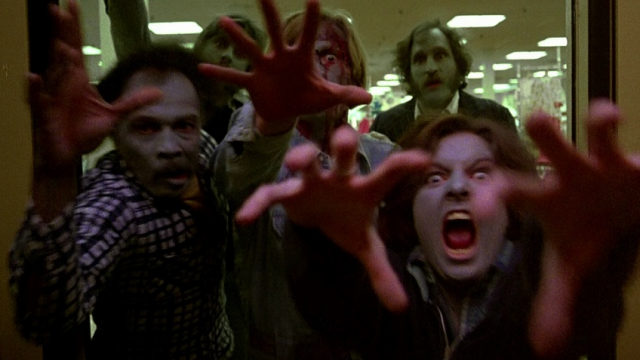 Yesterday, we talked about one horror maestro and, today, we're talking about another. For this film, we only have to go back a few years from 1981's Scanners to discuss George A. Romero's 1978 zombie classic, Dawn of the Dead. A pseudo-sequel to Romero's Night of the Living Dead, which we covered in last year's 31 Days of Horror, Dawn of the Dead centers on a group of survivors during the zombie apocalypse. Stephen "Flyboy" Andrews (David Emge) and his pregnant girlfriend, Francine (Gaylen Ross), escape an overrun city in a stolen helicopter with two SWAT officers, Roger DeMarco (Scott Reiniger) and Peter Washington (Ken Foree). The group takes refuge in a zombie infested shopping mall that they plan to clear out and live in given that it contains everything they need to survive. Of course, nothing lasts forever and things don't necessarily fall in line the way that they had hoped.
It's no doubt that Night of the Living Dead is a seminal work in the zombie subgenre of horror but it's Dawn of the Dead that really perfects it. Coming ten years after Night, Dawn of the Dead ups the action, body count, and gore while updating everything that worked so well in the predecessor. Again, the film is technically a sequel even though it doesn't have any real connection to Night of the Living Dead other than an ongoing zombie apocalypse. It's clear that the two films take place during the same outbreak but that's basically the only thing that really links them together.
While the film's core group of characters, Flyboy, Fran, Roger, and Peter, is likable, Romero's classic zombies really steal the show throughout all of Dawn of the Dead. The film takes plenty of jabs at consumerism insinuating that customers are essentially zombies with instinctive wants and needs based on goods and has a lot of fun doing so. These zombies are hilarious to watch as they roam aimlessly through the mall, carrying objects, stumbling around on the escalator, digging through the fountain for coins, etc. The idea of setting the film in a mall was really a clever idea and also plausible for the characters. Even though Night of the Living Dead will always be remembered as the original zombie flick, Dawn of the Dead is arguably better and just so entertaining. Everything from its characters to the comedy and, yes, Tom Savini's signature gore is an absolute delight. Dawn of the Dead is a horror film you can throw on any time but especially around Halloween season.
October 9th: Blood and Black Lace (1964)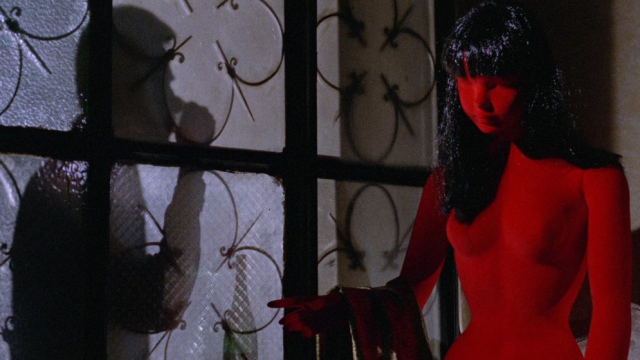 We may as well keep the string of legendary horror directors going as we travel farther back in time for this next entry on our 31 Days of Horror. This will also be the first foreign film to land on this year's list and, arguably, the first slasher film in the horror genre. Mario Bava's 1964 Italian giallo film, Blood and Black Lace, centers on a fashion house in Rome that has become the site of multiple murders. The film begins with a model named Isabella (Francesca Ungaro) being violently killed outside the house by a masked killer in a hat and trench coat. With no solid leads, seemingly everyone is a suspect with secrets and motives aplenty for all of them. Things ramp up when it's discovered that Isabella kept a diary documenting everyone's secrets and a sort of rat race begins between the members of the fashion house to clear their names while the killer remains on the hunt for Isabella's diary.
While watching Blood and Black Lace, one of the first films that comes to mind is Dario Argento's Suspiria. There are a lot of similarities between the two with both taking place at posh institutes with bodies popping up all over the place. Of course, Suspiria goes the supernatural route while Blood and Black Lace is firmly planted in reality. Though, the real takeaway from the similarities between Bava and Argento's films is how much more highly regarded Suspiria seems to be over Blood and Black Lace. Bava is even more masterful than Argento with the camera despite having released his film thirteen years prior. It's shocking to see the quality of sets and camerawork in a film like Blood and Black Lace especially when you consider how groundbreaking something like Alfred Hitchcock's Psycho was just four years earlier. In addition, Bava's usage of color maybe isn't quite the spectacle of Argento's in Suspiria but it definitely gives the film an identity. In our opinion, it's actually more stunning to look at when paired with the contrasting shadows utilized throughout the film's gorgeous cinematography.
Simply put, Mario Bava's Blood and Black Lace is a horror gem and certainly warrants consideration as the first slasher film in the genre. All the usual tropes are here and Bava perfectly builds suspense in every shot. He's also able to coax viewers into believing that literally anyone could be the killer because of his perfect visual storytelling. On top of everything, the film is pretty shocking and gory even by today's standards. No, it doesn't have the blood and guts of something like Hostel but the use of blood is still effective and uncomfortable due to some of the brutal deaths the characters face. For those who've tired of rewatching all the classic slasher flicks, give Bava's Blood and Black Lace a shot. It's a brilliant film that was far, far ahead of its time upon its 1964 release.
October 10th: The Frighteners (1996)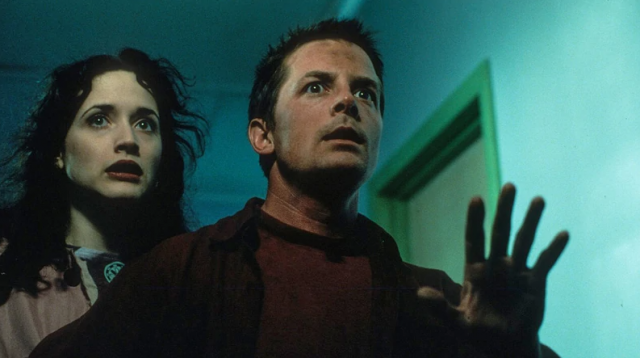 Outside of George A. Romero's Dawn of the Dead, there hasn't been much levity on this year's 31 Days of Horror. That changes today as we focus on Peter Jackson's underrated horror/comedy/fantasy, The Frighteners! The film follows former architect/current conman Frank Bannister (Michael J. Fox) who, after a tragic car accident, develops the ability to see and talk to ghosts. Frank uses this to his advantage by befriending three ghosts who "haunt" houses that Frank then pretends to exorcise in exchange for a fee. However, things take a serious turn when an evil grim reaper-esque ghost starts killing people for real. With bodies piling up and deranged FBI agent Milton Dammers (Jeffrey Combs) hot on his trail, Frank may be the only one able to stop the murders.
Obviously, most people know Peter Jackson from The Lord of the Rings and The Hobbit trilogies. Yet, his work prior to his opuses shouldn't be forgotten. Of course, most horror fans turn to Jackson's cult classic, Braindead AKA Dead Alive, when discussing the filmmaker's contributions to the horror genre but The Frighteners is severely underrated. We said before that there hasn't been much levity on this list and The Frighteners is full of it with its wisecracks, nods to other horror films, and its lovable characters. Frank's three ghostly companions, 1950's nerd, Stuart (Jim Fyfe), 1970's gangster, Cyrus (Chi McBride), and old gunslinger, Judge (John Astin), especially are the source for much of the film's humor.
Now, this doesn't mean that The Frighteners is devoid of horror either. There's actually a lot to love for genre fans as the film's Grim Reaper villain is made to be a legitimate threat to both the living and the dead. The film doesn't hold back on suspense as the Reaper's victims are marked for death and Frank must find a way to save each of his targets. It's also a story of heartbreak, loss, and grief that really sticks with you long after the credits roll. As the story unfolds and the mystery is slowly revealed, it's amazing to see how polished of a storyteller Peter Jackson is even at a young age. Although The Frighteners is certainly a horror film, it transcends the label because it's just a great film in general with an interesting story and a rising filmmaker at its helm. While many horror buffs will recommend Braindead when it comes to Jackson (and you should check that one out as well), we're sticking with the more underrated Frighteners for our list.
---
That's it for Part 1 of our 31 Days of Horror! Click here for Part 2!