We've talked about regional dramas quite a bit here on Cinema Smack over the years. Films like Fargo, Winter's Bone, and Manchester by the Sea have been critical successes as they focus on small towns and the darkly personal stories that may lie beneath the friendly aesthetic. Other films we've praised on this site, such as Wind River and Blow the Man Down, have even appeared on our Best of the Year lists. There's just something about these types of films that's different than your usual big city fare and these smaller locales are perfect for independent productions. Writer/director Joe Raffa's new film, Downeast, is the newest regional indie drama to be released and, though not always the most original, weaves a rekindling romance in with the violent criminal nature of the film's small town.
The film follows Tommy (Greg Finley), a lobsterman and former boxer in Maine, as he struggles with his past while trying to help those he cares about most. When Tommy's old flame, Emma (Dylan Silver), returns to town to find out more details about her brother, Mikey's (Spencer Watson), death, her and Tommy rediscover their feelings for one another. However, Emma snoops a little too much and attracts the attention of local crime boss, Kerrigan (Judson Mills), and his crew. Trying to protect Emma and give her closure on her brother's death while also saving himself and his family, Tommy becomes embroiled in the seedy underbelly of the small town and may be unable to get himself back out.
The plot of Downeast is one that's not overly original but it's also pretty well done. Other regional northeastern dramas like the aforementioned Manchester by the Sea and Blow the Man Down will surely come to mind while watching this film but Downeast also doesn't feel like a ripoff either. The small town feel is done perfectly by Raffa and company and the film's events feel like they have legitimate weight throughout the entire community. While the cast of characters is relatively small, there's still the impression that the whole town is stuck in its own toxic ways and its citizens must do their part to keep it as such. Those who want to get out are unable to do so while the few at the top continue to poison the community.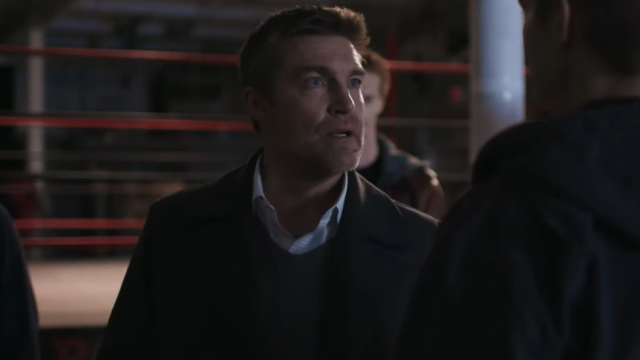 This is a testament to the impressive cast put together in the film. Greg Finley, who's also credited with the story, is a fine leading man. Finley's Tommy is one of the unfortunate citizens who just can't seem to escape his past nor the only life he's ever known. Though he tries to make an honest living out on the water trapping lobster with his father, George (Gareth Williams), he always seems to get sucked back into a semblance of his past that he's trying to leave behind. His only possibility for escape is in Dylan Silver's Emma who's seeking closure on her own family's haunted past. Finley and Silver have some believable chemistry onscreen as their characters' history is depressing but not irreparable. The best moments of the film tend to be during their reconnection with each other and Raffa does well to intersperse snippets of character building backstory in as they rekindle their feelings.
Additionally, Judson Mills is solid as Downeast's somewhat subdued antagonist. As long as things remain status quo, Mills's Kerrigan is satisfied. Yet, when things go a bit awry, it's obvious that he isn't someone to mess with especially since there's tension between Kerrigan's crew and a rival faction. Then, there are characters like George and Tommy's uncle, Billy (Dennis Cockrum), who serve as constant reminders of the town's toxicity. While George stayed away from any criminal activity growing up, he suffers from severe alcoholism and turns a blind eye to the criminal activity around him. On the other hand, Billy accepts his fate as a mob lackey in what can only be described as a method of survival in a town so bent.
On top of some solid character work from the cast, the overall production of Downeast is absolutely stellar. All of the shots and locations, especially in the boating scenes, look great and maintain that small town feel throughout the film's 88 minutes. Again, Amazon's Blow the Man Down often comes to mind given the fact that both films take place in small towns on the ocean in Maine. Add in the crime/drama aspect and the two are almost companion pieces that feel like they're subsequently taking place right down the road from one another. Regardless, being an independent production, Joe Raffa never feels like he's in over his head with this film. Technically, it's visually polished and features an effective and subdued score from Aaron Bagley that provides moments of levity as well as tension at the proper moments.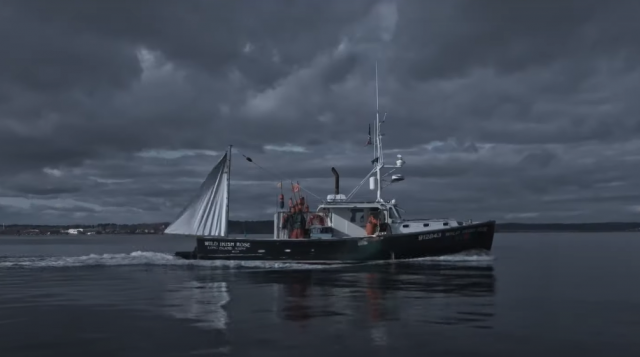 There are only two things that really cause Downeast to falter and it's in some of its unoriginality and a slightly schizophrenic tone. We've already mentioned that this film feels reminiscent to other small town dramas. Even though it never feels like any one specifically, it does feel like a combination of all of them. Frankly, it's the type of film that most people have already seen before. Though, it's the tone that sticks out more than anything. We previously stated that the relationship between Tommy and Emma was one of the best parts of Downeast and it's here that the film is at its most original as well. As soon as the personal vendetta between Tommy and Kerrigan becomes the main focus, the film loses some of its luster. Again, there's nothing necessarily bad about this part of the film but it's just something we've seen countless times in cinema. It's a logical progression for the story that Finley and Raffa wanted to tell but it's also one of the less interesting aspects of a story that had a lot going for it.
Our Score
Even with its slight detractors, Downeast still comes as recommended viewing for those with an appreciation for small town indie dramas. What it lacks in originality, it makes up for in character, heart, and technicality. It's a very well made independent film and it shows the potential of literally everyone involved in the cast and crew. Writer/director Joe Raffa displays his ability to tell multilayered stories while remaining touching and personal and proves that you don't need a Hollywood budget, cast, or production to craft a compelling tale. While Downeast may not be a game changer, it's a quality viewing experience with a lot of small town charm.
*Downeast is currently available for rent or purchase on video-on-demand platforms like Amazon, Google Play, Vudu, and YouTube. Check out the trailer below.*