Here, in a time where it's largely believed that more is better, there may be change coming on the horizon. While shows like The Walking Dead struggle to tell a riveting story, as well as maintain its once impressive viewership, throughout its lengthy sixteen episode split season, others are doing it with shorter runtimes and fewer episodes. Late last year, Netflix dropped the brief eight episode debut season of The Witcher to much acclaim. This is the same streaming platform that previously achieved success with female wrestling show, GLOW, where every episode in the show's three seasons clocks in around thirty minutes. Similarly, Disney+ dropped The Mandalorian at the tail end of 2019 which mostly follows the same time constraints as GLOW during its eight episode season. Yes, shorter seasons and episodes seem to be making a comeback and are doing so without jeopardizing their overall quality. Netflix continues its recent abbreviating trend with the second season of Dead to Me which released this past weekend.
For those who may be unfamiliar with the show, there will be spoilers of the show's first season going forward. Created by Liz Feldman and produced by big names such as Adam McKay and Will Ferrell, Dead to Me centers on two women who form an unlikely bond after meeting at a group therapy session. Christina Applegate plays realtor Jen Harding whose husband is killed in a hit and run while Linda Cardellini plays Judy Hale, an overly optimistic woman who happened to be the driver of the car that hit Jen's husband. As their friendship grows over the course of the first season, more details are revealed as to how and why Judy fled the scene before Jen eventually discovers the truth. The show has been largely praised for its cast of characters and Christina Applegate even landed an Emmy nomination for Outstanding Lead Actress in a Comedy Series.
Dead to Me Season 2 picks up right where the first left off. After finding out that Judy (Cardellini) is the one responsible for her husband, Ted's, death, Jen (Applegate) kicks her out of the guest house and threatens to kill Judy if she ever sees her again. Judy clears out her ex-fiancé, Steve Wood's (James Marsden), bank account and Steve goes looking for her. In the final moments of Season 1, Jen kills Steve and reaches out to Judy for help. Jen claims that Steve attacked her before she bludgeoned him to death outside by her pool. The two hide Steve's body but now face a number of issues such as where to dispose of it and how to delete Jen's neighbor's security camera footage. On top of that, the two must deal with investigations from Detective Ana Perez (Diana Maria Riva) and Officer Nick Prager (Brandon Scott), questions from Steve's twin brother, Ben (Marsden), and also the everyday task of raising Jen's two boys, Charlie (Sam McCarthy) and Henry (Luke Roessler).
What's so brilliant about the plot of Season 2 is that it basically has the characters of Jen and Judy swapping roles. In Season 1, Judy was the one with the dark secret that she tried to conceal. Out of the character's kindness, she wanted to do whatever she could to help Jen through Ted's death. She didn't necessarily intend to forge such a strong friendship with Jen as the two grew to love each other. However, Judy also knew the consequences if Jen ever found out she was responsible for the hit and run. This time around, Jen returns the favor as she kills someone who Judy loved in Steve. While Judy does side with her friend upon being told that Steve lashed out, more information is revealed as the season continues. While it's true that this new season kind of does the same thing as the previous one, it's handled extremely well and fits the tone and the personalities of the show's characters.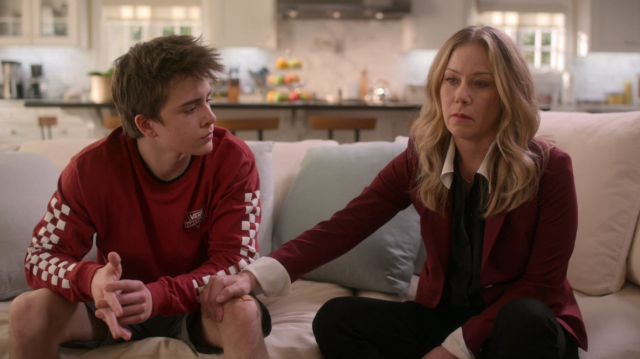 Make no mistake about it, Dead to Me is absolutely all about its characters. Without the pitch perfect performances of both Christina Applegate and Linda Cardellini, the show wouldn't be nearly as successful. Through all of their despicable acts, lies, and deceit, Jen and Judy are still unbelievably likable. Their relationship works because they bring out both the best and worst in each other. The two function better as a unit but it's always at the other characters' expense. There's an amazing chemistry between the two leads that serves as the emotional center and backbone of the show. Even though they're navigating through some seriously deranged issues, Dead to Me will frequently have you wishing that you had a friend like Jen or Judy.
One of the most praiseworthy things about Season 2 is its new characters and development of already existing ones. Both Sam McCarthy and Luke Roessler are great as Jen's two sons with McCarthy maturing into a larger supporting role. James Marsden returns but in an entirely different role this time. While Marsden's Steve was a morally questionable, yet lovable, jerk, his portrayal of Ben is very different. Like Cardellini's Judy, Ben doesn't seem to have a bad bone in his body. He's such a goofball as he makes bad jokes, sings during a child's choir performance, and does whatever people tell him. With the deathly departure of Steve, it's great to see that the show doesn't relinquish Marsden's talents completely. Natalie Morales also joins the cast as Judy's new friend, Michelle. Like Ben, Michelle adds some more flair to the cast of characters and another hurdle for them to circumvent given her involvement with some of them.
With subject matter dealing with death, infidelity, hatred, deceit, and revenge, Dead to Me is an absolute riot. The cynical black comedy used throughout the show is used to great effect. Applegate's Jen is a constant bundle of rage who struggles with handling her emotions. Her interactions with basically every character is comedic gold. Her snarky, no-nonsense attitude keeps her lashing out at everyone. Her pessimism and overall negativity leads to some hilarious interactions with characters like her bubbly neighbor, Karen (Suzy Nakamura), Henry's sociopathic playmate, Shandy (Adora Soleil Bricher), and Charlie's trendy, blackmailing girl-thing, Parker (Sadie Stanley). Even with all the comedy, the show also knows when to be serious. At the tail end of both seasons, the laughs are put on hold for some strong character development and emotional moments. There's legitimate growth in all of these characters and these more serious moments make you want to see where the story is headed and how everyone's going to come out in the end.
If you haven't been able to tell already, Dead to Me is an excellent show. It's a total breeze to watch with its ten episode seasons and thirty minute runtime per episode. The storytelling and jokes are delivered at a rapid-fire pace which can sometimes be a problem for shows. With Dead to Me, it's perfect. The plot is always moving along and character development is always the number one priority. This is evident by the ending of Season 2. No, we won't give anything away here. To be frank though, viewers better be ready for some new character wrinkles to be added to the supporting cast of the show in Season 3. Of course, we get another cliffhanger mishap and it'll be interesting to see how everything shakes out.
If you still haven't watched the show, then what are you doing here? Unlike so many overly long and meandering television shows, Dead to Me cuts right to the chase and doesn't feel any less compelling. It doesn't need to take a full hour long episode to tell viewers who a character is or what their motivations are. This show can seemingly do that within minutes. It's so refreshing that even in this golden age of television, there are shows like Ash vs Evil Dead, GLOW, and now Dead to Me that don't need to conform to the new standard. The only thing that Dead to Me appears to be interested in is keeping viewers glued to their seats. When it comes to Season 2 of Liz Feldman's brilliant Netflix dramedy, that's exactly what it accomplishes.