Yep. It's that time again. Back in our Thor: Ragnarok review in November, we said that there's really no other way to start these reviews anymore and, sadly, it's true. It's time to talk about another Marvel Studios film… again. This time around, we have Black Panther.
For those unaware, this actually isn't the first time we're being exposed to this superhero on film. He first appeared in the Marvel Cinematic Universe in 2016's Captain America: Civil War as a vengeful foe to Cap's best friend, Bucky Barnes AKA the Winter Soldier. Even though this was the first time the character was on the big screen, a solo Black Panther movie had been kicked around for years. As far back as 1992, the film was rumored to be in development with Wesley Snipes being the torch bearer. Snipes wasn't pleased with most of the scripts and the film spent years in various stages of development with a final product never coming to fruition. Though, after the Wakandan king's involvement in Civil War, it was only a matter of time until he got his own solo adventure.
Black Panther opens with the history of Wakanda. A warrior ingested an herb laced with the fictional metal, vibranium, that made him the first Black Panther. He united all tribes, except for one, to form the nation of Wakanda which poses as a Third World country while hiding their advanced vibranium technology from the rest of the world. In the modern day, King T'Challa AKA Black Panther (Chadwick Boseman) returns to Wakanda to assume his throne following the death of his father, T'Chaka (John Kani). He defeats rival tribe leader, M'Baku (Winston Duke), in ritual combat before heading to South Korea to capture Ulysses Klaue (Andy Serkis) during his anticipated sale of a Wakandan artifact. There, he's able to capture Klaue but Erik Stevens AKA Killmonger (Michael B. Jordan) ambushes him and recovers Klaue. Killmonger later arrives in Wakanda and challenges Black Panther for the throne of the nation.
If you're a bit confused after reading all of that, it's not surprising. Unfortunately, Black Panther suffers from some iffy pacing and a little too much going on in general. When looking back, it's actually easy to forget that Klaue, a black market arms dealer, was even in this film. Andy Serkis first appeared as the character in Avengers: Age of Ultron and hasn't been seen since. While his performance isn't bad, he definitely detracts attention from the main villain during the first half of the film.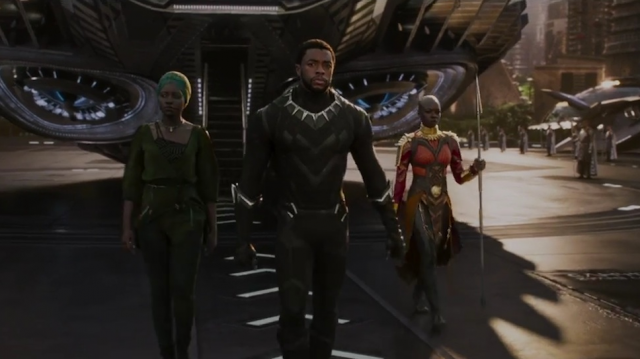 Speaking of which, the plot really doesn't pick up until about an hour in. When T'Challa arrives in Wakanda, him and Okoye (Danai Gurira), the leader of the Dora Milaje, the female special forces unit of the nation, first have to extract Nakia (Lupita Nyong'o) from an undercover assignment. Nakia is T'Challa's ex girlfriend and their mission solely exists so that Nakia can attend his coronation as king. The first act of the film just feels like it's crammed with a bunch of needless action and is sluggish getting to the meat of the story.
That being said, Black Panther isn't all disappointing. When the plot finally picks up, it's actually very entertaining. This is the third go-round for the tandem of director Ryan Coogler and actor Michael B. Jordan. Before this film, they also collaborated in Fruitvale Station and Creed, both of which are superb films. Like in those two films, Jordan shines as Killmonger in Black Panther as well. He's a complex character that has ties to Wakanda and you can sympathize with his viewpoint. He's also a legitimate threat to T'Challa due to his military background and his personal drive. As most people know, Marvel villains, other than Loki, have been pretty lackluster. With the addition of characters like Vulture from Spider-Man: Homecoming, Hela from Thor: Ragnarok, and now Killmonger, it seems like the studio heads have taken notice.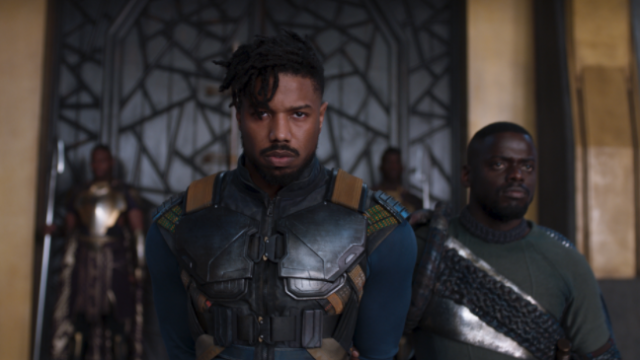 In all honesty, the best thing about Black Panther in general is its cast. Rightfully so, this is the first predominantly African American cast in a Marvel film and it's great. Chadwick Boseman puts in another great performance as T'Challa/Black Panther after being one of the best parts of Civil War. Danai Gurira and Lupita Nyong'o continue Marvel's streak of providing strong female characters like Black Widow and Gamora. Even Letitia Wright as Shuri, T'Challa's younger sister, does a good job. She's not a physical presence as Gurira's Okoye but she makes up for it in terms of smarts and spunk. In addition, Angela Bassett, Forest Whitaker, Martin Freeman, and, recent Oscar nominee, Daniel Kaluuya, round out a stellar cast of characters.
Our Score
It's unlikely that anyone will rank Black Panther among the best that the MCU has to offer. Yet, it's another solid entry and money printing machine for the company. In the days of #OscarsSoWhite, it makes sense that the film finally saw the light of day in 2018. It gets the job done too. Ultimately, though, the plot could've been tightened up a little to provide a more even experience. At two hours and fourteen minutes, the film especially could've had some time trimmed off it to become more cohesive. Either way though, Black Panther should sate most Marvel fans' appetite. It's a unique experience in its setting and characters but still has that Marvel flair that has kept the company rolling in dough for the better part of a decade.