The grass is green, the sky is blue, and Pixar makes good movies. At this point, it may as well be a law of nature. Though, in the case of Pixar's newest film, Finding Dory, the animation juggernaut had a steep hill to climb in following up one of its most popular creations.
As everyone should know by now, Dory was the forgetful, fan favorite blue tang from Finding Nemo. Voiced by Ellen Degeneres, Dory helped the clownfish, Marlin (Albert Brooks), find his missing son. In Finding Dory, Marlin returns the favor by assisting Dory in a search for her parents. Their search results in them having to navigate the Marine Life Institute.
They are not alone, however, as old and new characters alike join in to keep Dory's mind on track so she can remember her past and accomplish her goal. Along with Marlin and Nemo (Hayden Rolence), who are main characters throughout the film, school teacher, Mr. Ray, and the sea turtles, Crush and Squirt, make cameos to put Dory's story into motion.
The new characters in Finding Dory are just as important, and memorable, as any of the old ones also. Among them are crotchety "septopus," Hank (Ed O'Neill), near-sighted whale shark, Destiny (Kaitlin Olson), dramatic beluga, Bailey (Ty Burrell), a pair of English sea lions (Idris Elba and Dominic West), and a disheveled loon named Becky. The new characters all fit perfectly into the world of the two films and are extremely enjoyable.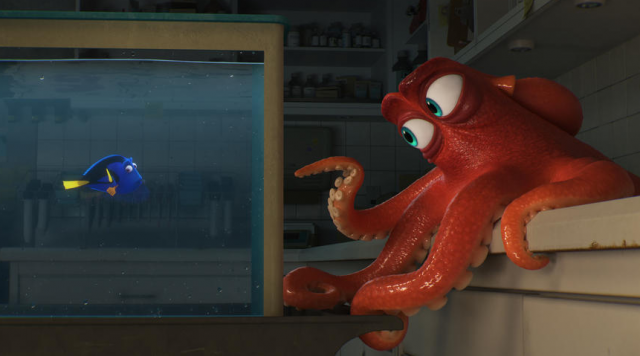 Luckily for viewers, Finding Dory does not solely rely on the nostalgia of the previous film. While it does feature some beloved characters, it's definitely its own film. There are numerous amazing scenes featuring Hank where he transports Dory throughout the institute while having to camouflage himself with his surroundings. The filmmakers did a fantastic job with these and the animation on Hank and the ways he blends in are nothing short of brilliant. There are also some seriously heartfelt moments during the film's climax that will likely tug at your heart strings.
At first, it's tough to think that Dory could handle an entire feature length film by herself. Luckily, it never really feels like everything is solely on her. Including Marlin and Nemo was a good choice by Pixar as they have their own trials and tribulations after inevitably getting separated from their friend. It's also no question that Finding Dory takes some shots at places like SeaWorld and other aquariums. It isn't overly critical of these places as their intentions may be good but the overall message of the film seems to be that animals shouldn't be held in captivity.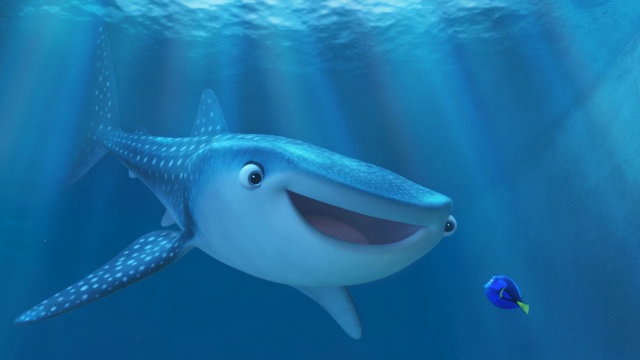 If there's any real downfall of Finding Dory, it's that Finding Nemo came before it. Both stories don't deviate too much as they're basically the same story with the roles reversed. In the first film, a father looks for his son and in this new one, it's the child looking for the parents. One minor gripe with the film is that all of the "clues" that Dory receives to find her parents come in the form of key words from other characters that jog her memory. While this does make sense for the character and her forgetfulness, it also feels a little bit like a cop out for the writers to not come up with a more clever plot device. Also, without going into detail, the ending is kind of a mess and it seems that there could've been a better way to wrap up the story.
Our Score
So where does Finding Dory land in terms of quality when compared to other Pixar films? It's not as good as past films like Inside Out, the Toy Story trilogy, or its own predecessor but it's definitely better than, say, Cars 2. It's very middle of the road and that's certainly not a bad thing when talking about Pixar. It feels like a continuation of the Finding Nemo storyline and it has just as much heart. The animation is top notch and astonishingly beautiful. While Pixar has really never deviated from their style, they have certainly perfected it. While Finding Dory may not be revolutionary by any means, it still is Pixar at the top of their game. While many other studios may try to replicate what they've done, Pixar continues to remain the master of their craft.