Just last week, we mentioned in our review of Disney/Pixar's newest film, Coco, that there haven't been many standout films of 2017. Though, there have been many good to great ones. Of course, we showered Coco with praise and deemed it one of the best films of the year. Luckily, we're about to do it again with Greta Gerwig's coming-of-age dramedy, Lady Bird.
The film premiered at the Telluride Film Festival on September 1st. It's written and directed by Gerwig and also the director's first solo feature. Her first directing credit came alongside Joe Swanberg on 2008's Nights and Weekends in which the two also starred. Since then, most of Gerwig's work has come in the form of acting. She has had roles in films like Frances Ha, Mistress America, Jackie, and 20th Century Women. She also co-wrote the former two films with filmmaker Noah Baumbach.
In Lady Bird, Saoirse Ronan stars as Christine McPherson who more frequently goes by the titular "Lady Bird." Set in Sacramento, California in the early 2000's, Lady Bird is a high school student unsure of her place in the world as she's set to transition to life after high school. She has a strained relationship with her mother, Marion (Laurie Metcalf), but tends to get along with her passive/pushover father, Larry (Tracy Letts).  Lady Bird and her best friend, Julie (Beanie Feldstein), join the high school theater program where she begins a relationship with another theater participant, Danny (Lucas Hedges). From here, Lady Bird experiences the trials and tribulations of becoming an adult while also trying to hang on to her carefree adolescence.
Before getting into the overall appeal of the film, let's focus on some of the obvious positives. For starters, the cast is excellent. There isn't a single weak link anywhere. Lady Bird boasts two past Academy Award nominees in Saoirse Ronan and Lucas Hedges who are both delightful in their roles. Ronan commands attention with every single moment she's onscreen. It wouldn't be a surprise to see her nominated in the Best Actress category once again for this performance. Even minor characters played by Odeya Rush and Timothée Chalamet are memorable and important to the story. Other than Ronan, the two main standouts of the film are Beanie Feldstein and Laurie Metcalf. As Julie, Feldstein provides Lady Bird with a person who's by her side no matter the circumstances and Metcalf, as Marion, serves as a constant reminder of impending adulthood to her daughter.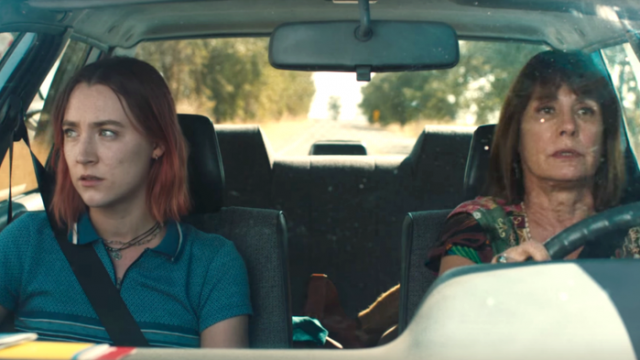 One thing that's a bit surprising about the film is how ridiculously funny it is at times. Though, it's not over-the-top, raunchy humor as many high school/college films have been in the past. Something as simple as Lady Bird purchasing cigarettes, lottery tickets, and a copy of Playgirl when she turns 18 or her and Julie snacking on communion wafers elicit laughs from the audience. Even Lady Bird doing everything in her power to defy her mother, such as jumping out of a moving car, is humorous. Make no mistake about it that this isn't the next American Pie or Superbad. The humor in this film is subtle and real which serves as one of its best assets.
The realism of the film's story, events, and interactions are what make Lady Bird so great. Seemingly everyone should be able to relate to these characters and situations in some way. For the teenage characters in the film, their goals are to fit in, be liked, and/or be something more than just another face in the crowd. For the adults, it's about providing for a family, molding children into the best they can be, and not wanting to let go. These are all very real worries in all respects and you can sympathize each of the characters in some way. Not only do you watch the events of the film unfold but they may even remind you of similar things from your own past. This is simply a film about growing up and aging but still trying to hold onto some form of naiveté.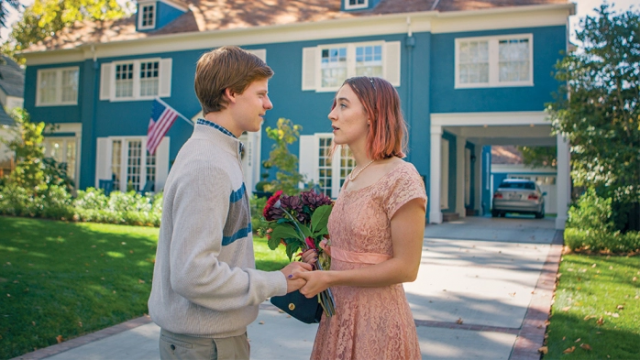 There aren't many negative things about the film, per se, but the pacing lags a bit in the last third. As Lady Bird's life begins to change towards the end of her high school career, the film loses some of its innocence as well as its flow. Obviously, the story does dictate this change but it causes it to drag just slightly. It also seems to lose its way as you're not really sure how the film will/should/can end. Even though some things seem to be put back in their correct places by the film's end, you can't help but feel that there's still something incomplete.
Our Score
That being said, Lady Bird is still a delightful piece of cinema. As previously mentioned, it's not your run-of-the-mill raunchy high school comedy. It's smartly acted, written, and directed while also addressing real-life issues. This is a different kind of movie in which everyone should be able to relate whether you're male or female. The struggles of growing up and maturing into the person you'll become is something that everyone experiences. In a year bereft of standout titles, Lady Bird knocks it out of the park and there's little doubt that this film will surface once again during Oscar season.