It certainly seems to be a good time for studios releasing musical biopics. Last year, the long awaited Queen biopic, Bohemian Rhapsody, was a big hit with moviegoers as well as the Academy of Motion Picture Arts and Sciences as it nabbed a Best Picture nomination. Then, earlier this year, fans saw Mötley Crüe's The Dirt hit Netflix. Additionally, as we've said countless times on this site, 2019 has been a rough year for theatrically released films in general. Finally, the trend may be over. It only took five full months for 2019 to land its first exceptional title. Sure, Avengers: Endgame made a lot of money and John Wick: Chapter 3 – Parabellum was a ton of fun but nothing that has come out in 2019 holds a candle to Dexter Fletcher's Elton John biopic, Rocketman.
Like the two aforementioned biopics, Rocketman has been a long time coming. Rock and roll legend Elton John has been shopping around a film based on his life since the turn of the century. After failing to get the film made by Disney and Focus Features, Paramount Pictures swooped in to save the day. As is always the case, there have been other actors, including Justin Timberlake and Tom Hardy, and directors attached to the project since its inception. Yet, the perfect group of people assembled and brought the production to new heights. Dexter Fletcher, who took over directorial duties on Bohemian Rhapsody following the departure of Bryan Singer, helms Rocketman and will have audiences wondering what he could've done with the Queen biopic had he had full control for the whole production.
Rocketman opens with Elton John (Taron Egerton) complete with a dazzling devilish outfit relaying his life story in rehab. A young Reginald Dwight (Matthew Illesley) is raised by his distant mother, Sheila (Bryce Dallas Howard), and caring grandmother, Ivy (Gemma Jones). His father, Stanley (Steven Mackintosh), is away serving in the Royal Air Force but, upon his return, is apathetic towards his son. Reggie begins showing interest in playing piano and emerges as a child prodigy on the instrument. This prompts him to enroll in the Royal Academy of Music. An older Reggie eventually comes to idolize Elvis Presley, begins performing in pubs, and eventually joins the band, Bluesology. Reggie takes on the stage name of Elton John, teams with songwriter Bernie Taupin (Jamie Bell), and lands a record deal with Dick James (Stephen Graham) while being managed by Ray Williams (Charlie Rowe). From here, Elton's alcohol and drug use ramp up with his flamboyant nature, outlandish wardrobe, and sexuality defining his lifestyle throughout the 1970's and 1980's.
One of the first things that many people will notice about Rocketman is that it isn't your typical biopic. There's often a paint-by-numbers approach chronicling early life, emergence, highs and lows of a career, and either redemption or tragedy. Yes, the film does cover a lot of these same beats but, like Elton John himself, it does it with its own unique flair. Scenes transition to different time periods and events by using song and dance numbers to tell the story of John. On paper, it may seem like a clumsy and inefficient way to move the plot along but Rocketman uses its music perfectly. All of John's classic songs make it into the film but they're all used at the most opportune times to portray the ups and downs of his life and career. Honestly, there may have never been a better usage of a musician's work in a musical biopic ever.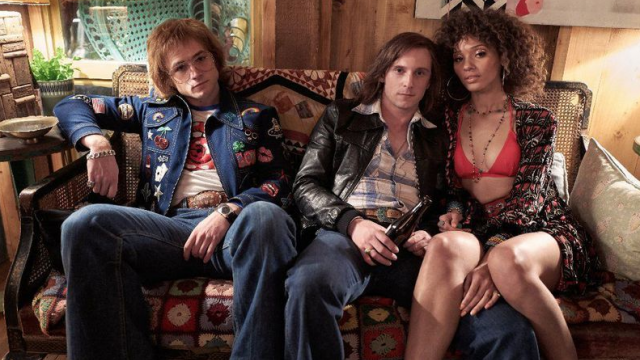 Sticklers will notice that songs and even important events from the real Elton John's life are not done chronologically in the film. Once the transition from Reggie Dwight to Elton John is made, the film picks up steam and almost becomes a blur as it whips through notable events and, of course, outfits. It's not uncommon for creative liberties to be taken in biopics or films based on true stories and Rocketman is no different. The film has been described as a musical fantasy as opposed to a straight biopic and that description is completely accurate. During some songs, other characters join in and put on their own performances along with Egerton's Elton. At one point Elton even performs a duet with his younger self in a swimming pool. Just like the real Elton John, the film is somewhat enigmatic and magical. Again, it's a unique take on the musical biopic and, frankly, it's a better overall product for taking this approach
Of course, this is helped by absolutely brilliant performances by everyone involved in Rocketman. Bryce Dallas Howard and Steven Mackintosh paint a picture of a spiteful and unloving upbringing for young Reggie Dwight while Gemma Jones provides the lone hint of affection. Richard Madden gives an intentionally shady performance as Elton's lover and eventual manager, John Reid, who's the closest thing to an antagonist. Though, Jamie Bell as John's lyricist and friend, Bernie Taupin, shines brightest of all the supporting cast. Bell and Egerton do an excellent job portraying the longtime partnership between Taupin and John which continues to this day.
If Jamie Bell's Bernie is the heart of the film, then Taron Egerton's Elton John is its soul. Egerton has been a fine actor in the Kingsman films and even the bland Robin Hood adaptation last year. Though, he gives the performance of a lifetime here in Rocketman. Just like Rami Malek's Oscar winning portrayal of Queen's Freddie Mercury, Egerton essentially becomes Elton John for this film. He even goes as far to sing all of the songs himself. That's right. The soundtrack has its star performing vocals for every single song. As a viewer, you can definitely tell that the renditions aren't John's original performances. This could be looked at as a negative for some. Yet, Egerton's vocals are quite faithful and they demonstrate the actor's dedication to the role. Similarly, Val Kilmer previously performed all of his own vocals for his portrayal of Jim Morrison in 1991's The Doors, another quality musical biopic.
Despite being an excellent cinematic experience overall, there are some nits to pick with the film. It was already mentioned that it isn't entirely accurate in terms of its chronology and that will stick with die-hard fans. The beginning of the film also drags ever so slightly. It's not necessarily boring but it's noticeable early on. That being said, once the film turns on its Elton John inspired charm, it's non-stop satisfaction. Perhaps the biggest issue with Rocketman, though, is that there really isn't much plot. Yes, Egerton's Elton is on a journey full of deception, excess, self discovery, and redemption but much of it is internal. There aren't events for viewers to follow the main character through or moments in which you have to root for him.
Instead, Rocketman is a spectacle and that's not a bad thing. It's simply different and why shouldn't it be? After all, it's based on one of the most charismatic and showy musicians in rock history. It's doubtful that anyone will be going into this film looking for a deep emotional and psychological dissection of Elton John and his music but, if you are, you might be disappointed. Even so, you'll have a hard time not getting immersed into the vibrant world of Rocketman. It's a spectacular portrait of the glamour, pizzazz, and substance fueled eccentricity of the musical icon that is Sir Elton Hercules John.