It has certainly been a strange time for sequels over the past few years. While it's true that sequels have become a proven cash cow and staple in cinema, it seems that there have been a lot of lengthy gaps in between many of them nowadays. In the past few years, we've seen films like Mad Max: Fury Road, Blade Runner 2049, Halloween, and Rambo: Last Blood all with large time spans in between them and their predecessors. This coming weekend, we have Terminator: Dark Fate and even Doctor Sleep set for release the weekend after that. Normally, sequels capitalize on a previous film's success but, given this current trend, sometimes the motivation is questionable. Films like Fury Road and Blade Runner 2049 have exceeded expectations and felt like creative statements. In contrast, a film like Zombieland: Double Tap simply feels like an entertaining, if unspectacular, continuation of its predecessor.
Double Tap comes ten years after the first Zombieland. A sequel to the 2009 film has been rumored and anticipated since the first one came out. Screenwriters Rhett Reese and Paul Wernick have supposedly kicked around ideas for a sequels throughout the entire gap in films. They even penned and filmed a pilot for a television series for Amazon. Though, Amazon decided not to pick Zombieland up as a series. After all this time, somehow Reese, Wernick, and director Ruben Fleischer were still able to get the band back together for this sequel.
Zombieland: Double Tap opens with the zombie killing veterans of the first film living large in the White House. Columbus (Jesse Eisenberg) and Wichita (Emma Stone) have continued their romance established in the first film while Tallahassee (Woody Harrelson) has become a father figure for the now teenage Little Rock (Abigail Breslin). Feeling smothered and complacent, Wichita and Little Rock decide to take off on their longtime friends after Wichita is taken aback by a marriage proposal from Columbus. While out exploring in a mall, Columbus comes across a ditsy blonde named Madison (Zoey Deutch) who's starved for attention. The duo take her in but Wichita returns for supplies after Little Rock abandons her as well. From here, Columbus, Tallahassee, Wichita, and Madison set out to find Little Rock while weathering the evolving zombie apocalypse.
Despite a ten year development, the plot feels a bit uninspired and cliched. Reese and Wernick supposedly had a lot of ideas for a continued Zombieland franchise but it seems like none of these ideas made the final cut. The story does take viewers through some new experiences and locations such as Graceland. Though, with so many zombie properties coming out over the past decade, Double Tap just fails to separate itself from any of its contemporaries in this regard. Much of the scenery feels like something ripped straight from The Walking Dead. Generic settings such as rural highways and decrepit buildings are glaringly unoriginal in this film as they've been used countless times before.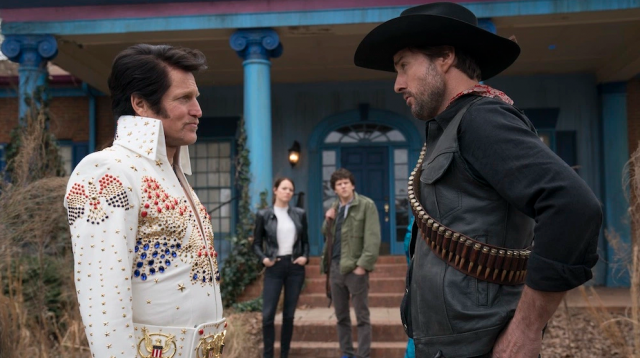 However, there's a lot that actually does save Zombieland: Double Tap. As is usually the case with resurrected franchises, it's always nice to see characters return. For such a long hiatus, it's almost shocking that stars like Jesse Eisenberg, Emma Stone, and Woody Harrelson were all available for this film. When the first Zombieland was released, Harrelson was by far its biggest name as a then-two time Oscar nominee. Abigail Breslin also nabbed a nomination of her own at a young age for Little Miss Sunshine. Since 2009, both Eisenberg and Stone have garnered Oscar nominations of their own with the latter taking home a statue for her role in La La Land. As soon as the film begins, the four pick up where they left off a decade ago. There's an undeniable chemistry between them all and their witty banter makes them an entertaining group to watch.
In addition to the core cast members, we get some new ones as well. Rosario Dawson enters the fray as Nevada, a woman running an Elvis themed hotel. Dawson hasn't often been a leading lady but she's always a strong supporting character and she serves this purpose well here. Luke Wilson and Thomas Middleditch stop by for a proverbial cup of coffee in memorable roles. Without ruining anything, Middleditch does a good job but this seemed like a missed opportunity to have both Jesse Eisenberg and Michael Cera in a film together. Avan Jogia's Berkeley serves as Little Rock's new pacifist infatuation in a mildly amusing role. It tends to be more of Tallahassee's animosity towards pacifism that makes Berkeley funny but Jogia plays the role well. Then, there's the case of Zoey Deutch's Madison. Initially, she's unbelievably annoying to a fault. She's a stereotypical character that feels like she doesn't belong in a 2019 film. Luckily, the film eases up on her and she does become a much more likable character by the end.
What'll ultimately make Zombieland: Double Tap resonate with audiences is its comedy. For anyone who enjoyed the original film, it's likely that you'll find plenty to like with its sequel. In the case of a film like Super Troopers 2, another long awaited comedy sequel, its jokes were ripped straight from its predecessor. In this film, many jokes are revisited from the first movie but not outright copied. This may sound like splitting hairs but it makes a world of difference. Here, there are many homages and nods to Zombieland but Double Tap still feels like it has new things to add. There are a number of moments, many of which are from Harrelson, that are a sheer joy to watch. You'll never find yourself bored or not entertained and that's the most praise one can heap on Double Tap.
Our Score
Entertaining. That's what Zombieland: Double Tap is in a nutshell. It's an enjoyable, if unspectacular, watch that feels like a bend, not break, effort. It definitely could be the large passage of time that hurts this film the most as it doesn't offer anything necessarily fresh. Yet, everything that you do get is pretty good overall. Surprisingly, for a film called Zombieland, there aren't very many zombie encounters in it. This film is far more focused on the relationships between its characters and their interactions. Basically, if you like these characters, you should find merit in Zombieland: Double Tap. It's not as good as the original but it's a satisfying continuation of its predecessor.