It's been quite some time since our last interview feature on Cinema Smack. With 2020 being almost completely wiped out due to the pandemic, it feels like the time is ripe for filmmakers to get new projects up off the ground and that's exactly what the subject of today's interview is hoping to accomplish. Today, we interview writer/director Joe Badon about his two previous feature films, The God Inside My Ear and Sister Tempest, which we reviewed on this site earlier this year, along with his current Kickstarter campaign for his upcoming short film, The Wheel of Heaven!
---
To begin, give a quick biography about yourself. What are some of your influences?
Joe Badon: I'm a filmmaker, illustrator, and musician from New Orleans, Louisiana. I have written and directed the feature films, Sister Tempest and The God Inside My Ear. I also wrote and illustrated the comic books, The Man With Ten Thousand Eyes and Terra Kaiju.
Now, I'm currently running a Kickstarter for my latest film, The Wheel of Heaven. Click here to check that out.
Some of my influences are composer John Zorn, directors David Lynch, Alejandro Jodorowsky, Quentin Dupieux, Jared Hess, Wes Anderson, Adult Swim… (I could keep going lol).
Our first interactions with each other were over your most recent feature film, Sister Tempest (which we'll touch on momentarily), but that isn't your first feature. That would be 2017's The God Inside My Ear. In preparation for this interview, I watched the film and was surprised to see such a well made debut. It's also the first credited film on your IMDb page. Were there earlier projects you worked on or did you just jump into feature length filmmaking right away?
JB: No real earlier projects. That's pretty much my first foray into real filmmaking. Also, I've illustrated storyboards for lots of films and commercials before that. Having worked with directors and illustrating storyboards for them was a film school in and of itself.
Since I brought up The God Inside My Ear, tell me a bit about the production for the film. Again, I was surprised to see such a polished, though certainly weird, final product and a great lead performance from young Linnea Gregg. Most specifically, the camerawork and cinematography are superb throughout the film.
JB: That's all thanks to my wonderful cinematographer, Daniel Waghorne! We just happened to connect up through Facebook. He's extremely efficient and extremely talented. I am fortunate to have found him!
In 2020, you released the aforementioned surreal arthouse horror film, Sister Tempest. In the Cinema Smack review of the film, I said that it "hits a sweet spot between being intriguing and just being weird" which, frankly, seems to be your calling card. How was the production of Sister Tempest different than that of The God Inside My Ear? The latter seems like a finely crafted B movie than the more refined God Inside My Ear. This stylistic choice certainly fits Sister Tempest better but is a curious choice given the strengths of your debut.
JB: Yeah, I was trying to lean more into absurdist surrealism with Sister Tempest as opposed to the quirky indie comedy that I did with The God Inside My Ear. Sister Tempest feels more like what I want to do. With The God Inside My Ear, I was just trying to "make a film" and it was much more of a learning process for me.
Linnea Gregg stars in both of your features and is an obvious standout in each film. How'd you come across her and how confident were you in casting her in such big roles despite not having much acting experience (per her IMDb) herself?
JB: Linnea was a friend of a friend essentially and she just NAILED the audition. PLUS she's had a TON of stage experience. After working with her on The God Inside My Ear, I knew her strengths so I wrote the role for her specifically in Sister Tempest. She is a great actress!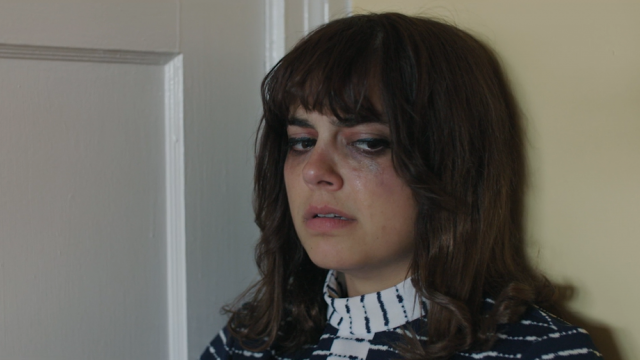 Let's get into some details on your new project and the inspiration for this interview: The Wheel of Heaven. Can you give a brief synopsis and provide some background on the project? For those who may not have seen your previous work, what can viewers expect to see from The Wheel of Heaven?
JB: The Wheel of Heaven is a mystery, arthouse, sci-fi, dark comedy. Think Rocky Horror meets Hour of the Wolf! This is the story of a young woman named Purity (played by Kali Russell) whose car breaks down on a dark empty street in the middle of the night. After a chance encounter with a mysterious party host (played by Jeff Pearson) and his myriad of strange party guests, Purity is left with the existential decision to either break free of her meaningless existence OR simply just succumb to it's meaningless-ness.
The film was born out of my love for grindhouse cinema, arthouse cinema, and choose your own adventure books. If you've seen my other films, then you know that you're in for weird shit and I feel like we've turned the weirdness up to 11 for this one, lol.
Where does the money from the donations go and what are some of the rewards backers can look forward to? Are there any specific types of backers you're looking for to help fully realize the film?
JB: The donations will go to actually making the film: props, wardrobe, food, equipment rentals, editing, concept art, storyboards, everything involved in pre-production, production, and post-production.
There are rewards like: digital downloads of the film, posters, tickets to the physical premiere and more!
If you give at the higher levels then there's also the chance to be a producer or executive producer on the film! Any and all backers are welcome. From one dollar to $5,000, every contribution helps!
One of the things that stuck out most to me is that The Wheel of Heaven is described as a love letter to the "choose-your-own-adventure" novels of the 1980's. Being a 20-30 minute short film, this seems like quite an undertaking. How do you intend to implement the "choose-your-own-adventure" gimmick into your film?
JB: In the film, the main character is reading a "Choose-Your-Own-Adventure" book and we're basically watching that book unfold on screen. The main character makes choices throughout the story. That's the CYOA component of the film but it won't be like Black Mirror: Bandersnatch (where the viewer is able to make choices). We're essentially watching the main character read the book (if that makes sense, lol).
You mentioned Kali Russell who's returning to a leading role in this film after starring alongside Linnea Gregg in Sister Tempest. In the aforementioned review of that film on this site, we stated how both actresses were tasked with wearing many proverbial acting hats in Sister Tempest with Russell playing not only a motherly role but also one of a woman who may potentially be losing her mind. Is her role in The Wheel of Heaven a sort of continuation of this or can we expect to see her pushed even further in this new project?
JB: She will definitely be pushed further with this film. Kali will essentially be playing 3 or 4 completely different characters that are essentially the same person.
She's totally up for the challenge!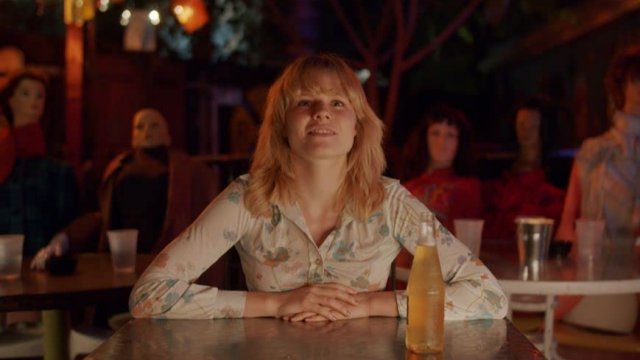 In addition to The Wheel of Heaven, you're preparing a prologue short entitled The Blood of the Dinosaurs for release as well. How does The Blood of the Dinosaurs relate to The Wheel of Heaven and why did you decide to make them as separate projects?
JB: The Blood of the Dinosaurs is basically the first chapter of The Wheel of Heaven. But the two films can be watched separately OR together and still make sense.
We did this as kind of a teaser for The Wheel of Heaven.
ALSO: If you pledge $20 or more, you'll get both films so you can watch them together 🙂
Do you have any final thoughts or anything else you'd like to add for the readers?
JB: Just check out The Wheel of Heaven on Kickstarter at the link here. We basically only have a couple days left!
And thank you SO MUCH for your time! This was super fun talking with you! I am honored! Thanks again!
---
If you haven't seen any of Joe's work, The God Inside My Ear is currently available to stream for free on both Vudu and Tubi. His second feature, Sister Tempest is gearing up for a release on Blu-ray, DVD, and streaming in the near future from Darkside Releasing. Once again, please head over to The Wheel of Heaven Kickstarter page to donate whatever you can to the project as it's extremely close to hitting its $20,000 goal!
Thank you to Joe Badon for taking the time to do this interview and promote The Wheel of Heaven!