In the heat of the summer blockbuster season, it's easy to get sidetracked and forget about all of the other films being released. While Avengers: Infinity War, Deadpool 2, and The Incredibles 2 are raking in big bucks at the box office, lesser known independent flicks are getting their releases as well. Earlier this month, filmmaker Thomas Lawes' saw the release of his new feature film, Monochrome, on Blu-Ray/DVD and video-on-demand.
The story begins as a young woman, Emma Rose (Jo Woodcock), witnesses her boyfriend being arrested. Brendan Kelly (Steve Jackson) embezzles over £700 million and, in turn, commits the largest pension fraud in over twenty years. He's arrested by Agent Walcott (Lee Boardman) who's then out to find Brendan's girlfriend and implied accomplice, Emma. Emma leaves town and boards with wealthy landowners who proceed to disgust and enrage her. Soon, she begins to murder each person she stays with on her way to becoming the "countryside killer." The only man who can stop her is the socially awkward Gabriel Lenard (Cosmo Jarvis). Gabriel is the sole member of an experimental unit in the British Crime Agency. He also has synesthesia which gives him heightened sensory perception where he sees and "hears" colors.
Firstly, the film looks and sounds excellent. There's a sort of muted color pallette that works well for the stark tale being woven onscreen. This also helps to demonstrate Gabriel's abilities when we see through his eyes. Like many of the short films reviewed on this site as of late (i.e. Slapface, To Be Alone, and Saudade), as well as the feature length indie drama, Rose, there's always a lot to look at in every shot. Even though many of the shots are focused solely on characters, the lighting and framing is superb. Monochrome boasts an excellent soundtrack by Lawes too. From melancholic piano to dissonant horror chords, the music fits perfectly with the film's events. Though, during one scene, the mixing between music and monologue is a little iffy. The abrupt change in volume of the music is jarring but it's only a brief annoyance.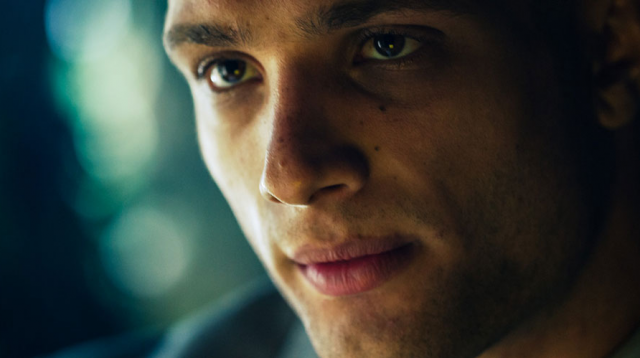 The acting in Monochrome is absolutely top notch. There isn't a single actor that doesn't bring their A-game to this film. Cosmo Jarvis as Gabriel is a different kind of protagonist. He brings a sensitivity to the character as it feels that he's trying to understand Emma's murder spree. He isn't hellbent on getting the prestige for her capture. He's simply solving the mystery. James Cosmo, most recently of Game of Thrones fame, delivers a solid performance as a famous artist and the first person who takes Emma in. After discovering that she's wanted by the police, he bullies Emma constantly as she cooks and cleans for him. Despite being their initial agreement, his mistreatment is the driving force behind her crimes. Another standout is Josephine Butler as Pamela Del Agua. Her materialistic personality is despicable and her relationship with Emma is tense at best.
The true star of the film, though, is Jo Woodcock as Emma Rose. She is fantastic in the role. Initially, you feel sorry for her as she continuously claims that she's not interested in money. She uses this to maintain her innocence with James Cosmo's Roger Daniels and he believes her. With each person that takes her in, she offers to work for only room and board. Monochrome offers an interesting turn in that it's the people that take her in that are made to look like the villains. Thomas Lawes' screenplay does an excellent job at establishing this as you truly do root for Emma in most situations. Woodcock's performance shows a range of emotions from fear, stress, utter contempt, and, eventually, a subdued joy as she makes people pay for their actions towards her.
Although Monochrome does some really great things in its nearly two hour runtime, it isn't perfect. The biggest complaint about the film is in its plot. Both Emma and Gabriel's stories are interesting but it almost feels like the film tries to do a little too much. Where a solid film could've been made about either of the main characters, both are crammed into this one film. Though, this may not have been as big of a problem if Woodcock as Emma wasn't so damn good. You can't take your eyes off her and every time the film strays from her story, you wish that it hadn't. Again, Jarvis is very good as Gabriel but his storyline definitely provides a lull in the action at times.
Our Score
Ultimately, this is a very, very good independent film in a sea of questionable ones. No, it's not perfect but there's a lot to like here. It definitely shows off Thomas Lawes' abilities as a filmmaker and it'll be interesting to see what he does next. Monochrome is like a mix between Robin Hood, A Clockwork Orange, and The Neon Demon in terms of its story, depiction of violence, and overall tone. While it doesn't always hold your complete attention, there are some scenes (i.e. the party scene) that are executed to perfection. If you're on the lookout for a good indie drama/thriller with some captivating sequences, check out Monochrome.
*Monochrome is available for purchase on DVD and Blu-Ray on Amazon. The film is also available to watch on video-on-demand services like Amazon Prime.*