With the fall season quickly approaching and many big titles shelved until 2021, horror fans don't have a lot to look forward to in the immediate future. Films like The Lodge, Relic, and She Dies Tomorrow have helped bridge the gap but there are so many others that fans have been deprived of this year. It began with the highly anticipated A Quiet Place Part II being delayed due to the pandemic. Then, other films like Antlers, Saint Maud, Candyman, The Conjuring: The Devil Made Me Do It, and Halloween Kills followed suit. Thankfully, horror buffs have something new to look forward to as the new film from Henk Pretorius, The Unfamiliar, hits video-on-demand services today. While there are some small issues with the film, it brings the horror goods with its frequent scares, clever camerawork, and unique story.
The Unfamiliar sees British Army doctor Elizabeth "Izzy" Cormack (Jemima West) return home to her family. Upon reconnecting with her husband, Ethan (Christopher Dane), son, Tommy (Harry McMillan-Hunt), and stepdaughter, Emma (Rebecca Hanssen), though, Izzy starts to experience some strange events. With her mind fracturing, Izzy believes she may have post-traumatic stress disorder and seeks aid for it. However, there may also be something more malevolent at play as Izzy tries to sort through her issues and reclaim her life.
When it comes to story, The Unfamiliar feels relatively familiar. There have been countless films about mentally damaged people experiencing strange things. Viewers are meant to question whether the protagonist is reliable or if he/she is the source of their own horror. Luckily though, The Unfamiliar takes a standard horror story and gives it some much needed flair. While viewers certainly will question Izzy at times, there are other forces at work that allow you to firmly take her side. The film quickly goes through the usual horror tropes to get its audience to something different later in the runtime. Of course, we don't want to give away any spoilers here so we'll just say that the latter half of the film is chocked full of intrigue and you'll be craving more by the film's end.
Director Henk Pretorius, who also co-wrote the script with Jennifer Nicole Stang, delivers a smorgasbord of wonderfully creepy imagery with The Unfamiliar. The subtle and effective camerawork follow some typical horror guidelines but are just done so much better than most other throwaway flicks in the genre. The film is kind of reminiscent of The Conjuring in this way as it doesn't necessarily break new ground but its scares are simply done to perfection. There are quite a few jump and/or false scares in the film but even those are done tastefully. There's a sinister vibe all throughout The Unfamiliar as Izzy is bombarded by evil early and often. The camera allows viewers to see things as she experiences them in scenes like the pictured bathroom mirror scene or the subsequent bedroom breakdown. Another thing that adds to the eeriness is the film's setting. Oddly enough, many of the film's best scares occur during the day and the latter half of the film takes place in Hawaii as Ethan studies Hawaiian folklore. Obviously, this is a rarity in horror as daylight provides a type of sanctuary even in horrific places. That's not the case here as Izzy and her family aren't safe no matter the time of day.
Legitimate scares coupled with unique ideas and great acting, especially from Jemima West, makes for recommended viewing when it comes to The Unfamiliar. However, the film isn't without its faults. As previously mentioned, the film does deal with Hawaiian mythology and folklore which is something that hasn't been explored often in the horror genre. Here though, it feels like something of an afterthought at times. There's not a lot of explanation as to what Ethan studies or how it may play into Izzy's ongoing issues. It feels like there's so much to delve into with this idea and it's really only half baked. Perhaps the problem is that so much of the film is spent at the Cormack family's first home before, all of a sudden, they move to Hawaii over the course of one day. It's a sudden change and, while the film won't shake viewer interest because of it, it does leave a lot of questions unanswered and uninvestigated.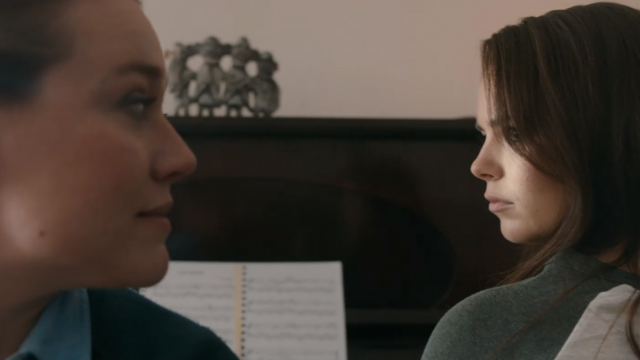 The other glaring issue with The Unfamiliar is that it just moves way too fast. As soon as it begins, audiences are pummeled with the standard horror fare which, ultimately, works. Yet, the film rarely lets up. As soon as Izzy experiences one terrifying moment, she's being hit with another about two minutes later. Neither the film, the characters, nor the viewer ever get a chance to breathe and bask in Pretorius's mood filled world. A film like Ari Aster's Hereditary has become a standout of modern horror because of its deliberate pacing, hard hitting themes, and the nightmarish terror it invokes. While The Unfamiliar has moments of this, it doesn't let the audience absorb anything before moving on to what's next. There are a ton of good ideas at work throughout the film but many of them get lost in the shuffle. Specifically, there's an excellent scene with Ben Lee's Richard Turner, a paranormal investigator, that lasts for only a few minutes and is never touched on again. In horror, or any film for that matter, you don't always have to have everything cranked to eleven. You can bring the mood back down and just let your audience take everything in for a bit before bringing out the big guns once again.
Our Score
Even with some big issues, The Unfamiliar entertains for all of its ninety minute runtime. Viewers will surely never be bored as the cast and crew deliver the horror goods at every turn. It does leave you to wonder what could've been though. The film isn't far from being a potential classic. Henk Pretorius clearly knows and understands the horror genre. The camerawork is always excellent and will have you on the edge of your seat for the next inevitable scare. Ninety minutes is fairly standard for horror but this is one of those rare occurrences where the film probably needed two hours to explore its mythology and slow down its rapid fire pacing. As it stands, horror fans should certainly give The Unfamiliar a shot as it doesn't disappoint. Yet, there's always going to be the question of what it could be with a little extra time and care.
*The Unfamiliar is currently available for rent or purchase on video-on-demand platforms like Amazon, Google Play, Vudu, and YouTube. Check out the trailer below.*