When it comes to modern horror, it's often difficult to find something unique. Hollywood is filled with sequels, remakes, and reboots while a lot of independent filmmakers turn to the cheaper found footage style of filmmaking with less effective results. Even though there have been a number of horror films coming out on video-on-demand given the ongoing pandemic, one of them especially stood out at first glance. Jason Axinn's animated action/horror film, To Your Last Death, immediately nabs your attention with its wonderful aesthetic and bloody revenge plot. Though it certainly takes influence and pays homage to past titles, it's unlike any horror film you're likely to see this Halloween.
The film opens with a bloodied young woman named Miriam (Dani Lennon) carrying an axe claiming that her family has been killed. After being checked out at the local hospital, Miriam tells her story. Her rich and powerful father, Cyrus DeKalb (Ray Wise), invited his four children, Miriam, Kelsey (Florence Hartigan), Ethan (Damien C. Haas), and Collin (Benjamin Siemon), to a meeting to discuss his legacy. However, Cyrus has other plans as he traps, tortures, and kills his children for publicly embarrassing him. At least, this is what happens the first time. The mysterious Gamemaster (Morena Baccarin) arrives to turn back time and give Miriam the chance to save her siblings as long as she plays by the rules. With this, the Gamemaster manipulates the participants of the deadly game she's running as interdimensional beings gamble on the outcome.
If you haven't gotten the impression, the plot of To Your Last Death is just plain weird but it's the good type of weird. It's the weird that makes you want to stick with the story to see what kind of absurd events may take place. Our introduction to Miriam is classic horror movie stuff with a beaten and battered woman surviving the onslaught she just faced. Cyrus puts his children through Saw-like torture by giving them opportunities to save themselves even though their chance of success is slim to none. As viewers relive the events through Miriam's eyes, the film takes on a Groundhog Day (or maybe Happy Death Day in terms of genre) approach where the protagonist has the ability to change things. Yet, there's a little bit of 2011's The Cabin in the Woods in there with the Gamemaster manipulating the overall experience.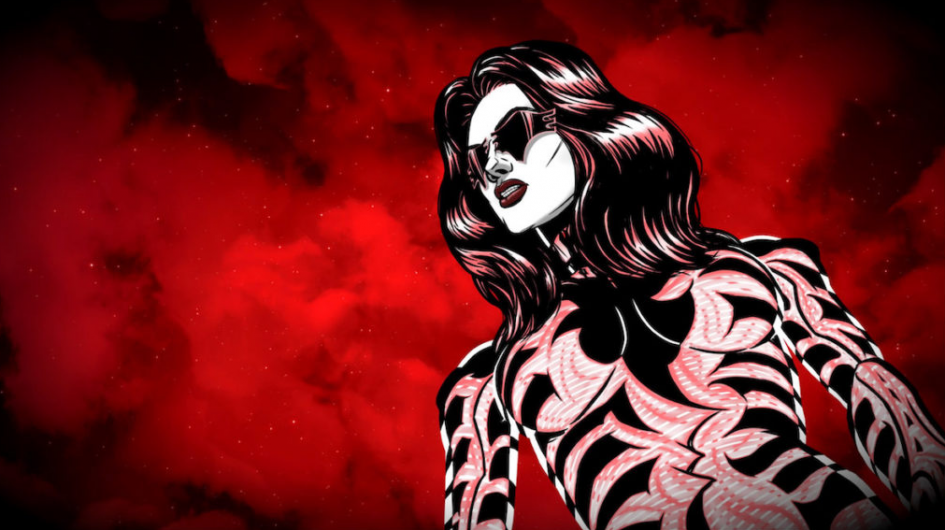 Other than its story and, of course, its animation (which we'll soon get to), the voice cast is great with some surprising names attached. Morena Baccarin, of Deadpool and Gotham fame, is immediately recognizable as the mysterious Gamemaster and brings a calmly sinister vibe to the character. Despite not being the lead, the pacing and flow of the film goes through the Gamemaster and her interference always makes for an interesting twist. Ray Wise as Cyrus DeKalb truly despises his children and wants them to meet their most brutal end possible. It definitely seems like Wise had a lot of fun with the hateful and vulgar script. William Shatner and horror icon Bill Moseley also have small roles as The Overseer and Pavel respectively. Shatner does some brief narration while it's too bad that Moseley didn't have a little bit bigger role given that he has such a distinct voice that's perfect for this sort of project. Even though the big names will nab the casual viewer's attention, the rest of the voice cast is no slouch either. Dani Lennon especially stands out in the lead role as Miriam with Hartigan, Haas, and Siemon giving actual personality to her siblings.
Even with a cool story and impressive voice cast, the real selling point of the film is its animation. Since the release of Toy Story in 1995, film animation has typically been impressive but also uninspired. Once Pixar hit it big, other studios like Dreamworks and Disney (following their split with Pixar) followed suit with 3D animation. It's rare when films like Fantastic Mr. Fox or Coraline come along and To Your Last Death can now be added to that mix as well. The animation is simply astounding and very aesthetically pleasing. Jason Axinn and the rest of film's crew clearly had a vision for the film and it's refreshingly original. There are moments that feel reminiscent to something like Adult Swim's Metalocalypse, especially during some of the gorier scenes, but To Your Last Death always feels original in the art department. In a time when 3D animation has become the norm instead of the exception, it's refreshing to see something with its own style and flair.
Despite all of the good, there are still a few detractors. At only 91 minutes, the film can feel a tad long especially in the early going. Though, this is probably more location than anything as viewers spend most of that time in a high rise office building. Because of this, there's sometimes a lack of interesting backdrops and the repetition of Miriam reliving events she's already been a part of can feel a little tedious. However, this is very minor and there's still plenty of good action/horror fun to go around. The other thing that may leave viewers a bit wanting is the unclear purpose of the Gamemaster. Who is she and why has Miriam and her family been targeted here? The all-knowing Gamemaster is an interesting plot device but it's safe to wonder if its full potential could be unveiled in a possible sequel.
Our Score
Being released in October, To Your Last Death is a surprising horror themed project that not enough people are talking about. Given its uniqueness, artistry, and dedication, the film is one that could eventually turn into a cult classic. Animated horror flicks are hard to come by and this one sets the bar pretty high with its art style. The story borrows some things from other films but does so tastefully and effectively. To Your Last Death is definitely a film worth watching this Halloween season and hopefully Jason Axinn and company have more up their sleeve with some of these characters and their story.
*To Your Last Death is currently available for rent or purchase on video-on-demand platforms like Amazon and Vudu. It's also now available to purchase on Blu-ray at this location. Check out the trailer below.*