We've said it before and we'll say it again. 2021 is going to be a great year for cinema. With streaming platforms like Amazon Prime, HBO Max, and Netflix all dedicated to pumping out more original titles this year, of course, due to the ongoing pandemic, and 2020 theatrical releases all still waiting to be released, there's going to be so much content in 2021. That's no reason to forget about all of the great independent filmmakers and releases out there either. This past week, Yonah Lewis and Connor Thomas's new indie drama, White Lie, was released on video-on-demand platforms. Centering on a young woman's false claims of having cancer, White Lie acts as a warning and painful reminder that self-serving words and actions may have serious consequences down the line.
The film follows an undergraduate student named Katie Arneson (Kacey Rohl). She claims to have cancer and her friends, school, and her girlfriend, Jennifer (Amber Anderson), all show much support in Katie's battle. The problem here is that Katie doesn't actually have cancer. Instead, she uses the disease for personal and financial gain although not in an intentionally malicious sense. Katie's father, Doug (Martin Donovan), exposes his daughter after she makes a failed attempt to borrow money and convince him of her diagnosis. From here, Katie's life begins to unravel and she struggles to keep her horrible secret under wraps.
White Lie is kind of a strange film in that it takes an unconventional approach in telling its story. The protagonist, Katie, is basically a despicable person for faking a serious illness and benefiting from it. Yet, the audience is meant to sympathize with her and actually fear the idea of her secret getting out. Surprisingly, it works very well as you experience the film largely through her eyes. In most films, viewers will be given a main character to support and root for. While you may not necessarily approve of or defend Katie's ploy, it's hard to want her to suffer any kind of severe punishment either.
This is really a testament to excellent performance from Kacey Rohl. While usually a supporting character in television shows like Wayward Pines, Arrow, and The Magicians, Rohl gives a powerhouse lead performance as cancer faker Katie. The lengths she goes to to preserve the lie are bold to say the least. However, as the truth begins to leak out, Rohl shows panic, desperation, and persistence in her efforts to fool everyone. It's not really that Katie is a terrible person, although her actions do make her one, it's just that she couldn't have achieved many of her goals without such a story. Her heroic story serves as a shortcut to getting the things she wants. Katie doesn't intend to hurt anyone and, ultimately, ends up creating a ton of collateral damage. Amber Anderson's Jen is perhaps the most sympathetic character in White Lie as she's played the fool by Katie's faux illness. Jen is torn between believing someone she loves and facing the mounting evidence of wrongdoing. Along the way, there are a number of characters, like Martin Donovan's Doug and Christine Horne's Julia Stansfield, that are looking for the truth while others, like Connor Jessup's Owen and Thomas Olajide's Jabari Jordan, who aid Katie in covering up her charade. Everyone is fantastic in their respective role and all help craft the film's engaging story.
Just as with the recently reviewed Pieces of a Woman, White Lie is a powerful, uncomfortable, and compelling drama that's hard to forget. It's a story that shows how one untruthful claim can cause a ripple effect that damages countless lives. From Katie's point of view, it's kind of a win-win for everyone as she lives the lie and becomes an image of heroism and strength while uniting her friends, school, and even community as they contribute to her cause. It's a feelgood lie. Yet, the cataclysmic fallout of people finding out the truth far exceeds anything Katie could've imagined. The lie was never thoroughly fleshed out and, as holes are incessantly punched into Katie's tale, the ramifications, whether they're legal, familial, or by relationship, are quite severe. Yonah Lewis and Connor Thomas weave a distressingly impressive story without becoming melodramatic or preachy. This is the type of film you could imagine being on Lifetime but, thankfully, the subject matter is taken seriously and is handled perfectly to create a tense drama.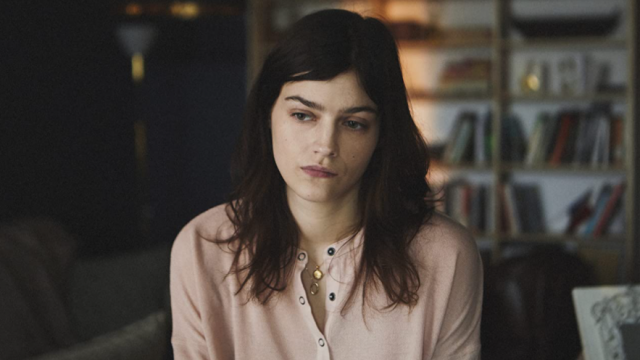 Issues with the film are very, very minor as well. The only thing that could maybe have been done a little better is the film's ending. It's somewhat abrupt and anticlimactic. That's not to say that there's nothing revelatory or important. It's just that it kind of sneaks up on you and, all of a sudden, the film's over. Now, on the flipside of that, it's difficult to say where else White Lie could've really gone if it continued on. The stopping point seemed like a logical one and it effectively wraps up one of the film's biggest storylines. Again, the ending just felt really quick and there are so many more questions left as the credits roll. Regardless, this is a tiny gripe in a sea of praise for this film.
Our Score
So far, so good here in 2021. Yonah Lewis and Connor Thomas's captivating tale about a young woman faking a cancer diagnosis and sending her entire world into upheaval is impressive to say the least. With White Lie, Lewis and Thomas don't simply relay this story to the audience. They make you feel the emotional weight and the mental drain that it has on not only the film's main character but everyone she interacts with. As previously mentioned, this type of story could've easily gone over-the-top with melodrama but everything stays grounded and believable. While 2021 is shaping up to be a fantastic year for film, White Lie is an early year release that movie fans aren't going to want to sleep on.
*White Lie is currently available for rent or purchase on video-on-demand platforms like Amazon and Vudu. Check out the trailer below.