As we've come to know in recent years, long awaited sequels are something of a mixed bag. Films like Terminator: Dark Fate and Rambo: Last Blood have been huge disappointments for fans while others such as Blade Runner 2049 and Doctor Sleep have been shockingly good and, in some ways, even exceed the quality of their predecessors. So then, what's to be expected when a sequel to a beloved duo of science fiction teen comedies comes out 29 years after the previous entry? In the case of Bill & Ted Face the Music, fans of the series get a welcome dose of nostalgia and fun while following the matured heroes for another time traveling romp through the past, present, and future.
For younger audiences, some may be asking, "Who the hell are Bill and Ted?" The two titular characters were created by Chris Matheson and Ed Solomon for 1989's Bill & Ted's Excellent Adventure. Bill and Ted are two teenage metalheads played by Alex Winter and Keanu Reeves respectively. In danger of failing history barring an A grade on their final report and Ted's father threatening to send him to a military school in Alaska, the duo meet a man from the future named Rufus who's played by George Carlin. Rufus tells them that the music from their band, Wyld Stallyns, will bring harmony to Earth and that they must pass history for this to occur. From there, Bill and Ted travel through time using a phone booth to collect historical figures to use in their presentation. A sequel, Bill & Ted's Bogus Journey, followed in 1991 and took the rockers to both heaven and hell after being killed by two robot versions of themselves from the future. There's also been a cartoon series, comic books, and video games featuring the characters. This third film has been in development since 2010 with both Winter and Reeves on board to reprise their roles. It wasn't until last year that the film was greenlit before being released this past weekend.
Bill & Ted Face the Music picks up 25 years down the road where the two leads, again portrayed by Winter and Reeves, are middle aged fathers with crumbling marriages. Not for lack of trying, Wyld Stallyns has yet to write a song that would unite the world. Kelly (Kristen Schaal), the daughter of the late Rufus, arrives in 2020 San Dimas, California, to tell the two that they must debut their world-changing by 7:17 PM that evening or Earth will be no more. Bill and Ted decided to travel into the future to steal the song from themselves after they've already written it. Meanwhile, their daughters, Billie (Brigette Lundie-Paine) and Thea (Samara Weaving), embark on their own adventure to the past in hopes to assemble the greatest band ever to back their fathers. With all time seemingly falling apart, timelines becoming interspersed, and friends old and new coming along for the ride, the heat is on for Wyld Stallyns to finally fulfill their destiny.
The plot of the film is about what you'd expect from Bill & Ted. Two immature characters that haven't fully accepted their responsibilities are thrust into a position to play savior to the world once again. This time though, the romp through time exceeds our two leads. Billie and Thea have their own Excellent Adventure style trip picking up historical figures to participate in the performance of the song that'll save the world. Additionally, Bill and Ted's significant others, Joanna (Jayma Mays) and Elizabeth (Erinn Hayes), time travel, albeit mostly offscreen, to assess their current lives. Basically, Face the Music does what any good sequel does by paying respect to the characters and honoring the past while also doing something new and different.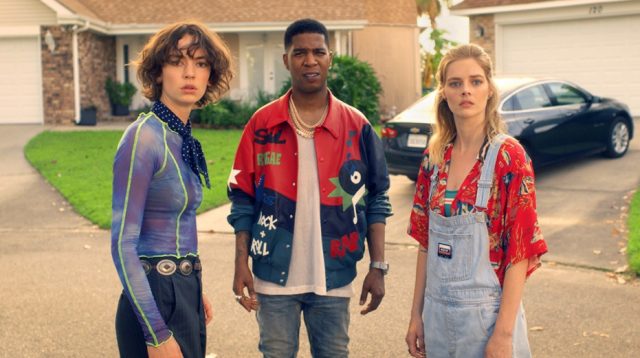 Speaking of the characters, they're definitely a strength of the film. Keanu Reeves has carved himself out a nice career as a kick ass action hero with his the title role in the recent John Wick films and as Neo in The Matrix franchise. In his return to his comedy roots, Reeves maintains his sort of dry awkwardness from his more recent work instead of going with the full on goofiness of Ted "Theodore" Logan in the two previous films. His performance works as there's kind of a "dad joke" vibe to Ted which makes sense given that Face the Music takes place 25 years later. Alex Winter, on the other hand, makes a most triumphant return to acting as Bill S. Preston Esquire. Word has it that Winter went through acting lessons to prepare for the role as he has recently been focusing on his filmmaking career instead of acting. He hasn't lost a beat as even older Bill still has that baby face and teenage innocence about him. It's great to see him back in this role.
It's also awesome to see past acting talent return to their old roles as well. Hal Landon Jr. returns as Ted's father, Chief Logan, while Amy Stoch makes an appearance as Bill's former and, later, Ted's stepmom, Missy. Stoch's Missy even kicks things off with one of the best running gags in the series that we won't ruin here. Either way, it's hilarious and very Bill & Ted. Of course, we can't go without mentioning William Sadler taking up the robes and scythe as Death once more. He's used sparingly in the film but they do such a good job and it's just as great to see him back as it is Winter and Reeves. Unfortunately, due to George Carlin's passing back in 2008, the legendary comedian was out as Rufus but there is a touching tribute to him. Even his daughter in the film, Kelly, is named after Carlin's real life daughter. Then, we have Samara Weaving and Brigette Lundie-Paine as Bill and Ted's daughters. Both are very likable and kind of fill a similar role as Ash's daughter, Brandy, in the also wonderful Ash vs. Evil Dead series. The two embody the youthful versions of Bill and Ted and definitely serve to carry on the legacy. Hopefully, Matheson and Solomon won't try to continue the series with Billie and Thea as the leads but, if they do go that route, the two actresses are deserving of a chance.
While the characters are great, where the film really hits home is with its suprisingly touching story and feel. For those that grew up watching the original two flicks, the nostalgia is high with Face the Music. Yet, it doesn't feel like a ripoff of retread of the previous films. Fans already love these characters and this new film will make you love them even more. Just as the characters have aged, so has its core audience. Responsibility is a huge theme in this film and that's something that mostly everyone should be able to sympathize with. Coupled with this is the comedy. It doesn't always land but, more often than not, the film delivers the goods. The aforementioned Missy scene, Bill and Ted's future selves, and a chance encounter with Dave Grohl provide some of the best moments Face the Music has to offer.
For as enjoyable as the film may be at times, it still has a few problems. While we said before that Keanu Reeves' stilted performance worked for a middle aged Ted, it does cause the film to show some of its age. Then, you add in some of the lamer jokes in the script and you'll realize that there are bland moments here that you won't find in the earlier films. In addition, the usage of time travel in this film often doesn't make any logical sense based on previously established rules. The idea of Bill and Ted going into the future to steal a song from themselves is humorous on paper but how is it that some of the future versions have yet to write the song? Basically, the film begins to access multiple timelines instead of one straight line through history as has always been evidenced in the previous films. One other small issue is with the CGI. Even though it's hard to fault the film for this, some of it just looks bad and completely unrealistic. This is a very minor complaint, though, as it doesn't really affect overall enjoyment of the film.
Our Score
Bill & Ted Face the Music is exactly what it's meant to be: entertainment. For fans of Excellent Adventure and Bogus Journey, you'll feel right at home here. The film is a breeze to watch and is just pure joy from start to finish. It's true that there are some iffy moments and some of the jokes feel stale but, ultimately, Face the Music feels like a passion project. This is a film that Chris Matheson, Ed Solomon, Alex Winter, and Keanu Reeves wanted to make. It's not a cash grab nor is it a hollow reboot. This is truly a Bill & Ted film and very worthy of its title. There's even a pretty good soundtrack consisting of bands like Mastodon, Lamb of God, and Weezer that doesn't always get highlighted the way Bogus Journey did with its own lineup of bands. If you're looking for a nostalgia trip packed with fun and laughs, then Bill & Ted Face the Music was made just for you. It's definitely non-non-non-non heinous.
*Bill & Ted Face the Music is currently playing in select theaters as well as available for rent or purchase on all major video-on-demand platforms. Check out the trailer below.*