Fourteen years ago, the smash hit mockumentary, Borat: Cultural Learnings of America for Make Benefit Glorious Nation of Kazakhstan, was released to much acclaim. Due to its offensive subject matter, absurdly confrontational interactions, and a highly quotable lead character, everyone was talking about the film in 2006. Given the subsequent star power of Sacha Baron Cohen and his character of Borat Sagdiyev following the film's release, there wasn't much hope for an immediate follow-up as Borat largely went for real reactions from its unassuming subjects being interviewed its lead character. However, that all changed when it was revealed that Borat Subsequent Moviefilm was shot in secret over the course of 2020. Cohen once again thrusts himself into the limelight as the oblivious and politically incorrect fictional Kazakhstani journalist putting together another humorous romp during an extremely volatile time in America.
Borat Sagdiyev was one of three recurring characters, all created and portrayed by Cohen, on Da Ali G Show. Segments of the show would feature Borat interviewing people and engaging in activities in the United Kingdom and United States. While Borat was popular on the show, the 2006 film catapulted him into the mainstream. Cohen received a ton of backlash following the film's release despite its massive success. Many lawsuits from unaware participants in the film popped up and the country of Kazakhstan had even denounced the film at one point. Though, tourism and interest in the country increased after Borat's release and Kazakhstan has seemingly come to accept the film. The character became so recognizable and beloved (among those who weren't embarrassed by him at least) that Cohen actually retired the character in late 2007 before resurrecting him for this sequel.
Borat Subsequent Moviefilm opens with the titular Borat Sagdiyev (Cohen) imprisoned in a gulag for humiliating Kazakhstan with his exploits in the first film. In 2020, Premier Nazarbeyev (Dani Popescu) releases Borat and tasks him with delivering the gift of Johnny the Monkey, the Kazakh Minister of Culture, to President Donald Trump to redeem the country. However, due to Borat relieving himself in front of the Trump International Hotel and Tower in the previous film, he decides to deliver the gift to Vice President Mike Pence instead. As Borat goes to collect Johnny the Monkey, he discovers that his daughter, Tutar (Maria Bakalova), stowed away in the monkey's crate causing a minor setback with the gift. Facing certain death from the Kazakhstani government if things go awry, Borat decides to give Tutar a makeover and present her to Mike Pence as a replacement gift.
As you can tell, the plot itself is dumb and, frankly, doesn't entirely matter. If you're going into a Borat film for an intriguing plot, you're here for all the wrong reasons. The stories of both this film and its predecessor were only to get the character of Borat in the door to capture real-life scenarios with unaware targets. As we mentioned before though, the character has become so recognizable at this point that Cohen had to get creative for this sequel. For most of the film's biggest scenes, Borat wears costumes to disguise himself. Even after all this time, the character still stands out in a crowd with his trademark hair, mustache, and grey (or blue, but definitely NOT black) suit. The idea of disguises sounds kind of stupid but, surprisingly, Cohen is actually able to pull the stunt off relatively well in the context of the film. Plus, going this route sets the stage for one of the film's most ballsy moments.
Of course, it's Sacha Baron Cohen that makes the film. His total dedication to remaining in character and his willingness to push the envelope makes both Borat films total spectacle. You want to keep watching just to see what he's going to try next. Whether that's having a live chicken falling out of his suitcase on a subway train or having a naked fight throughout a hotel and convention center in the first film or dressing up like President Donald Trump at a campaign rally in this one, Cohen is always all in. Borat is as lovable as ever in an innocently racist and sexist way. As ridiculous as he often is, it's hilarious to watch some of his targets accept him just because they believe him to be foreign. Relative newcomer Maria Bakalova is really great as Borat's daughter, Tutar, as well. She doesn't try to be exactly like Cohen's Borat but instead enables his behavior and agrees with his comments, opinions, and ideals. The duo is convincing as they both honor the faux customs of Kazakhstan as they deal with people in the film. Tutar actually feels like an original character and not just another buffoonish Borat ripoff.
Unlike the 2006 film, the agenda of Borat Subsequent Moviefilm is purely political. In the first one, Borat's main goal was to learn about American customs to report back to Kazakhstan. This new film is essentially a smear piece on Donald Trump's America and his campaign leading up to Election Day (which, despite being yesterday, still hasn't revealed a winner as of his writing). From the Trump disguise during the real-life Mike Pence speech at CPAC to putting the president's personal lawyer, Rudy Giuliani, in a comprising position with Bakalova's Tutar, Cohen's message is quite clear throughout the film. As it continues, the COVID-19 pandemic also becomes a major plot point. Basically, Cohen couldn't have picked a better year to bring back the character of Borat to poke fun at America during one of its lowest points in recent memory.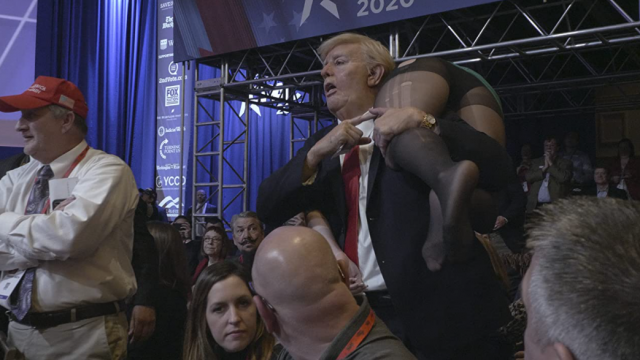 However, the political tone is going to be a sticking point with some viewers. Obviously, Trump supporters and conservatives may not find Cohen's antics the least bit amusing. As previously mentioned, this is an extremely volatile time and the country is seemingly at war with itself. Anyone that gets easily bent out of shape should definitely avoid Borat Subsequent Moviefilm. In addition, some of the scenes just aren't funny. Specifically, there's a scene with Borat and Tutar at a debutante ball where Tutar gets her period. It's so stupid, pointless, and unfunny that it actually detracts from some of the film's better moments. The appeal of 2006's Borat was that the character was innocently oblivious on how to behave in America. This new film only has some of that as it's more of a political statement that's trying too hard to be offensive. That's not to say that it doesn't sometimes succeed but it also doesn't have the appeal of its predecessor.
Our Score
Borat Subsequent Moviefilm is a decent watch for a few laughs. There's some legitimately funny stuff going on here and, whenever the film pays homage to the first, you remember why the character became so popular in the first place. It's hard to say that this film is going to have any audience outside of people that are either liberals or indifferent to politics altogether though. Regardless, you have to admire the dedication and guts of Sacha Baron Cohen to pull off some of the stunts that he does in this sequel. They're larger in scope and, frankly, more dangerous than most of the harmless pranks he pulled the first time around. Although Borat Subsequent Moviefilm may not be quite the successor that some fans may have wanted from Cohen and his beloved character, it's still a pretty fun experience overall if you're not easily offended.
*Borat Subsequent Moviefilm is currently streaming for free on Amazon for Prime members.*