One film subgenre that always seems to have a faithful audience is the gangster film. Every year, we get new gangster flicks that are the talk of the town upon their release no matter the quality. Films like Gotti and The Kitchen got some attention last year, albeit negative, while Guy Ritchie's 2020 effort, The Gentlemen, hit theaters to mixed reviews. Of course, the crown jewel of 2019 was Martin Scorsese's Oscar nominated epic, The Irishman, as it proved that even aging gangster movies can still hang with classics like The Godfather, Scarface, and Goodfellas. Now, the current buzzworthy title to hit living rooms nationwide is Josh Trank's aptly titled biopic, Capone.
Trank is probably best known for the turbulent production and release of 2015's Fantastic Four reboot. Despite a talented cast, the film was an utter disaster as studio executives from 20th Century Fox demanded rewrites and reshoots of the film. On the day of Fantastic Four's release, Trank himself announced his dissatisfaction with the film and disowned it. The film bombed and, following a five year absence, Capone becomes the first release from the writer/director since.
Capone chronicles the deteriorating health and mental state of former boss of the Chicago Outfit crime syndicate, Al Capone (Hardy). Following an eleven year stint in prison, Capone, affectionately referred to as Fonse, is released and retires to his Palm Island, Florida home. However, Fonse suffers from neurosyphilis and dementia and has trouble deciphering what's real or what's in his head. His wife, Mae (Linda Cardellini), and son, Junior (Noel Fisher) remain by his side while his faithful Chicago Outfit confidants, Ralphie (Al Sapienza) and Gino (Gino Cafarelli), along with Dr. Karlock (Kyle MacLachlan), also help care for their ailing boss. Still under federal watch, Fonse's mental state worsens as he obsesses about $10 million that he had hidden away but can't remember its location.
Like last year's Extremely Wicked, Shockingly Vile and Evil, the plot of Capone is sure to perplex interested viewers. Instead of documenting the real-life Capone's life and crimes, the film aims to make the notorious mobster a sympathetic character. There have been plenty of crime dramas that look to humanize their lead characters like Blow and Public Enemies so that viewers can relate to them but Capone does so differently. It seems like the film strives to make viewers pity Capone given his degenerative condition. He's a shell of his former self after his release from prison and bears no resemblance to his past life as a mob boss. It's probably safe to say that this isn't what audiences expected from a Tom Hardy-led Al Capone film.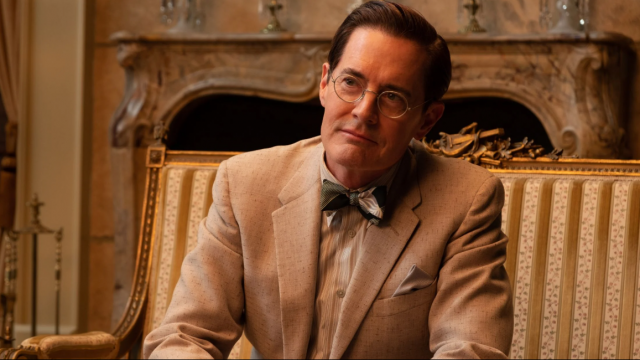 So, why did Josh Trank decide to tell this story specifically? There could be a few reasons for it. The first is obvious as that this is a side of Al Capone that we haven't seen before on film. Numerous actors have portrayed the iconic gangster at the height of his powers on the big screen over the years. In addition, there have been even more that portrayed characters based on the real-life Capone. In this respect, Trank's film is a stark contrast to those that came before. One of the other reasons could be because of the 1987 film, The Untouchables. Directed by legendary filmmaker Brian De Palma, The Untouchables is a title that's always high up on everyone's list of the best gangster movies of all time. Based on the true story, the film focuses on Federal Agent Eliot Ness assembling a rag-tag team to bring down Al Capone. Robert De Niro portrays the gangster in this go-round and it's quite possible that we just didn't need to see this story done again.
The film that we do get from Trank instead covers the last year of Capone's life. Despite some questionable reactions to this, there's definitely some merit to it as well. Viewers will see Fonse as vulnerable and completely dependent on those around him instead of the hardened criminal he's mostly recognized as being. Trank constantly blurs the lines of reality as Fonse's dementia takes hold and his motor functions crumble. There's also the mystery behind the hidden money which you can't even be sure exists given Fonse's state. Trank mostly tasks viewers with deciphering the story for themselves when trying to determine what's real or not. At worst, it's an intriguing approach to such a famed story as it makes you question everything about the man.
Equally important to Trank's vision of the film is the performance by Tom Hardy. The British actor has become a star known for his eccentric, speech-impaired roles in films like The Dark Knight Rises and Venom as well as television shows like Peaky Blinders. Hardy goes all in as Fonse with a gravelly voice and disturbing mannerisms and reactions brought on by his ailments. There are flashes of the psychotic side of the old Al Capone but these are mostly in surreal fever dreams brought on by his dementia. However, they do make viewers think about what could've been in a more traditional biopic. Instead, Hardy does his mumbling voice schtick and acts like Tony Soprano with food poisoning for most of the film's runtime. Hardy's performance is admirable and keeps viewers into the strange, hallucinatory plot but largely feels like a missed opportunity in the end.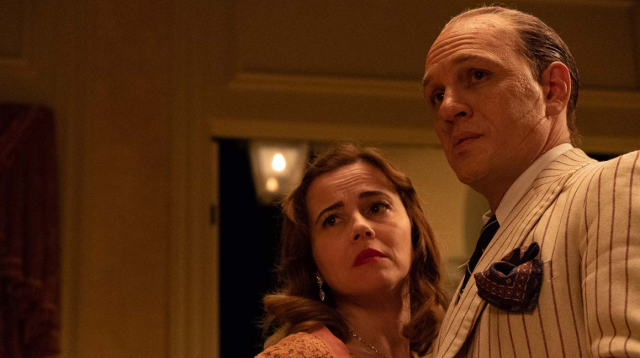 Up to this point, it's probably starting to feel like we're a bit wishy washy on Capone overall. The big issue is that that's what the film is: wishy washy. You can understand why Trank would go with this story over something more traditional. Yet, it's hard to say that it was the right choice. There's nothing necessarily wrong with the film as it's well shot, edited, and features plenty of fine performances. It's just difficult to really get behind anyone. Viewers never really get a chance to sympathize or care for Fonse in the way Trank probably wants them to. There are little nuggets of brilliance such as Fonse exacting his revenge on an alligator that steals a fish he catches but then it's back to absurd delusions soon after. While it can be interesting to piece together what's real or not by yourself while watching the film, it doesn't end up leaving a lasting impression overall. This feels like a piece of Capone's story and may have been better for a coda in a superior film based on the entirety of the ruthless mobster's life.
Our Score
For most gangster film fans, Capone probably isn't going to satisfy. If you're expecting something like Goodfellas, just know that this isn't even close to that in substance, quality, or storytelling. This is a character study. More specifically, it's a character study on the end of someone's life. It just so happens that it's the end of a prominent mob boss's life. For the spectacle and mystery, Capone is worth a watch. However, for those looking for a career defining biopic on the real Al Capone, you're much better off looking elsewhere.
*Capone is currently available for rent or purchase on video-on-demand platforms like Amazon, YouTube, Google Play, and Vudu.*