Charlie Kaufman is a name that hasn't come up very often in recent years. In the late 1990's and early 2000's, Kaufman was churning out quality screenplays consistently in the shape of titles like Being John Malkovich, Adapatation., Confessions of a Dangerous Mind, and, of course, Eternal Sunshine of the Spotless Mind. Since then, though, Kaufman has had a less constant stream of releases as he transitioned into directing alongside his usual writing duties. Beginning with 2008's Synecdoche, New York, Kaufman has directed (or co-directed) each subsequent release with his last being 2015's superb animated film, Anomalisa. Now, Kaufman returns after a five year hiatus with the Netflix exclusive I'm Thinking of Ending Things.
Kaufman's film is an adaptation of Iain Reid's 2016 novel of the same name. Upon its release, the book was chosen as one of the best of 2016 by National Public Radio and it also was a finalist for the 2016 Shirley Jackson Award which ultimately went to Emma Cline's Manson Family-inspired book, The Girls. To date, Reid only has four total books under his belt of which two are memoirs. With I'm Thinking of Ending Things being his first fiction novel, Reid released Foe in 2018. A feature film version of Foe is currently in development as well.
I'm Thinking of Ending Things follows a Young Woman (Jessie Buckley) who's pondering whether to break off her relationship with her boyfriend, Jake (Jesse Plemons). Despite her misgivings, she decides to road trip to Jake's secluded family farm to meet his parents played by David Thewlis and Toni Collette. Shortly after they arrive, the Young Woman begins to experience some strange things and begins questioning everything she knows about Jake and even herself.
To avoid any major spoilers, we're going to keep the plot of the film brief and instead explore its actual storytelling instead. After their arrival at the farm, viewers will quickly realize that I'm Thinking of Ending Things isn't a film based in reality. It jumps around with character appearances changing and an overall feeling that something's just off. This shouldn't be a big surprise to anyone familiar with Kaufman as there's always psychological manipulation and deception in his work. The film isn't unlike Eternal Sunshine of the Spotless Mind with its focus on internal monologue, familiar but strange imagery, and a slight emphasis on horror. No, neither film should be considered horror but there are some eerie visuals and a creepy tone to some of each film's best scenes. In regard to I'm Thinking of Ending Things, it's one of those films that'll take you down a proverbial rabbit hole and will keep you interested in seeing how deep it can possibly go.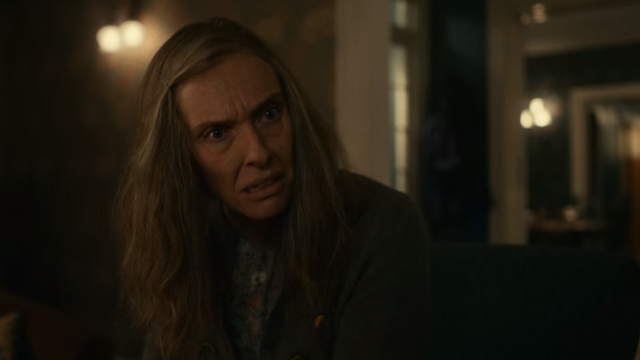 The best thing about the film, by far, are its characters. The cast is the beating heart of Kaufman's sometimes surreal, sometimes preachy vision of Reid's novel. Jesse Plemons, who's in basically everything at this point, is great as the mild mannered, yet stilted and controlling, Jake. As is the case with the plot, viewers will soon realize that there's more to Jake than what meets the eye and Plemons is great at only letting subtle details slip at the most opportune moments. David Thewlis and Toni Collette are wonderful additions as Jake's parents. Thewlis plays the father as almost a burnout version of his erratic character from The Big Lebowski. Collette, on the other hand, continues her ascendance as one of the most versatile actresses today after her turns in Hereditary, Velvet Buzzsaw, and Knives Out. As Jake's mom, Collette is eccentric and almost scary at times with her performance. She has an almost unhealthy obsession with her son and is clearly a tortured woman. While this role doesn't reach the heights of Hereditary's Annie Graham, Collette is still on top of her game and puts in another excellent performance here.
The clear standout among the cast, though, is Jessie Buckley as the Young Woman. The character takes you on a ride through a treacherous and dreamlike world where you have no idea what's going to happen next. There are times when she's quiet and subdued but, in the very next, there's bravery and defiance. Then, this will be followed up by understandable fear as she navigates through experiences she may not quite understand. Originally, the lead role was set to go to Brie Larson who eventually pulled out of the film. Larson, a talent in her own right with films like Room to her name, probably would've been just fine in the role. Though, maybe not after her unbelievably bland run as Captain Marvel in the Marvel Cinematic Universe. Regardless, things worked out for the best with Larson's departure as Buckley brings I'm Thinking of Ending Things to another level with her multilayered performance.
Unfortunately, the praise is going to end there as the film isn't Kaufman's strongest in neither writing nor directing. While his previous work on Anomalisa was brilliant, there are too many things getting in the way of I'm Thinking of Ending Things reaching its full potential. The car ride scenes both to and from the farm are painfully long and really bring down the film's pacing while making you feel every second of the film's 134 minute runtime. In addition, the dialogue during these scenes is maddening at times. The first car scene can be given a pass as a slow and deliberate buildup to the surreal experiences that Buckley's Young Woman and viewers will face. The second one features an extensive conversation about John Cassavetes' 1974 film, A Woman Under the Influence (which is a great film, by the way), and philosophical speak that really doesn't land. After a while, you just get tired of the Young Woman and Jake talking because it goes on and on. The biggest problem is that the level of intrigue is sky high after the visit to the family farm and the film crashes back to Earth and nearly bores you into a coma. This is something that Kaufman has pretty much avoided in all his scripts so it's odd to see it now all of a sudden. The film also has a disappointingly strange third act that simply doesn't fit Kaufman's usual emotionally profound conclusions to his stories. There's a little bit of this but given Kaufman's other choices in the film, the impact may be lost on some viewers.
Our Score
I'm Thinking of Ending Things is still going to escape this review with a recommendation but it comes with an asterisk. This film clearly isn't for everyone and even some Kaufman fans will be skeptical of it. That being said though, the word "intrigue" constantly comes to mind while watching the film. There's so much intrigue built up especially during scenes at the farmhouse and a brief stop for ice cream at Tulsey Town. It's just that it doesn't feel like there's ever a capitalization or payoff. This is a film that really makes you want to read Iain Reid's original novel to see where he takes the story instead of where Kaufman decided to take it. While there are certainly some irritating parts of Charlie Kaufman's I'm Thinking of Ending Things, it's one of those that could also maybe grow on you. There's a lot to dissect here and, maybe after knowing the outcome, some of Kaufman's car dialogue will be more interesting. For those looking for something a little bit different and a little bit weird, give I'm Thinking of Ending Things a shot.
*I'm Thinking of Ending Things is currently available for streaming on Netflix.*