The idea of releasing films based on popular bands and musicians isn't anything new. Films like The Doors and Walk the Line have long cemented their place in the hearts of fans around the world. In 2018, the Queen biopic, Bohemian Rhapsody hit theaters after a lengthy development. The film was a smash hit and has since become the highest grossing musical biopic of all time. Of course, the film went on to win four Oscars at this year's Academy Awards and was also nominated for Best Picture. With the massive success of Bohemian Rhapsody, it's hardly a surprise that other musical biopics quickly followed suit. While Rocketman, the story of Elton John is on the way later this year, Netflix is the first to strike with the long awaited film based on Mötley Crüe, The Dirt.
The film is adapted from the band's collaborative autobiography with New York Times writer Neil Strauss, The Dirt: Confessions of the World's Most Notorious Rock Band. Whereas Bohemian Rhapsody took about eight years to get made, The Dirt has languished in developmental hell since 2006. At that point, the film rights were owned by Paramount Pictures and MTV Films. Though, a decade passed before the rights were acquired by Netflix in March 2017 and the film began shooting just shy of one year later.
The Dirt opens with narration by the band's bassist and main creative force, Nikki Sixx, who's played by Douglas Booth. The other band members, Tommy Lee (Colson Baker AKA Machine Gun Kelly), Mick Mars (Iwan Rheon), and Vince Neil (Daniel Webber), are introduced through one of the band's rowdy parties back during the peak of their career. The film rewinds to quickly gloss over the tumultuous childhood of Nikki and then fast forwards to the meeting between him and Tommy. Soon, you see the formation of the band, their first gig, their massive success, and all of the sex, drugs, and rock and roll that the film can muster.
When it comes to the plot of the film, there really isn't much of one. At only an hour and forty-seven minutes long, The Dirt has a lot of ground to cover and it speeds through a lot of events. There's nothing gradual about this film as it hops from one event to the next. You'd think that this would be exhausting and tough to watch since none of the characters really work towards anything. Yet, it's not the worst approach as it shows the rock and roll bad boy lifestyle that the band members lived during their heyday. While the lack of a story will definitely be a turnoff for some viewers, fans of the band will mostly overlook this as the film pummels them with excess.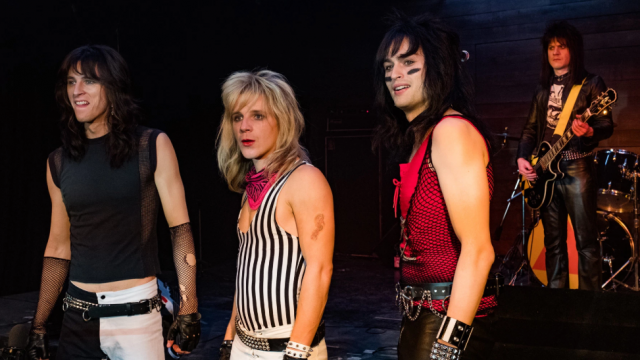 Despite a young and relatively inexperienced cast, everyone does a great job and they each have chemistry with one another. Douglas Booth as Nikki Sixx is the closest the film comes to a lead character and he provides a solid vehicle to move from event to event. Machine Gun Kelly's portrayal of Tommy Lee comes off as a kid in a candy store at all times and it works very well. He's extremely likable as is the real Tommy Lee so it's not hard to buy him in the role. Iwan Rheon as Mick Mars is constantly awkward but intentionally so. It's difficult not to think of Rheon as Ramsey Bolton in HBO's Game of Thrones every time he's onscreen though. Daniel Webber is good as lead singer Vince Neil but too often feels like the odd man out. Vince Neil arguably lived through some of the most difficult events during his time with the band. Due to the film's rapid fire pacing, though, we don't often get to sympathize with the character as much as we should.
If there's anything that will drive people away from The Dirt, it will be the excess. In a time when audiences clamor for empowering female characters, you certainly won't find any in a film about Mötley Crüe. Some reviewers have criticized the film and even Netflix for this. Frankly, that just doesn't make any sense. Yes, some may be offended by how the members of the band demean and cycle through women in the film. Would this fly in a work of fiction today? Probably not. However, this is the story of Mötley Crüe. It's not here to make anyone feel good or be politically correct about anything. If you're the least bit uncomfortable with sex and drug use, you don't have any business watching The Dirt in the first place.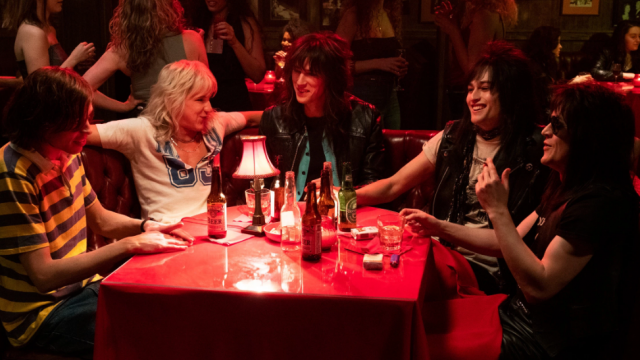 Honestly, the best thing about the film is that it doesn't hold anything back. It shows the band during its highest of highs (in more ways than one) and its absolute lows. In a way, it's kind of the opposite of a film like Bohemian Rhapsody. Whereas that film was a squeaky clean, family friendly retelling of the Queen story, The Dirt has no shame in depicting even its most controversial and heartbreaking events. Make no mistake about it, there definitely is heartbreak to be had in the Mötley Crüe timeline. Nikki Sixx's drug use spirals even further out of control than his bandmates and Vince has suffered through some serious tragedy throughout his life. Though, in the case of the latter, the film may miss out on some opportunities here as previously mentioned.
Our Score
In this world where everyone is so on edge about every little thing, Nikki Sixx and company don't care about your feelings or your affiliations. This is their recollection of their lives and events and it's unapologetically Mötley Crüe. The film doesn't care who it offends or why it offended them. This is what The Dirt needed to be and even though many will hate it, this approach should be applauded. Sure, some details are changed or embellished for the sake of making a more dramatic film. Though, along with director Jeff Tremaine, the real life band didn't sacrifice anything that makes them who they are. Although the lack of a plot hurts the movie slightly, The Dirt does an excellent job showing people Mötley Crüe with warts and all. This is a movie that was made for fans of the band and, in that regard, it does a great job. Yes, this film will have its share of haters, but for anyone looking for an entertaining romp with copious amounts of sex, drugs, and rock and roll, The Dirt is for you.