It has only taken three years but we've finally gotten around to Netflix's version of Breaking Bad. Yes, Ozark has received high praise since its streaming premiere back in 2017 and should have caught our attention then. As the old saying goes though, "better late than never." For those who are looking for a show to watch and haven't gotten on the bandwagon yet, what are you doing here? Go watch Ozark. Now. For everyone else that has powered through Season 3, let's dig in and discuss some Ozark.
Created by Bill Dubuque and Mark Williams, the first season of the popular crime drama dropped on Netflix back in July 2017. It stars Jason Bateman as Marty Byrde, a financial advisor in Chicago, who relocates his family after a money laundering scheme for a Mexican drug cartel goes horribly wrong. To make amends, Marty starts buying up businesses in the Lake of the Ozarks to filter the dirty money in an even bigger laundering operation than before. The backdrop of the first season was mainly the Blue Cat Lodge which was inspired by Dubuque's experience working as a dock hand at the Alhonna Resort and Marina in the 1980's. The Blue Cat Lodge was a perfect starting point as it instilled a small town kind of feel to the show and was a type of "humble beginning" laundering business. Much of Season 2 revolved around trying to get a casino license to launder larger sums of money on a daily basis that will also help the Byrdes to eventually become legitimate business owners. Of course, Marty's problems have amplified tenfold by the time of this newest season.
In Season 3, the Missouri Belle riverboat casino is up and running and Marty's wife, Wendy (Laura Linney), refuses to flee to the Gold Coast as Marty had planned. Instead, the couple, along with their two children, Charlotte (Sofia Hublitz) and Jonah (Skylar Gaertner), remain in Lake Ozark to run their businesses and try to keep the family together. Wendy gets in deep with Omar Navarro (Felix Solis) of the cartel as she openly talks to him about venturing into legitimate business during his drug war with another cartel. Lawyer Helen Pierce (Janet McTeer) relocates to the Ozarks for the summer and is constantly left to clean up issues for the Byrdes who struggle to balance their family and criminal lives. It especially doesn't help when Wendy's troubled brother, Ben Davis (Tom Pelphrey), shows up unannounced. Darlene Snell (Lisa Emery) takes in Wyatt Langmore (Charlie Tahan) after his cousin, Ruth (Julia Garner), confesses to killing his father at the end of Season 2. On top of everything, Marty still has the FBI breathing down his neck as they post up in the casino to audit its intake with Special Agent Maya Miller leading the charge (Jessica Frances Dukes).
As is abundantly clear from the overall plot of Season 3, Ozark really ups the ante here. The small, secretive operation that the Byrdes employed upon their arrival is long gone. They become heavy hitters in the community and are in bed with all of the wrong people. Initially, Marty seemed to believe that he'd be able to launder enough to buy time in the Ozarks. Little did he know that it was already a criminal hotbed with the Langmores, the Snells, and the Kansas City mob in the vicinity. All of the partnerships Marty has made are tested as pressure from the cartel amps up and the FBI makes their presence felt. As previously mentioned, Ozark is essentially the new, hillbilly version of Breaking Bad. This new season proves it even more as those aforementioned humble beginnings are no more. Marty is in the thick of things and Wendy has let the criminal mentality go to her head.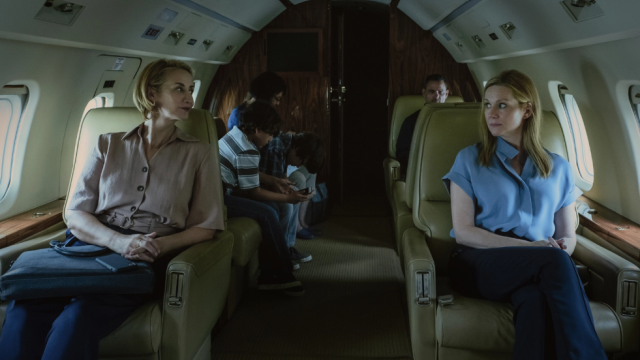 Frankly, that's what a good portion of the show has become at this point. Marty versus Wendy. Their marriage has suffered through a lot of turmoil with Wendy's affair to start the show, her shady dealings and misdirection, and her undermining of Marty by the end of Season 2. That continues in this new season as Marty intended to get the family out but Wendy straight up refused. Now, Wendy finds herself trying to take control as the face of Byrde Enterprises through her relationships with Helen Pierce and Omar Navarro. The marriage is tested even further as they essentially split following a heated therapy session but, as always, Marty and Wendy realize they need one another more than they know.
One of the biggest appeals of Ozark, like its spiritual predecessor in Breaking Bad, has always been the cast. Jason Bateman and Laura Linney remain the absolute stars of the show. Bateman will never be unlikable in any role but especially as Marty Byrde. Linney's Wendy is extremely aggravating at times but in a good way. She gets a healthy dose of reality when her bold plans backfire and she's forced to come crawling back to Marty for help. Sofia Hublitz and Skylar Gaertner as Charlotte and Jonah seem to be featured a little less in Season 3 but they're also not forgotten. They're more victims of circumstance at this point than a central focus in drug cartel business. Helen Pierce proves herself to be a powerful ally but an even more dangerous enemy if crossed. Janet McTeer is simply excellent in the role. Julia Garner is a similar story as the underappreciated, yet fiercely loyal, Ruth Langmore. Garner is basically the Jesse Pinkman of the show and seems doomed to do other people's bidding and suffer the consequences for it. It makes you feel for her but also fear what she may do if pushed too far.
Season 3 also introduces a number of new characters. Frank Cosgrove Jr. (Joseph Sikora) immediately makes a splash, literally, when Ruth throws him overboard the Missouri Belle for disrespecting her. As the son of Kansas City mob boss Frank Cosgrove (John Bedford Lloyd), Frank Jr. believes he can do whatever he wants which leads to a season long rift with Ruth. Felix Solis as Omar Navarro brings an unpredictable and menacing Gus Fring-like presence to the show. He's not the most immediate threat but it's inevitable that the Byrdes will have their issues with him eventually. Jessica Frances Dukes as Special Agent Maya Miller is a bit of a wildcard as she's likable but a crusader. She's a do-gooder who can be an asset to Marty but it's unlikely that it'll be on his terms. The biggest addition to the cast this season, though, is Tom Pelphrey as Wendy's brother, Ben. He shows up unannounced and you just know that something big is going to happen with him. However, the show does a great job of keeping Ben even keeled for quite some time. Then, all hell breaks loose as he becomes a massive threat to his family and all of those around him. Without spoiling anything, Ben's story is a sad one and, frankly, he's the only morally good character in a show populated by criminals.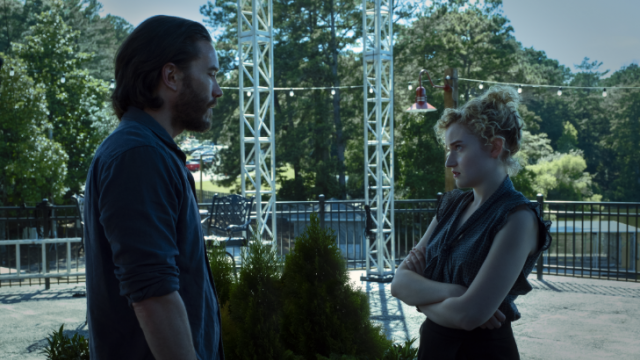 Ozark is a great show through and through and Season 3 maintains the high quality that fans have come to know and love. Yet, there's a bit of a lost charm in this season. You don't really notice it as you're watching but, in hindsight, it's more noticeable. As previously mentioned, the humble beginnings and small town feel have kind of disappeared from Ozark. Marty and his family are building a criminal empire and are less interested in the small time businesses. Escalation was going to be inevitable especially with a drug cartel and the Federal Bureau of Investigation lying in wait. It still feels like that little something is missing from this newest season though. Again, Season 3 and the entire show is essential viewing and this doesn't effect the quality that's being put onscreen. You may just find yourself missing the good old days of the Blue Cat Lodge and exploits with Harris Yulin's Buddy Dieker at times.
Regardless, if you're not watching Ozark, you should be. Like right now. Since the series finales of Breaking Bad and Game of Thrones, it feels like television has been missing that binge-worthy show but Ozark is it. We were a bit late to the party getting to it but it's a total breeze to watch through. The plot and characters are riveting and the location is unlike anything else on television. While we've compared it a lot to Breaking Bad, it definitely stands on its own two legs as well. Season 3 certainly ups the ante for the Byrde family and you can only expect it to get even more wild in Season 4. Here in 2020, Ozark may be the best thing on television.