When Christopher Nolan's Dark Knight trilogy wrapped in 2012, there was immediate speculation of a reboot of the Batman character. Instead of a new standalone adventure, though, fans were somewhat confused by the announcement of Batman v Superman for 2016. They were even more distraught when Ben Affleck was announced as that film's new caped crusader.
As we all know by now, BvS was a critical flop with Affleck surprisingly being the lone bright spot. Affleck's Batman was darker, moodier, and as punishing of a hero as we've seen since Michael Keaton was setting enemies on fire with the Batmobile, blowing them up with dynamite, and pretty much murdering every super villain Gotham City has to offer. When it was announced that the actor turned director would direct, produce, and star in 2018's The Batman, fans of the character rejoiced. While The Dark Knight trilogy was certainly a triumph, people were ready for a new take on the character. Affleck, a capable filmmaker in his own right, could definitely be the man to do it.
At the end of January, hopes cratered as Affleck announced his departure from the director's chair. Though, he still plans on producing and acting in the film. More news broke when Bret Easton Ellis, the author of American Psycho, mentioned that he was told by two executives unrelated to the film that there were issues with Affleck's script for the upcoming film. Those rumors were recently squashed when Variety's Justin Kroll stated via Twitter that, "everyone including (Warner Bros. president, Toby) Emmerich and Ben (are) very happy with it."
At this point, all dissension, smokescreens, and rumors in regards to The Batman are strictly presumptive. Yet, it's abundantly clear that the film is in some kind of trouble. In fact, the whole of the DC Comics Extended Universe is in trouble following the massive backlash suffered by BvS and Suicide Squad. It's definitely a problem when Man of Steel is the best piece of cinema that DC has been able to produce. With both Wonder Woman and Justice League set for release this year, DC has time to turn their fortunes around. However, they've quickly backed themselves into a corner and are in jeopardy of bombing the best character that they have to offer.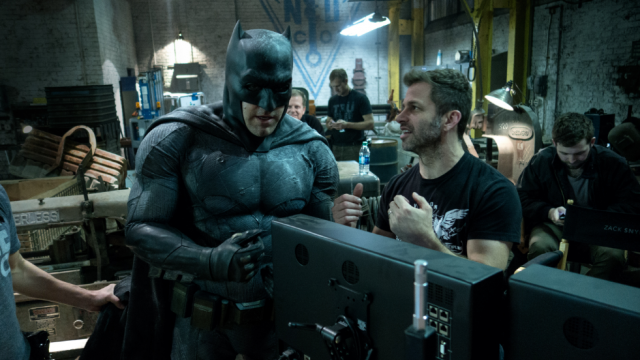 One name that has been flying around as the frontrunner for the new director of The Batman is Matt Reeves. Currently, Reeves has been at work on the upcoming War for the Planet of the Apes. He also directed its predecessor so he has experience working on big budget projects. He also directed 2008's Cloverfield. The buzz on Reeves is at a high but he has yet to sign on the dotted line. Though, it's not hard to imagine that if his upcoming Apes sequel hits at the box office, Reeves will likely be in high demand. Having a young, upcoming director with a proven track record taking on the Bat is certainly intriguing at the very least.
Another name that was thrown out just today is 79 year old Ridley Scott. Scott is famous for films like Alien, Blade Runner, Gladiator, and 2015's Oscar nominated film, The Martian. To say the least, Scott is no stranger to large scale productions as The Batman would certainly be. Despite some of his work being a bit overrated, he offers a solid backup plan to Reeves if talks were to fall through. The man can tell a decent story and, even at his advanced age, shows no signs of slowing down or losing interest in his passion. On top of that, the Batman character is almost as old as Scott himself so it's not as if the director would be out of touch with the source material. It seems unlikely that Ridley Scott will get the job since it sounds as if it's Reeves' job to lose. It's still a compelling "what if?"
Perhaps the biggest question about The Batman now is what it will be about. Affleck previously released footage of Joe Manganiello as Deathstroke which set the internet on fire. Will the new director want to include that character and/or actor into his/her film? Time will only tell. It's also no surprise that DC has been building a history between Batman and Robin versus The Joker and Harley Quinn. They've been doing it in the goofiest way possible though. Both BvS and Suicide Squad have teased the two villains murdering Robin (similar to the A Death in the Family comic book arc) but the filmmakers have yet to tell us that whole story. It's bewildering that DC wouldn't have used that plotline as a jumping off point for their universe. They're eager to give us pieces in less interesting films, but then why not just tell that story?
With all of the questions surrounding The Batman at the moment, there's no doubt that the film will be made. Batman is much too valuable of an asset to DC and Warner Bros. to not capitalize on the fanbase. Also, even with Affleck bailing on the technical side of the project, he has been an exceptional Batman. Again, he's the best thing about BvS and his scenes in Suicide Squad were great as well. From the trailer of Justice League, it appears that he'll also be the person to bring the titular group together. Basically, Affleck still has large shoes to fill as the anchor of DCEU. While Ben Affleck seemingly won't be the one to save the Bat, all we can do is hope and pray is that DC gets this one right for their own sake.