As an adult, do you ever think back fondly on your teenage years? Remember all the lack of responsibility and shenanigans that you'd get into? Or do you ditch the rose colored glasses and think of all the stupid things you did as a teen and regret some of the chances you didn't take? Adolescence is a formative time when people grow from childhood into adulthood and high/secondary school is often where people start turning into who they're going to be for the rest of their lives. All of these things are focused on heavily in the debut film from Anna-Elizabeth and Hillary Shakespeare. The writer/director team's Soundtrack to Sixteen is an entertaining foray back into the 2000's covering all the important teenage topics like identity, relationships, and grades.
The film follows both Ben Maxwell (Gino Wilson) and Maisy Tennison (Scarlett Marshall) as they traverse the rocky terrain of secondary school in mid 2000's London. Maisy and her friend, Megan (Isabel Fidderman), are supposedly the last two girls in their class who've yet to have their first kisses and make a pact to accomplish their goal. However, after Megan has hers fairly soon after while Maisy is left behind, Maisy decides to ditch her former friends for more popular ones that don't really appreciate her. Meanwhile, Ben and his friends are content with one another but also want to mingle with the upper crust of their school. Having bumped into one another before, both Ben and Maisy finagle their way into the same party where they again happen to interact. This becomes routine and, after a particularly bad experience for Maisy, her and Ben hit it off by chance on a double decker bus and strike up a unique friendship.
Soundtrack to Sixteen does have many similarities to your typical teen/high school films. A lot of the same tropes such as unpopular kids trying to fit in with the upper crust, unlikely relationships, and, of course, sex talk all make their way into the film. Though, Soundtrack to Sixteen takes a more innocent, and perhaps more realistic approach, to all this. While it's true that a lot of these things do happen during the teen years, that's not all that happens. Films like Fast Times at Ridgemont High, American Pie, and Superbad largely focus on sex and/or partying as the driving force throughout high school. In reality, many struggle with balancing a budding social life with fading childhood interests as well as schoolwork. A balance needs to be reached between all these things and the Shakespeare sisters craft a unique cinematic experience with their interpretation and understanding of this.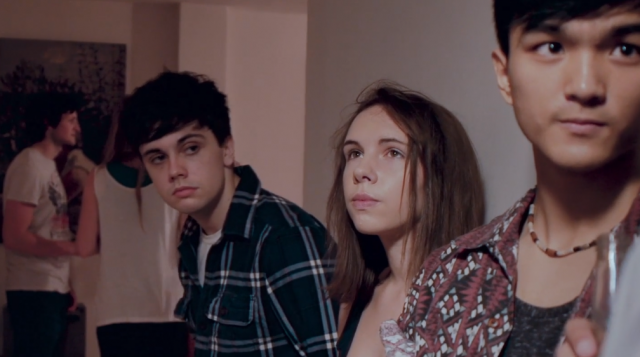 Like many of these independent flicks, the success of the film really hinges on the chemistry of its young and talented cast. With Soundtrack to Sixteen, even the supporting characters flesh out the tumultuous time period for the leads. Maisy's old friends, Megan, Saskia (Robynlouise Regan), and Olivia (Sofia Lövgren Hansson), are kind but also leave her in the dust a little as they seem to grow up a bit faster. On the opposite end of the spectrum, Maisy's new "friends," Katelyn (Emily Jayne), Lizzy (Celiya Koster-Brown), and Amber (Jennie Hilliard), don't really want anything to do with her and treat her like trash. Sadly, there are plenty of times people ditch friends for new ones that aren't appreciative. Maisy finds herself lost and more alone than ever between these two groups and you do feel for her even though some of her issues are of her own doing. She even alienates her little sister, Holly (Holly Wilderspin), at one point. Meanwhile, Ben has a faithful group of friends, consisting of Jamie (Jamal Hadjkura), Ethan (Jack Boal), and Luke (Sean Micallef), that try to evolve together rather than apart.
Of course, the crux of the film is in the relationship between Ben and Maisy. While it takes a while to actually get to it, you can see that the two are living in the same bubble together. They just haven't fully intersected yet. Like so many teenagers, the two experience the same types of issues, needs, and desires. When they finally strike up a friendship, there's immediate chemistry between the two. By this time, the tight script from the Shakespeare sisters establishes both characters' personalities before providing them with more similarities in their musical tastes as well as differences in their best subjects at school. There's a lot of amusing and awkward inner monologue that enhances their respective personalities even more as well. They're written to be a perfect fit and, frankly, the characters of Ben and Maisy come off as just that thanks to the excellent performances from Wilson and Marshall.
Judging by the look and sound of Soundtrack to Sixteen, you'd never know that it's a micro budget film. Everything from the houses to the school to the city itself looks lived in. The reason for that is because, well, it is lived in. The locations used for shooting include the Shakespeare sisters' house, their grandparents' house, and even their old school. There was even some apparent guerrilla filmmaking as they were kicked out of a park that "belonged to the Queen." Regardless, the film never looks amateur. In one instance, there's the scene on the double decker bus where you can actually see the camera moving with the flow of the bus as it drives. In some films, this could look really shaky and bad but it works here and you hardly notice it at first given the importance of the first real interactions between Ben and Maisy. In addition to the micro budget film style, there's also the soundtrack. While Soundtrack to Sixteen isn't going to have the recognizable tunes like American Pie or Superbad, it does very well with its own roster of unsigned bands. The music always fits the scenes and is used tastefully throughout. There's also the innocently playful score from Patrick Savage and Holeg Spies which fits in perfectly with the film's tone and feel.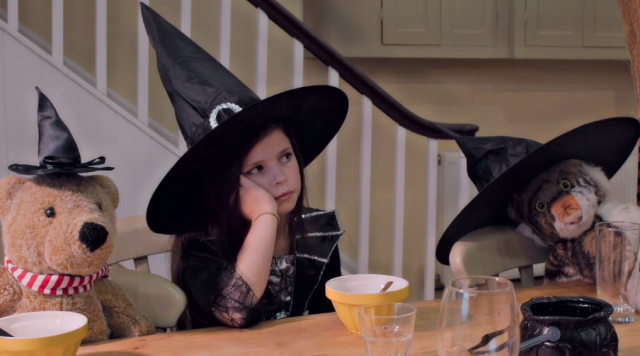 Even with all the praise we've heaped on Soundtrack to Sixteen, there are some issues. Though, none of them are backbreaking by any means. There's a little bit of a mixed message by the film's end. A lot of focus shifts away from the budding relationship between Ben and Maisy and centers in on their final exam grades. This is a cause for dissension between the two that maybe didn't need to happen but it does add some additional drama. The message of the film often seems to be that things like popularity and good grades aren't always the most important things. Yet, such a big deal is made out of grades at the end. Perhaps the message is to find that balance and try your best but it's hard to say for sure. There's something here but it just doesn't come across maybe as much as it was intended. The other main issue with the film is that it'll probably have a limited audience. For those growing up in the 2000's, the film should resonate very much. However, it's hard to see older audiences getting fully on board. The comedy should still land a few laughs but may come off as more novelty than something with depth.
Our Score
As it stands, Soundtrack to Sixteen is a wonderful film debut for the Shakespeare sisters. From its fantastic cast to its storytelling and all the way to its technical aspects, the film shows a duo poised for great things. It's a humorous, touching, relevant, and realistic look at teenage life. The film's filled with all the uncertainty, inadequacy, and imperfection that teens may feel growing up but it also shows them rising above and embracing themselves. While there's a hint of shallowness here and there, Soundtrack to Sixteen largely hits all the right notes. This one is definitely worth a watch.
*Soundtrack to Sixteen is currently available to rent or purchase in the UK on video-on-demand platforms like Amazon, iTunes, and Google Play. Check out the trailer below.*