Welcome Smackies! We're trying something new here on the site due to the volume of quality shorts and independent films that come our way. This new feature, Artist Close-Up, will be comprised of interviews with talent to promote their recent projects and/or to simply attract new eyes to their work!
Cinema Smack's first Artist Close-Up focuses on Malaysian filmmaker Michael Wong and his new micro-short film, The Tattooist!
---
For the readers, can you give a short biography on yourself? Per your IMDb page, you worked for an ad agency before doing some film work with brands like Lenovo and Mercedes-Benz. How did you parlay this into the world of narrative filmmaking?
Michael Wong: I started off in the advertising industry back in 1994 as a visualizer, then climbed up the ladder as an Art Director and then a Creative Director, having worked in various multinational advertising agencies in Malaysia and China. As I climbed up the career ladder, I realized that I'm getting more involved in management and politics and less of actually doing creative work.
Initially, I decided to take a long break from advertising and started working as an Artistic Director to basically help out some local Chinese film directors in uplifting the aesthetic look of their work. After a few projects, I was asking myself, "Shouldn't I be helping myself to craft a name of my own instead of helping others?"
My first break into the filmmaking scene was as a writer/film director on a commercial for Lenovo. It was a viral video campaign that was to be used in such markets as India, Russia, the Middle East, Eastern Europe, Turkey, South Africa, Southeast Asia, Hong Kong, and Taiwan. Finally, I've taken a leap of faith and work as a film director on the receiving end, concentrating on crafting and artistic expression.
My milestone into narrative filmmaking was with The Story of 90 Coins.
Speaking of which, our first correspondence with one another was two years ago when you sent me your debut short film, The Story of 90 Coins. Coincidentally, that was actually the first short I ever reviewed for Cinema Smack and one of the first review requests I received in general. How did that film come about?
MW: Well, it started off with a jewelry company client of mine who wanted to jump into China's digital bandwagon; the mass shifting of advertiser's marketing budget from traditional media to internet media phenomenon and also to leverage the online video craze. Instead of doing a hard-sell advertisement, they wanted a less intrusive, yet effective, approach in their marketing strategy. The owner of the company specifically asked for a story that touches the heart and our team started off scratching our heads trying to make up some interesting romantic stories. I had a stroke of luck when my writer came across three interesting true stories that happened to her friends. Very touching stories in their own merits! The client eventually picked the story with the 90 coins.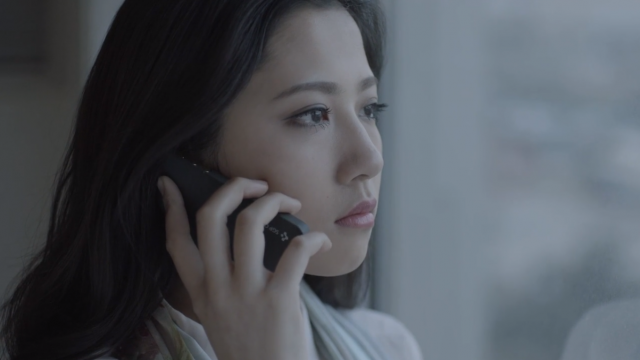 The film was nominated for and won many awards. For a first time narrative director, did you have any idea that there'd be such an overwhelmingly positive response to the film? Which accolades are you most proud of?
I'm generally proud of all the accolades given as those are recognition from the industry. However, there was this 'Short Film Breaks' contest that is worth mentioning here whereby The Story of 90 Coins won their Best Audience Awards. They've included voting from the online viewers and I'm proudest when I read through all the positive comments in regards to how the story touches their life. We've got encouraging comments from people from all walks of life, from the young to elderly, across different continents. There was this particular poster who said that whenever he's feeling superbly depressed, he'll go online to watch the film. This has gone beyond the awards level! It's extremely comforting to know that!
I can definitely understand that. In the Cinema Smack review of the film, I stated that anyone who has been in some form of relationship should be able to relate to the story. In that regard, it's definitely no surprise that it has touched so many people.
Let's move onto your new project. IMDb has the release date for The Story of 90 Coins listed as October 22nd, 2015. Now, three to four years later, your second film, The Tattooist, has been hitting the festival circuit. Where did the idea for The Tattooist come from and why the decision to make it a "micro-film?" Do you have any intention of making it a longer short or even into a feature film?
MW: The idea for the film started off from an escape room business that my partners and I have started. I wanted a theme that players are yearning for; something that they would love to experience in a controlled environment but wouldn't want to experience in real life, hence a horror theme.
The Tattooist, which is currently in a micro-film form, was written in a way that has the potential of becoming a short film or a full-length feature. There is so much potential backstory to build around the antagonist as well as those poor victims. Hopefully, 'The Tattooist' will gain enough traction to pique the curiosity of producers (Jason Blum & James Wan, please take note!) from Netflix and film studios alike.
I must say that I absolutely loved the music from Found in the Attic. How did this relationship come about and was the music made specifically for the film or just something from the band that worked well? 
MW: First off, all the music was written specifically for the movie. Found in the Attic wrote the score based on the final cut of the film and also did the sound design.
I met Panagiotis E. Tsafos (the composer behind Found in the Attic) in a Facebook film group where we both expressed interest in horror music, as he is a big fan of horror movies. One thing led to another and he agreed to compose the musical score for The Tattooist after seeing the early edit.
Initially, I had this idea for the film's prologue where ragtime music is blaring from a radio in the tattooist's workplace. A very catchy and lively tune to accompany the smooth fluid visual in the beginning. Panagiotis liked the idea of using jazz, and came back to me with a modern jazz theme that was somewhere between big band swing and circus music. He used deep upright bass and thumping big band percussion which he developed later into a "heartbeat" that is heard in the second act of the film. On the epilogue, he revisits the jazz theme adding crazy brass on top of the beat.
I fell in love with the music immediately! The end result was deeply unsettling without being explicitly scary. The music adds to the creepiness on a subconscious level which stays with you after you've watched the film!
After watching The Tattooist myself a number of times, along with revisiting The Story of 90 Coins, I can certainly see the influence from your previous work even though 90 Coins is a romance and The Tattooist is horror. Your sharply focused shots and attention to detail are my favorite things about both of your films and, while I really enjoyed the cinematography and camerawork in the former, you really upped the ante in The Tattooist. The camerawork is refined and exhaustive (in a good way). In this case, it reminds me a lot of Nicolas Winding Refn. Who are some of your filmmaking influences both in horror and in general? 
MW: I'm fortunate to have honed my eye for detail and art direction skill during my 12 years in my previous advertising industry career as an art director and creative director. Especially for The Tattooist, the genre allows me more liberty in playing around with the lighting and camerawork than a romance story. A few horror directors that have influenced me are Malaysian born James Wan, Eli Roth, Jaume Balagueró, and Sam Raimi, among others. Also definitely worth mentioning are David Fincher, the Coen Brothers, Alfonso Cuarón, and Denis Villeneuve. 
Those are some excellent visionary type filmmakers and I can definitely see some of the influence in this film. Personally, if the film was released as a trailer for a feature, this would be right up my alley. The look and feel is fresh. There's some great gore sprinkled in and the creepy dance by the tattoo artist at the end feels almost iconic. Overall, what would you say your goal is with The Tattooist and as a filmmaker in general? With a recent filmmaker like Ari Aster maneuvering his short work into critically acclaimed horror features like Hereditary and, now, Midsommar, career elevation is certainly a possibility given your talent. 
MW: I would really like to explore the world outside of China whether to do more commercial work or short film/feature film projects. I am really hoping that The Tattooist gets the liking of some foreign studios to make it into a feature film or even giving me the debut opportunity to work on their script. That will be great!
Is there anything else you'd like to add for the readers?
MW: To our readers, thank you for reading and please do drop by the official Vimeo link (www.vimeo.com/michaelwong/thetattooist) to check out the short film yourself AND please help this article. Who knows, it might reach the attention of Jason Blum and James Wan one day.
---
A huge thanks goes out to Michael Wong for taking the time to do this interview and pass on his excellent micro-short film, The Tattooist! Check it out at the link above or click here.