Although it has already been a week since the Academy Awards aired, folks are still discussing the winners and losers, snubs and flubs, who wore what, etc. Our staffers have some things of their own to discuss as well. We'd also like to welcome our new contributor, Wendy, to the fold for Cinema Smack's 2017 Oscars Fallout!
---
Wendy's Take
Where to begin… This wouldn't really be a 2017 Oscars fallout piece if it didn't mention the biggest upset of the night, so let's get that out of the way right now. Unlike my fellow Cinema Smacker, I was not head over heels for La La Land. It appears that I wasn't the only one. In a giant kerfuffle where the presenters were given the wrong envelope and thus a false winner was proclaimed, Moonlight came out as the underdog beating out the over-hyped musical. Personally, I felt this year in film was lacking to begin with, and if I had to keep hearing how it was such a risk for Hollywood to produce a modern musical, I would've punched my television.
I couldn't have been more pleased Moonlight beat out the assumed winner. Unfortunately, I wasn't able to see every film that was up for an Oscar – let alone Best Picture. I know, I'm terrible and shouldn't even be writing this. However, out of everything I did see, Moonlight was my favorite by far. Seeing it win Best Picture, Best Adapted Screenplay, and help earn Mahershala Ali his first Oscar for Best Supporting Actor was thrilling and truly felt like a part of history.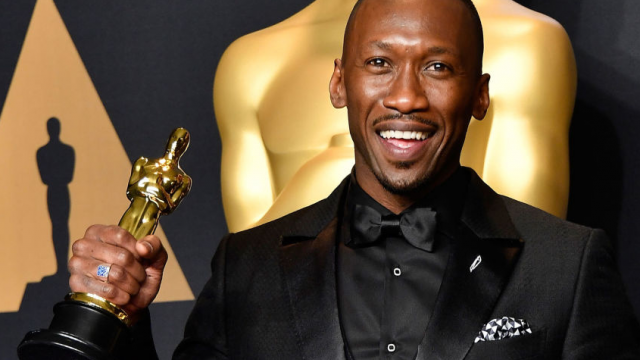 I do have to give La La Land some credit, its cinematography and production design was breathtaking and bold, and the music was pretty good ("City of Stars" had my vote). A musical winning both music categories was no surprise in this case. In addition, Disney and Pixar winning both animation categories is a no-brainer (Piper for Best Short and Zootopia for Animated Feature).
That doesn't mean there weren't a few other surprises throughout the night. Casey Affleck winning Best Actor for his role in Manchester by the Sea may have been unexpected by a few. Denzel Washington had high praise for Fences winning an award for his role at the SAG Awards. Even Ryan Gosling stood a good chance for his piano playing, tap dancing Romeo in La La Land. Though, how Rogue One didn't win any of the categories it was nominated in still baffles me especially because Hacksaw Ridge managed to win a handful of awards over it. When it won for Best Film Editing, I literally stood up and screamed "No!" and probably some sort of profanity. There were specific scenes and edits that were jarring, and simply "bad edits" where actions didn't seem continuous.
If anyone were to ask me what my favorite part of the 2017 Oscars were, without hesitation I would say Michael J. Fox. Seeing him literally fills my heart with both joy and sadness. It is unbelievable what this man has overcome and inspiring to see him still partake in award shows. I would give anything to have literally been in Seth Rogen's shoes.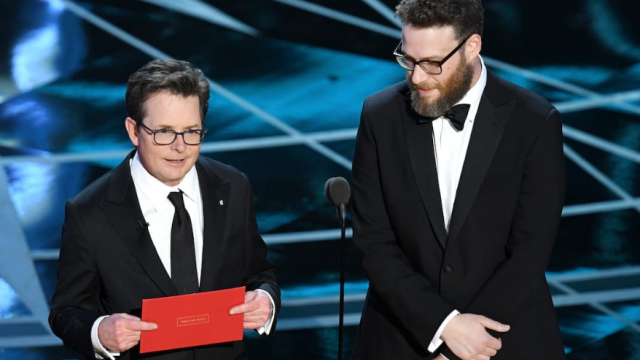 ---
Jeremie's Take
Like Wendy, I too would have given anything to be in Seth Rogen's shoes. Of course, that's because he was wearing Nikes with power laces from the futuristic 2015 in Back to the Future Part II.
Yes, the 2017 Oscars fallout is an interesting topic. Congratulations goes to Moonlight despite being inferior to Denzel Washington's Fences. Speaking of which, it's a crime that Washington wasn't nominated in the Directing category. In all honesty, it's not a big surprise that Moonlight won Best Picture. After the "whitewashing" claims last year, all three Best Picture nominees with a predominantly African American cast were shoe-ins for recognition. Though, Hidden Figures didn't walk away with any awards, it didn't really deserve the heaps of praise that it got. It was an alright film but not Best Picture worthy in my personal estimation.
As many of you already know, La La Land was by far my favorite film of 2016. Therefore, I won't rant on it too much. It's just sort of depressing that La La Land wasn't able to walk away with the big prize. Just a few years ago, the much inferior film, The Artist, was able to take home Best Picture. Despite being a silent film, The Artist prominently featured song and dance numbers while not being nearly as memorable.
That being said, producer Jordan Horowitz has been credited for being extremely gracious following the epic failure of a very confused Warren Beatty and unrecognizable Faye Dunaway incorrectly announcing La La Land as the Best Picture winner. Horowitz deserves an Oscar for simply taking the stunning loss so well. At least the film was able to win a few awards. Most notably, Damien Chazelle and Emma Stone won for Directing and Best Actress in a leading role respectively.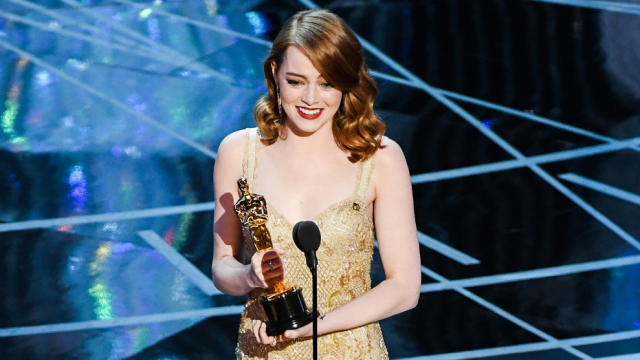 The PricewaterhouseCoopers (rolls right off the tongue) employees, Brian Cullinan and Martha Ruiz, who caused the mix-up have since been fired. Specifically, Cullinan was the one responsible for handing Warren Beatty the wrong envelope. Instead of the Best Picture envelope, Cullinan handed off Emma Stone's Best Actress win. It has also been reported that Cullinan may have been too busy tweeting incessantly throughout the show which distracted him from the task at hand. Unfortunately for Ruiz, she seemed to have merely been the victim of collateral damage in this case and may be the biggest victim of the 2017 Oscars fallout.
So, we all know about the Best Picture snub but how about that In Memoriam segment? First of all, it was strange that Jennifer Aniston addressed the death of Bill Paxton beforehand only for him to not be featured during the actual slideshow. The Academy couldn't add him in before the show? Yet, that's not the biggest mishap of the segment. Talent like Garry Shandling, Robert Vaughn, Doris Roberts, and, Mrs. Brady herself, Florence Henderson were noticeably absent. Also, Patricia Arquette spoke out for her transgender sibling, Alexis, who died from cardiac arrest caused by HIV last year. It's shocking how the Academy misses some of these stars when putting together such an important segment.
---
So, that's our take on the 2017 Oscars fallout. Is there anything we missed? Let us know in the comment section below!