By now, fans of Game of Thrones are used to things getting a bit wild in the fantasy epic from HBO. Judging by the end of Season 6, though, things are about to get a whole lot crazier.
Last night saw the finale to the most recent season of the show and it was a good one. With Season 5, it felt like there was a ton of buildup to what would happen in this most recent season. Alas, Season 6 felt like just as much build up as its predecessor. With rumors that there may only be 13 total episodes left of the show, it's about time for all of our favorite characters to finally collide in grandiose fashion.
Before getting into the future of the show, let's recap the key moments of Season 6. The season starts with the fallout of the previous season. Jon Snow (Kit Harrington) is dead, Sansa Stark (Sophie Turner) escapes the clutches of the psychotic Ramsay Bolton (Iwan Rheon), Daenerys (Emilia Clarke) is MIA, and Arya Stark (Maisie Williams) is a blind, begger child on the streets. Of course, the most noteworthy event of the early half of Season 6 is the resurrection of Jon Snow. In one of the worst kept secrets in television history, it was a relief to see him return as the new "King in the North". We also learn that he is, in fact, not Ned Stark's bastard. Will this change his newly convinced allies opinion of him if they find out? Being raised by Ned, will they accept him as a Stark regardless?
Also returning to the show were Osha (Natalia Tena) and Rickon Stark (Art Parkinson), who have both been gone for quite some time now. North of the wall, Bran Stark (Isaac Hempstead Wright) and his visions start to reveal more about the cloudy past of the late Ned Stark. As always, Cersei Lannister (Lena Headey), despite being "shamed" all the way through King's Landing, returns to her evil, conniving ways following the death of her daughter, Myrcella, and later, her son, King Tommen (Dean-Charles Chapman). Cersei's brother, Jaime (Nikolaj Coster-Waldau), seems to be more on the fence than ever as he shows off his good side. His reputation as Kingslayer has dissolved a little more with each season. As Tyrion (Peter Dinklage) gains Daenerys' trust, it's inevitable that the three Lannister children will eventually clash with one another.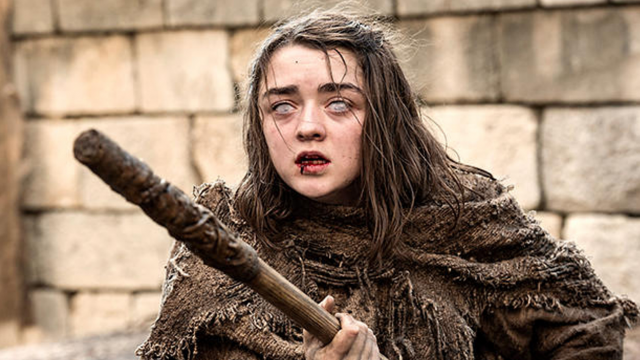 While recapping the events surrounding every character in the show isn't logical, the storylines of the main characters seemed to be heading on a crash course towards each other. Jon Snow, his wildling army, and the Night's Watch have taken back Winterfell from the Bolton's. Ramsay himself met a fitting end at the hand of his own hungry dogs in the most anticipated death since Joffrey. Yet, the threat of the white walkers still looms as one of the most pivotal upcoming battles in the entire series.
Arya finally made her way back to Westeros and eliminated one of the men on her "kill list." She has seemingly taken the things she learned from Jaqen H'ghar to exact her revenge on those that destroyed her family. In a satisfying turn, she rejects the notion that she is "no one" and basks in the idea of her targets knowing her name. It is one of the most sinister character arcs of the series yet one that has been anticipated and justified. In the final scene of Season 6, we also see Daenerys sailing across The Narrow Sea with her army.
On the Western front, Cersei has finally seized the iron throne after the deaths of all of her children. In retrospect, it's not at all surprising that she would assume the role of Queen after essentially influencing Joffrey and Tommen during their reigns. Cersei has always been the puppet master in King's Landing and she now has free reign. After killing the majority of her enemies within the city with wildfire, Cersei could potentially go on a rampage as "the Mad Queen," similar to Aerys Targaryen's "Mad King," following the deaths of her remaining children. Cersei in a position of power has been a terrifying prospect for much of the show and it appears as if it could all come to a head in the remaining episodes of the series.
So, what's left for Game of Thrones? It has been one of the most successful television shows in recent memory and has not waned in popularity. It's no secret that the show has now caught up to George R.R. Martin's novels in terms of content. As it has often taken Martin much more time to write a new book than it does for a season of the show to be produced, it's understandable that the end of the series is near. While Game of Thrones has been an amazing television show, it would be much better for it to end at its peak than carry on and lapse in quality.
With Seasons 5 and 6 focusing on building up characters and conflicts, it can surely be expected for Season 7 to be a nonstop thrill ride. The inevitable war between Winterfell and the white walkers as well as Daenerys' army against the iron throne are destined to be highlights. Oddly enough, many people have soured slightly on these two most recent seasons. While it's true that they have been a lot less shocking and exciting, the previous seasons spoiled everyone a little. Specifically, Seasons 3 and 4 contained nonstop twists and turns and there's no way that the show could keep up that frenetic pace. Nevertheless, while we can speculate future events all we want, Game of Thrones always makes it a point to remind us that, just like Jon Snow, we know nothing.