When discussing the horror genre in any medium, one has to acknowledge Stephen King. At 71 years of age, the master of horror's writing has spanned across five decades. With such an impressive body of work, it's no surprise that his stories soon made their way into the world of film and television. It was just over a year ago that one of King's most popular works finally hit the big screen. The writer's notoriously lengthy novel, It, saw its first chapter thrill audiences with It: Chapter Two set for release next year. However, this wasn't the first live action adaptation of King's story of childhood fear and friendship. That honor goes to Tommy Lee Wallace's 1990 television miniseries of the same name.
King's novel, his 18th overall, was originally released in 1986. Though, he has stated that the story was conceived in 1978 with writing beginning in 1981. According to Publishers Weekly, It ended up being the best selling book of 1986. With that, there would obviously be interest in adapting it to a visual medium. As was the case with another King story, Salem's Lot, ABC acquired the rights for a television miniseries. Originally, George A. Romero, of Night of the Living Dead and Dawn of the Dead fame, was signed onto the project as director. The miniseries was also scheduled to air in four parts at two hours each in length. There was a scheduling conflict and Romero dropped off the project with Tommy Lee Wallace stepping in. The length was also cut down to two parts as opposed to the original four. Prior to It, Wallace was most known for his work as a production designer on John Carpenter's Halloween as well as writing and directing Halloween III: Season of the Witch.
It opens with the death of a little girl in Derry, Maine, at the hands of Pennywise the Dancing Clown (Tim Curry) following a series of child disappearances. The local librarian, Mike Hanlon (Tim Reid), discovers a picture at the crime scene that's a cry from the past. From here, he calls each of his former friends from the Losers Club to let them know that Pennywise (AKA It) is back. As Mike calls the other six members of the Losers Club, flashbacks of each child's encounter with Pennywise in 1960 is shown along with how the group of friends was formed.
Like the miniseries itself, the story is told in two parts. In 1960, Bill Denbrough (Jonathan Brandis) makes his younger brother, Georgie (Tony Dakota) a paper boat. Georgie takes it out in the rain before it falls into a storm drain. Pennywise emerges from the drain and kills Georgie which sets the rest of the events in motion. Bill, Ben Hanscom (Brandon Crane), Eddie Kaspbrak (Adam Faraizl), Richie Tozier (Seth Green), Stan Uris (Ben Heller), Beverly Marsh (Emily Perkins), and a young Mike (Marlon Taylor) all have their own individual meetings with Pennywise before banding together to defeat him. Following the elder Mike's discovery (a picture of Georgie), the members of the Losers Club, who have all gone on to be successful in life, return to Derry thirty years later to battle Pennywise one last time.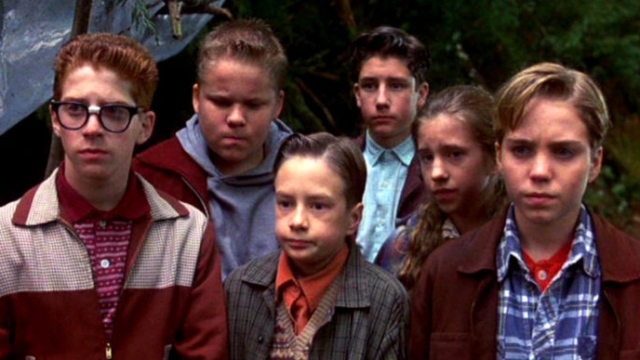 As far as the story goes, it's a little on-the-nose but works for the purpose of the film. The first part of the miniseries predominantly features the characters as children. Though, the story is told through flashbacks of the adult cast members. As Mike reaches out to his past friends, he literally calls each of them and a flashback scene begins of them as children. While it's not too subtle,  it's an easy way to show viewers how each of them were tormented by Pennywise and how they found one another in the summer of 1960. The second part is all about the reunion of the Losers Club and their subsequent pursuit of Pennywise.
When breaking down It, this is really a tale of two halves. Again, while the storytelling isn't phenomenal, the cast really makes the film tick. More specifically, the child actors are excellent. All of them are likable and bring unique traits and personalities to the group. This is unlike the 2017 feature film version of It where there are characters like Stan and Mike who take a serious backseat at times. In this 1990 version, the kids have unbelievable chemistry as actors and it translates over to their respective characters. This even holds true for the bullies, led by Henry Bowers (Jarred Blancard), who antagonize them during their youth.
Of course, what's a good hero character without an even better villain? Sure, Bill Skarsgård put in a great performance as Pennywise in the 2017 film but Tim Curry's portrayal in the 1990 miniseries is downright classic. There are scenes where he hams it up and cracks bad jokes but he can be downright intimidating as well. The first time you see him, he turns from an innocent smile to a menacing snarl. That look alone is enough to chill viewers to the bone. Then, when he meets Georgie, there's an air of playfulness to him despite still being quite creepy. In a moment's notice, he turns vicious towards his prey. He feeds off their individual fears and truly loves psychologically torturing them. The film excels at giving Pennywise power when his victims are isolated but also makes him feel desperate when facing the Losers Club together.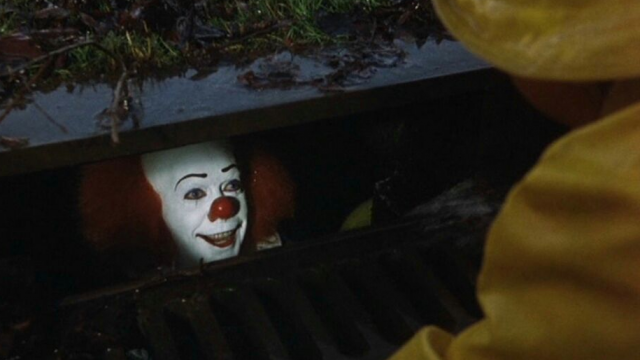 The same cannot be said of the adult cast. Richard Thomas, John Ritter, Harry Anderson, Richard Masur, Dennis Christopher, and Annette O'Toole join Tim Reid as the adult Bill, Ben, Richie, Stan, Eddie, Beverly, and Mike respectively. Overall, the actors themselves aren't terrible and they do have a bit of chemistry together. Though, it's their part of the story that's sorely lacking. Where Pennywise worked as a foe of the children, it seems strange that the adults are running around and being toyed with by an entity that no one else can see. You can also tell that the script was severely cut down as plot points are thrown in that aren't necessarily addressed during the first part of the story. What's worse is that they're introduced in dialogue from the adult cast and don't resonate as they should.
The scares in the second half fall short as well. There are some decent ones such as Beverly's visit to her childhood home. Yet, there's something a bit off when seeing these grown adults, again, chasing around a figment of their imagination. The worst offense of the entire miniseries is in its ending though. The fight between Pennywise and the children in the first part isn't anything dazzling but the power of their friendship and how the kids bond together is at least touching. There's a disconnect with the adults and It's final form is the most laughable garbage one can see on film. As always, these reviews are spoiler free. Simply put, though, the ending wasn't good in 1990 and it's even worse in 2018.
Our Score
Admittedly, the final star rating for It has to be skewed a bit. This is a review of the miniseries as a whole and not for each separate part. If that were the case, the first half with the children would get a 5 star rating here. Unfortunately, the second half is more like a 2.5 or 3 at best. The children's story is classic Stephen King filled with friendship, bullies, and unexplained evil forces. It captures the essence of a film like Stand By Me as the child actors truly feel like friends. The second part does try to accomplish the same things as the first but it just doesn't work. Oddly enough, it feels like what it is: a product of the late 80's/early 90's. It's crazy that the first half worked so well but that may be more of a testament to the strong characters that King created in his novel. Either way, the 1990 It miniseries is worth a watch for horror fans. An enticing first half is offset by a bumbling second but there's a lot to appreciate. Even in the face of the newest film iteration of It, the miniseries is still talked about and remembered which, in itself, is a testament to its legacy.