With the multitude of films that are released every year, sometimes one just falls through the cracks. Today, we're reviewing Brad Anderson's The Machinist just in case you missed it…
You're all familiar with Christian Bale right? Buff Welsh actor who dabbles in verbal abuse (specifically directed at cinematographers)?
Of course, you know who he is. He was Batman in Christopher Nolan's Dark Knight trilogy, Patrick Bateman in American Psycho, and he was even nominated for Oscars as Irving Rosenfeld and Michael Burry in American Hustle and The Big Short respectively. He even won an Oscar for his excellent performance as Dicky Eklund in The Fighter.
Yeah, yeah. We all know that Christian Bale is a great actor and all that but he is unbelievably dedicated to his roles as well. For as sickly as he looked in The Fighter, that role has nothing on his turn as Trevor Reznik in The Machinist. Bale reportedly dropped down to 110 pounds to play an insomnia-riddled machine operator in the film.
The plot follows Trevor (named after Nine Inch Nails' Trent Reznor), a man who has struggled with insomnia for a full year, as he begins to slowly unravel even further following a severe accident at work. After meeting new co-worker, Ivan (John Sharian), Trevor is asked for assistance by another employee who is fixing a machine. Under Trevor's watch, the machine starts up and the employee loses an arm. From here, we follow Trevor as he is cast out by the rest of the crew, frequents the home of his prostitute friend, Stevie (Jennifer Jason Leigh), and stops for late night coffee breaks at the nearby airport to sate his infatuation with the waitress, Maria (Aitana Sanchez-Gijon).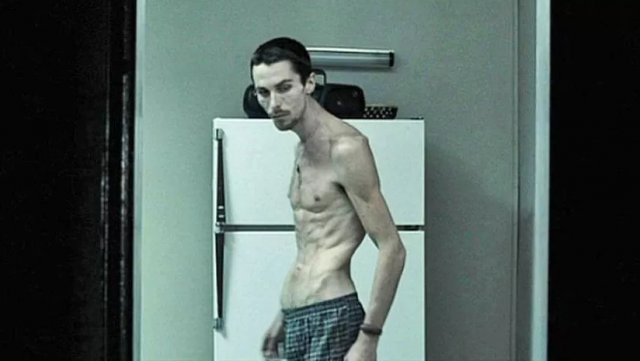 The obvious star of the film is Bale. Even if you haven't seen this film, there's a good chance you've at least heard about it due to how freakishly thin he is. The Machinist was released one year before Batman Begins which makes Bale's weight loss even more incredible since he had to turn around and gain all his weight and muscle mass right back. Unlike in Captain America: The First Avenger, there was no CGI used to give the illusion of malnutrition.
Although the spectacle of a skeletal Christian Bale is truly something to witness firsthand, he also perfects the bi-polar nature of Trevor as well. For the most part, he's relatively mild mannered and genuinely likable despite his ghastly appearance. As the movie continues, though, he unhinges and it's easy to feel like he really is a psychopath. Make no mistake about it, Bale drives this movie.
The two main females in Trevor's life couldn't be more opposite. Stevie represents the seedy underbelly of society working as a hooker while Maria makes an honest living as a waitress punching a time clock. With Stevie, Trevor's relationship is more natural and their conversations feel real and less contrived than his ones with Maria that are filled with cutesy chitchat and cliche. The relationships mirror the dichotomy of Trevor's personas throughout the film and his image of what a relationship should be (Maria) and what a relationship actually is (Stevie).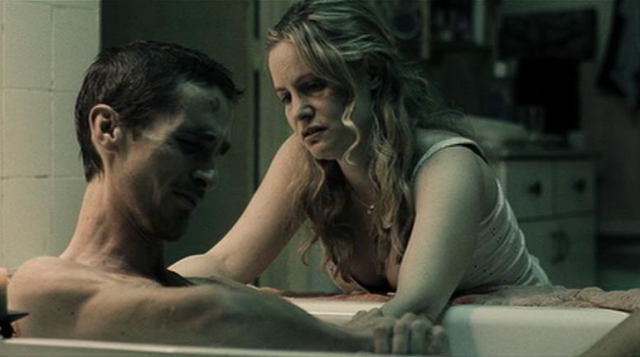 The look of the film can be described as stark and ugly. There is a constant green/blue hue in every scene and the locations just look kind of grimy. It definitely fits in the with the subject and even the title. The closest the film ever gets to looking "clean" are during the scenes with Maria which, again, fit in with Trevor's perception of her and their relationship with one another.
Our Score
While it is a solid film, The Machinist was a victim of a lack of support. Director Brad Anderson and writer Scott Kosar shopped the script around but no American studios or producers would finance the film. It ended up being financed by Spanish producers and was shot on location in Barcelona. Also, The Machinist came out at a time when there were a number of other films similar to it out already. It's abrasive and it's dark but the performances alone make the movie worth seeing. If you're a fan of movies like Fight Club, 12 Monkeys, or pretty much anything by David Lynch, you'll want to check out The Machinist. It may not be the most original film ever but there is plenty to appreciate…  especially Christian Bale's gaunt figure.