When it comes to certain genres, there's often a feeling of a new film being "just another one." For example, a film like The Grudge is just another supernatural horror film. Something like Just a Boss is another bland modern comedy. The same can be said for a lot of films based on war. There are a lot of titles out there that are capable films but lack any semblance of originality or artistry. Unspectacular films like Midway and 12 Strong come and go while only a handful of the elite continue to resonate with audiences long after the credits roll. In the case of writer/director Sam Mendes's new war drama, 1917, it's anything but "just another war movie." 
Sam Mendes is a name that doesn't pop up entirely often but, when it does, it's usually with good reason. His feature length debut came in the form of 1999's American Beauty. The film was nominated for eight Oscars and won five including Best Picture, Best Actor for the now blacklisted Kevin Spacey, and Best Director for Mendes. Since then, the filmmaker has been consistently releasing films just about every three years with titles like Road to Perdition, Jarhead, Revolutionary Road, Skyfall, and Spectre all on his resume. Even though Mendes doesn't constantly pump out new releases, the quality of his films speak for themselves and 1917 may be his best work yet.
The film chronicles April 6th, 1917, in which two British soldiers, Lance Corporals Blake (Dean-Charles Chapman) and Schofield (George MacKay), are tasked with hand delivering a message to the 2nd Battalion of the Devonshire Regiment. Initially, it was thought that the German forces were retreating but aerial intelligence discovers that they've actually set a trap to ambush British forces. Blake and Schofield must cross no man's land, navigate through perilous territory, and locate the 2nd Battalion by morning to call off the attack before a massacre ensues.
Not much else can be said about the plot without ruining anything. Therfore, further plot details will be kept vague.  Oddly enough though, 1917 isn't based on any specific true story. However, it's based on events that could've potentially happened. Things like the Germans deserting bunkers and setting booby traps as well as soldiers delivering important messages on foot are accurate to the times. Though, the incredible journey that Blake and Schofield go on is fiction. Mendes credits his grandfather, Alfred Mendes, for relaying stories that inspired him to craft 1917. Even though the film isn't based on real-life events, you'll have no problem buying into the tale of these two soldiers. Every scene seemingly raises the stakes and keeps you on the edge of your seat. The adversity that the characters overcome is inspiring and the sense of urgency is often through the roof. On a sidenote, April 6th, 1917 was the date that the United States officially declared war on Germany but doesn't have any impact on the plot of the film.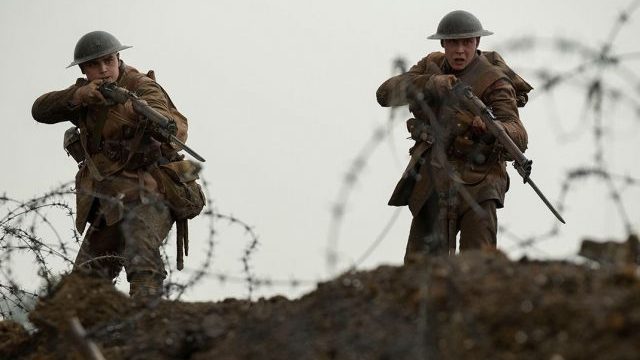 1917 is kind of a strange film when it comes to its characters. While many films this year have delivered wonderful performances from their leads, 1917 does so in a different way. Both Dean-Charles Chapman and George MacKay as Blake and Schofield respectively are excellent but they're treated as two run-of-the-mill guys. Viewers are immediately thrown into the trenches with them without really knowing anything about the characters. On top of that, you don't really learn much more either. Sure, little tidbits are dropped here and there but Blake and Schofield's interactions with one another as well as others they meet on their expedition are what provide true character building moments. There's nothing overly special about either of them but their heroic actions throughout the course of the film keep you firmly in their corner. There are also a handful of recognizable actors throughout the film that we won't give away here. It's more fun to not know and be surprised when they eventually show up.
What really sets 1917 apart from the pack, though, is its technical achievements. In that regard, this may be one of the most wonderful films ever made. The film is made to look as if it was shot in one, long, continuous take. Of course, it wasn't shot in one take but Mendes and company do an excellent job making it appear that way. In most cases, film buffs will be able to see where cuts happen but it shouldn't take away from the overall experience. The camera constantly swoops around its characters and locations while giving the illusion of real-time. This never gets stale as locations such as an abandoned bunker, a barren farmhouse, and a burning village provide breathtaking backdrops for the characters to navigate through. The film takes a similar approach to Alejandro G. Iñárritu's 2014 film, Birdman, with its long takes and impressive camerawork.
Additionally, cinematographer Roger Deakins deserves a lot of credit for his work on the film. Deakins has long been a master of his craft with a whopping fifteen Oscar nominations for Best Cinematography. Sadly, he only has one win out of those fifteen coming from Denis Villeneuve's Blade Runner 2049 with a potential second on the way for this film after officially being nominated in the category as of yesterday. The aforementioned burning village scene is possibly some of the most powerful imagery ever in a war film and Deakins' vision is a huge part of that. The day to night transitions are smooth during the journey of the film and maintains the aforementioned sense of urgency also displayed by the characters. Then, there's the work of composer Thomas Newman with one of the most memorable film scores of the year. To date, Newman has worked on every one of Mendes's films with the exception of 2009's Away We Go. He even won an Oscar for his work on American Beauty. The two seem to make magic with one another and they do so again here in 1917.
As amazing as 1917 is, it does have a few minor, minor faults. There are some moments that drag on just the tiniest bit too long. They're not overly distracting since these scenes usually transition right when you start to notice them lingering. One of the scenes in the burning village is probably the biggest offender in this regard. Again, it goes on just a tad too long and could benefit from being shortened up. Perhaps the biggest issue, though, is its real-time storytelling technique. Since the film is giving the illusion that everything is happening without a lapse in time, the transitions become noticeably accelerated in between scenes. A 24 hour period is crammed into two hours while there are very few breaks in the action. This is something mainly used in video games where a minute of real time translates to an hour in the game. The film asks its viewers to accept the accelerated passage of time despite its lack of cuts. This calls unwanted attention onto itself as the film kind of backs itself into a corner. It's not a huge problem and shouldn't seriously bother any viewers but it's something that may cross your mind from time to time.
Ultimately, 1917 is one of the best war movies released in quite some time. Christopher Nolan's Dunkirk from last year was very good but 1917 is superb. From its great unsung hero performances, sweeping camerawork, and its technical mastery in respect to cinematography and music, the film exceeds expectations of a typical war film. Director Sam Mendes has rarely had any hiccups in his career but has saved possibly his best work for this film. With a Golden Globe win for Best Motion Picture – Drama and ten Oscar nominations under its belt, 1917 is sure to land some more awards come February. Needless to say, it's a film that simply shouldn't be missed.