It's no secret that biopics are a big deal in Hollywood. It doesn't even matter if the subject of the film isn't widely known. There's just something about a biopic that immediately commands a general audience's attention. One film topic that has garnered a lot of attention over the past eight years has been the hip hop/gangster rap scene. In 2009, Notorious was released. The film chronicled the life and death of East Coast rapper, Notorious B.I.G. 2015 boasted the Academy Award snubbed film, Straight Outta Compton, which dealt with the revolutionary group, N.W.A. This past weekend, All Eyez on Me, the biopic of the legendary Tupac Shakur saw its theatrical release.
Like Notorious and Straight Outta Compton before it, All Eyez on Me is based in controversy. The East Coast-West Coast hip hop rivalry became a war zone with diss tracks, double crosses, and shootings. At the center of it were artists signed to East Coast based Bad Boy Records and the West Coast's Death Row Records. No time was more volatile in the rivalry than during the mid 1990's when the popularity of Tupac Shakur and Notorious B.I.G. were soared. Much of All Eyez on Me revolves around this time period.
The film beings with Tupac, played by newcomer Demetrius Shipp Jr., serving a prison sentence in 1995. The earlier events of the rapper's life are shown in flashback sequences as he relays them to an Interviewer (Hill Harper) while in prison. Details about his youth growing up around the Black Panthers, his family's frequent relocation, and his early dabbling in the arts are covered. His relationship with his mother, Afeni (Danai Gurira), and Jada Pinkett (Kat Graham) are also used to shape him into the man he'd become. Of course, the film really picks up once his popularity spikes and his actions are surrounded in controversy.
It's hard to summarize the plot of the film due to its shaky structure and storytelling devices. As Tupac relays information to the Interviewer, all you see are brief clips of his past before fast forwarding to a different event. Watching the film is kind of like reading a Wikipedia page. The film glosses over events so quickly that you often don't know or feel their true relevance to the story. The dreaded word, "stuff," comes to mind for this film. There's a lot of "stuff" happening but there's so much of it that just doesn't resonate. If you're unfamiliar with Tupac's life, you may find yourself lost frequently during this film.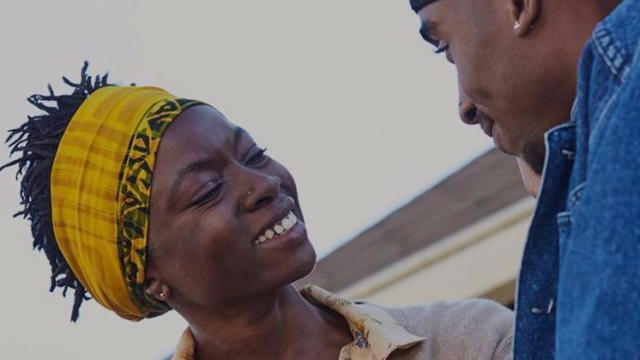 While the plot and pacing really kill this film at times, its performances are the glue that holds it together. Demetrius Shipp Jr. is fantastic as Tupac. There's never a time where you don't buy into him as the rap icon. Shipp takes command of all of the shortcomings and positive characteristics of the man and conveys them effectively on screen. Danai Gurira as Afeni also does a great job. Like Shipp, there are ups and downs in Afeni's life that all drive her to be the person that she is. Jamal Woolard returns for his third go-round as Biggie Smalls. It's a testament in itself that Woolard has been asked to return to the role he played in Notorious two additional times. Dominic L. Santana is menacing and powerful as record producer Suge Knight who constantly becomes a more important character as the film continues.
On the flip side of that, though, there are a lot of extra characters. You're never really sure of who they are and what their importance is. So many of the people in Tupac and Suge's entourage go unnamed and it's hard to care about them. Lauren Cohan also appears in literally one scene and has no time to make any lasting impact. Again, this plays into the film's tendencies to merely skim over its events. Even rap giants like Snoop Dogg (Jarrett Ellis) and Dr. Dre (Harold House Moore) get portrayed onscreen but they come and go so quickly that you almost forget about them.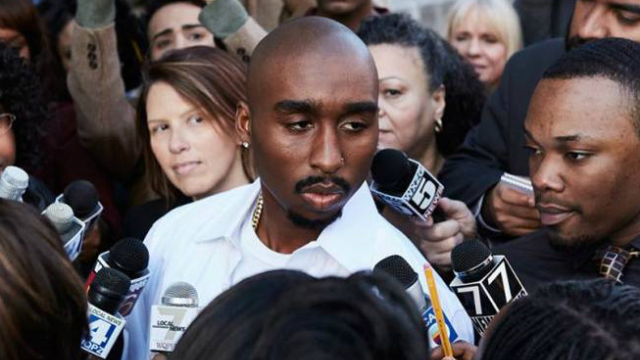 For as interesting and complex as Tupac Shakur's life was, All Eyez on Me really falls flat in telling his story. The frenetic pacing and weak storytelling sabotages a lot of the momentum behind some truly powerful scenes. However, when Shipp is allowed some time to do his thing onscreen, the film pulls you back in. Any time you hear one of Tupac's hit songs, you beg for more. Even Tupac's final moments are done well enough to trick you into thinking the film is good overall. Unfortunately, though, there are just too many detractors that keep this film from reaching its true potential.
Our Score
Ultimately, All Eyez on Me should've easily rivaled the success of Straight Outta Compton. The cultural impact, controversy, and drama is all there to make a stellar biopic for one of the most influential rap artists of all time. Instead, this feels like the CliffsNotes version of the story. It's relaying information without substance. There are a few moments where the film shines but they are few and far between. Demetrius Shipp Jr. puts in an excellent performance that keeps the film afloat but isn't able to make this a good movie overall. All Eyez on Me is watchable if you're familiar with Tupac Shakur's story. Other than that, it's a flawed movie with a few memorable moments and performances.