What really is there to say about Vince Gilligan and his Breaking Bad universe? It's absolutely amazing. The characters are fantastic, the storylines are exciting, and the writing is clever. The finale of Better Call Saul Season 3 aired on Monday night and, in classic Gilligan fashion (this seems familiar), it blew nearly every other show out of the water.
Back when Better Call Saul was originally announced, it was easy to think that Gilligan was just capitalizing on an already successful entity having just wrapped Breaking Bad. Could Bob Odenkirk actually carry an entire show with his sheisty lawyer, Saul Goodman? Surely, the show wouldn't come close to matching its predecessor in terms of heart pounding entertainment. Thankfully, Better Call Saul does just those things. While it's frequently a reminder of how good the previous series was, it also carries itself extremely well as a separate entity entirely. This season, and the entire series as a whole, is jammed full of drama, humor, double-crosses, and heart.
Better Call Saul Season 3 picks up where Season 2 left off. Jimmy McGill (Odenkirk) admits to his brother, Chuck (Michael McKean), that he tampered with documents. Unbeknownst to Jimmy, Chuck tape records the confession and intends to use the tape to sabotage Jimmy's career. This makes up most of the first half of the season which culminates in the wonderfully crafted jury trial episode entitled, "Chicanery." Jimmy and Chuck's relationship remains severely strained throughout the entire season but "Chicanery" certainly feels like a point of no return for the brothers.
Meanwhile, Mike Ehrmantraut (Jonathan Banks) takes a little bit of a backseat in this season. He starts out with the intention of killing Hector Salamanca (Mark Margolis) before his plans are thwarted by his car horn and a brief, one word note on the windshield. Mike discovers that his movements are being tracked and he decides to find his tracker. Here, we're re-introduced to Breaking Bad-alum, Gus Fring (Giancarlo Esposito). Gus quickly becomes another relatively main character and it appears that he will certainly influence much of the direction of the series going forward. Mike's story feels as if it tapers off slightly towards the end of Season 3 in lieu of Gus's introduction.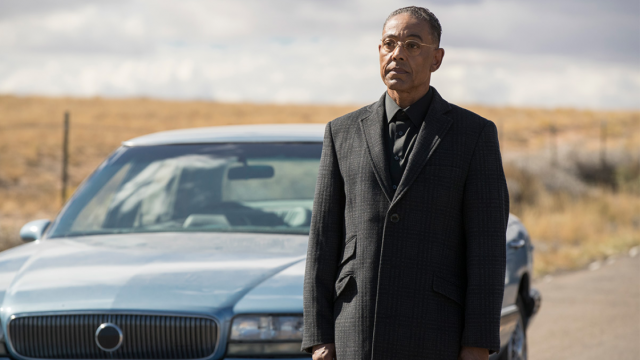 What's so great about Better Call Saul Season 3 is how it sets up so many plot threads moving forward yet already has so much going on in its current events. Every episode feels crucial to the overall story while also progressing its characters, influencing their motivation, and heightening the impact of their choices. Despite being the main character, the show isn't just about Jimmy either. It's about the collection of characters. As a viewer, you legitimately care about seeing every character's storyline played out. Whether it's Jimmy's by-the-books significant other/business partner, Kim Wexler (Rhea Seehorn), overworking herself or Salamanca crew member, Nacho Varga (Michael Mando), having a change of heart towards his boss, all of the storylines feel relevant and important.
The other great thing about the show is getting to see returning characters from Breaking Bad. Better Call Saul Season 3 definitely offers up a number of them. Of course, the fan favorite, Gus, is back along with a number of his associates. Don Eladio (Steven Bauer) and Juan Bolsa (Javier Grajeda) of the Juarez drug cartel both make appearances. Jimmy, and later Saul's, faithful receptionist, Francesca (Tina Parker), and pickpocket, Huell (Lavell Crawford), return to Gilligan's universe as well. Even seeing minor characters like Gus's henchmen, Victor (Jeremiah Bitsui) and, especially, Tyrus (Ray Campbell), are an absolute treat.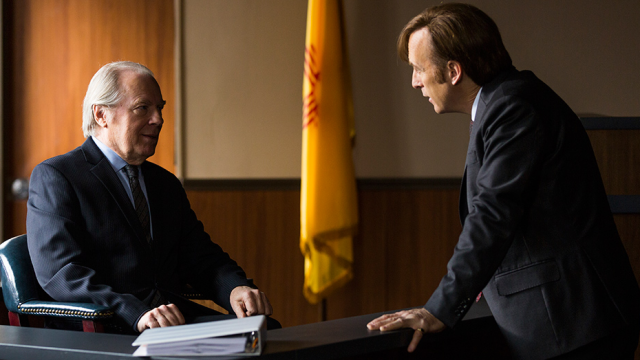 Of course, we can't talk about Season 3 of the show without discussing the first appearance of Saul Goodman. Many fans were probably expecting some grand reveal of the alias in a critical turning point. Though, we all should've known that Vince Gilligan would defy expectations. Jimmy comes up with the name as a way to sell his remaining television commercial spots to potential customers. In completely lackluster fashion, Saul Goodman comes from the mentality that "it's all good, man." After hearing Jimmy describe it to Kim, all you can do is shake your head and chuckle at the simplicity. It's so easy that it's brilliant.
There really aren't any downfalls of Better Call Saul as of yet. It has been everything that Breaking Bad was but just on a lighter note. It's more of the characters we love along with new ones who fit right into the beautiful New Mexico locale. When Better Call Saul feels familiar, it's great. When it feels fresh and new, it's superb. Every episode is easy and fun to watch while leaving you clamoring for more. Season 2 made our Best of 2016 list for television last year and it would honestly be a surprise if Season 3 didn't make our future Best of 2017 list. Thus far, Better Call Saul Season 3 is the most entertaining and rewarding run for a television series this year. It's not even close.