As ridiculous as it may be, we're currently in the age of the "film universe." Seemingly every new string of sequels is being designed to craft a bigger, more extended world instead of just focusing on making the best individual films possible. Of course, the massive success of the Marvel Cinematic Universe is mostly to blame for the current trend. Since then, DC Comics has followed suit with their own Extended Universe, Universal Pictures began their Dark Universe consisting of classic monster films, and even Star Wars has branched out beyond their main saga to put out new "anthology" films beginning with last year's Rogue One. Most recently, the 2013 hit horror film, The Conjuring, attempted to bolster its own universe with the release of Annabelle: Creation this past weekend.
As the fourth film in The Conjuring Universe, and the second Annabelle film to date, expectations were pretty low. While both of the flagship films are entertaining, if slightly unoriginal, works of horror, the idea of having spin-off films just feels cheap. Rarely do spin-offs meet the quality of the original work. In the case of Annabelle, the first spin-off film of a haunted doll introduced in The Conjuring, this is exactly the case. Upon its release in 2014, Annabelle rightfully received mostly negative reviews. Yet, it still pulled in big numbers at the box office and, thus, Annabelle: Creation would be the next film in the spin-off series.
Serving as a prequel to its predecessor, Creation serves as the haunted doll's origin story. Dollmaker Samuel Mullins (Anthony LaPaglia) and his wife, Esther (Miranda Otto), tragically lose their young daughter, Annabelle (Samara Lee), after she's hit by a car. Twelve years later, the Mullins' allow Sister Charlotte (Stephanie Sigman) and six girls from a closed orphanage move into their farmhouse. Janice (Talitha Bateman), a young girl suffering from polio, goes into Annabelle's old bedroom after being told not to by Samuel. She unleashes a dark presence and each of the girls are haunted with a specific doll serving as a vessel of evil. Though, much of the focus stays on Janice and her best friend, Linda (Lulu Wilson).
In terms of plot, Annabelle: Creation is pretty standard. It's your traditional haunted house fare and a fear of the unknown. The Mullins' are cold hosts towards their new guests despite agreeing to have them. Esther never leaves her bedroom and Samuel is always brooding about something. The girls start to make up stories about their hosts and essentially scare themselves before the true horror begins. There's just not many new ideas to be had in the film's stock plot. The film is kind of a mix between Poltergeist, Child's Play 2, and, of course, The Conjuring.
The first hour or so of the film is quite predictable with obvious musical cues and false scares. Luckily, it does ramp up quite a bit during the second half. While nothing's overly unique, there are a few parts that will legitimately make you jump. Director David F. Sandberg frequently uses monsters and the movement of inanimate objects for scares. For the most part, they tend to be effective. Again, they feel somewhat uninspired though.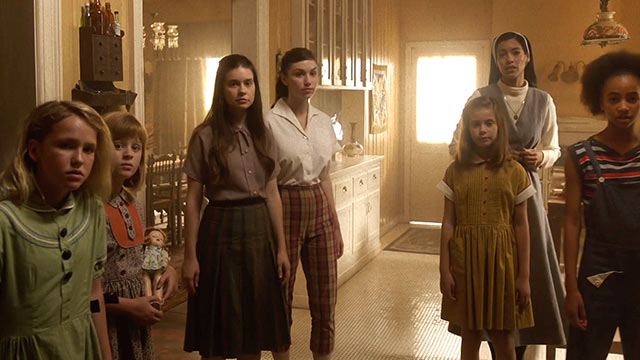 As for the cast, no one sticks out as a weak link. Although, it's quite shocking to see Anthony LaPaglia as thick as he is especially when comparing this role to his one in a film like Empire Records. Ever since her turn as Doris in Ouija: Origin of Evil, it seems like Lulu Wilson may be the go-to young actress for the standard horror film. It wouldn't be surprising for people to confuse the Ouija prequel with Annabelle: Creation over time either. The standout talent of the film is definitely Talitha Bateman as Janice though. It's easy to feel sorry for her due to her condition and her relationship with the other girls. She's vulnerable, yet likable, as she tries not to be a burden nor break rules. Overall, even with her character's changes, it never feels like the role is too big for her.
Our Score
While this review may seem a bit halfhearted, that's basically the feeling you get after watching Annabelle: Creation. It doesn't really do anything poorly, it just feels so run-of-the-mill. Neither The Conjuring nor its sequel were revolutionary horror films but everything they did was done extremely well. In this film, everything is just fine. If you're looking to turn your brain off and be spooked for an hour and 49 minutes, this is potentially a film for you. If you want to be impressed and/or legitimately frightened, you can find much better elsewhere. Of course, this isn't the end of The Conjuring Universe. Both The Nun and The Crooked Man from The Conjuring 2 have been announced. Hopefully, those films will have a little more staying power than Annabelle: Creation. With all of the focus being on crafting a universe as opposed to a legitimately good film though, it's highly doubtful.