As a fan of cinema, the best thing that can happen is to be taken by surprise. We're right in the middle of the summer blockbuster season with big name films coming out basically every week. Sandwiched in between franchises like Pirates of the Caribbean, Transformers (yuck), and Spider-Man is Baby Driver. While it was definitely on our radar of films to see, The Beguiled, which didn't play in the local theater, was supposed to be this week's focus. Well, consider us surprised because Baby Driver is one of the most satisfying film experiences of 2017 so far.
In 2014, writer-director Edgar Wright left Marvel's Ant-Man due to creative differences. Shortly after, he announced that Baby Driver would be his next film. It premiered earlier this year at South by Southwest on March 11th. Since then, it feels like the film has been heavily promoted with its trailer playing before many of the aforementioned blockbusters. Its posters have also been adorning theater lobbies. There has definitely been some hype and, as of now, it's only behind Despicable Me 3 in terms of weekend box office numbers.
Ansel Elgort stars as the titular music-loving getaway driver, Baby. Indebted to heist planner, Doc (Kevin Spacey), Baby drives for every heist until his debt is paid. He has severe tinnitus which is the reason he constantly wears earbuds that act as a soundtrack to his life. After his last job, Baby attempts to go on the straight and narrow while wooing Debora (Lily James), a waitress at a diner. Of course, Doc pulls Baby back in for one more profitable heist with a hostile crew of characters.
There are two things about Baby Driver that make it stand out as a unique and exhilarating experience. The first is its cast. Elgort is excellent as the soft spoken protagonist and Kevin Spacey delivers a typically fine performance. There's a rotating set of crew members employed by Doc that includes Griff, Buddy, Darling, No-Nose, JD, and Bats. Jon Bernthal, Jon Hamm, Eiza González, Flea of the Red Hot Chili Peppers, Lanny Joon, and Jamie Foxx play the characters respectively. Every one of them is memorable in their own right and they all make the film better with their inclusion. It's rare that minor characters like Griff and No-Nose offer such impact in brief appearances but that's most certainly the case in this film.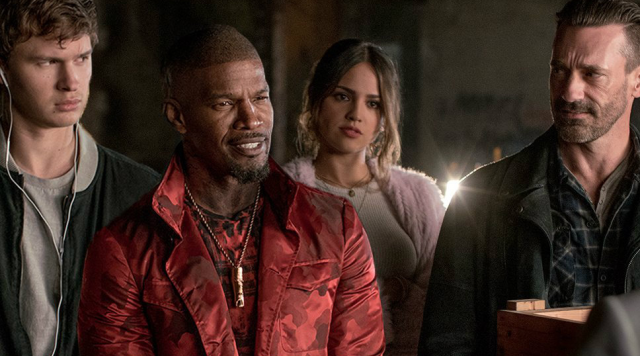 The other thing that propels Baby Driver into an unforgettable film is its usage of music and sound. The film is an absolute aural smorgasbord from start to finish. There's never a time where sound isn't playing a huge role in defining a scene. Baby has multiple iPods with a diverse array of music that's used perfectly in every scenario. Watching him react to the music whether he's driving a getaway car, walking down the street, or simply sitting in a heist meeting is legitimately entertaining. The music gives the audience more traits of the character than dialogue or interactions with other characters.
Beneath the exhaustive soundtrack is a wonderful soundscape as well. Visual and audio cues frequently match up with the soundtrack. Again, it's just fun to be a viewer seeing and hearing what the film and sound crew are offering onscreen. At one point, there's a shootout where the gunshots basically recreate the beat of a song and it's impossible to not be amused by it. The usage of audio in the film is absolutely draining but in the best way possible. It's hard to think of another film with such an impressive world of sound. It'd be a shame if the film wasn't nominated for an Academy Award in at least one of the sound categories at next year's Oscars.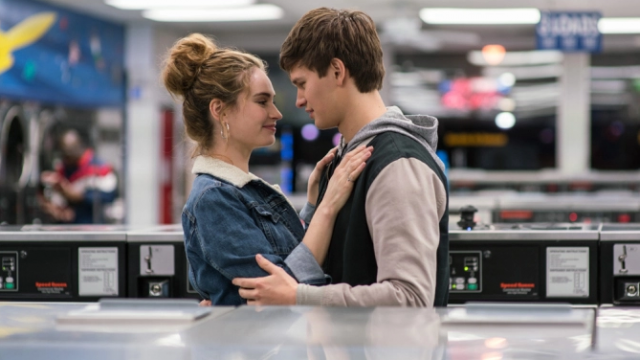 As with most films, Baby Driver isn't perfect. Though, it comes pretty close. The fast paced, action-packed opening gives way to a slower paced middle section. The pacing isn't necessarily a huge issue as the plot continues to be entertaining. Yet, it should be mentioned that it does drag a little following the initial heists. The love story between Baby and Debora is touching if not a tad bit cliched. Though, with such a great cast enhancing every facet of the film, it's hard to really get down on it for some extremely minor shortcomings.
Our Score
Baby Driver is an excellent film. With titles like Shaun of the Dead and Hot Fuzz already on his resume, Edgar Wright continues to prove himself as an ascendant talent as a writer and director. His newest work strays from the formula used in those films but still has a lovable quirkiness. The film seems like the product of a maturing filmmaker and music fan with an unbelievable eye for talent. Without taking anything away from bigger budget films coming out, Baby Driver is the most fun that you can have at the movies so far this summer.