Despite being a legend in the film business, it has been a while since Spike Lee has felt relevant. His most prominent work came back in the late 1980's and early 1990's with films like Do the Right Thing and Malcolm X. Over the years, he has had acclaimed films pop up here and there with 2002's 25th Hour and 2006's Inside Man but, for the most part, things have been quiet from Lee for some time. Even now, we're still trying to forget the director's abysmal 2013 remake of the Korean revenge classic, Oldboy. Yet, here we are in 2018 and Lee hearkens back to his roots with a pertinent new film about race relations in BlacKkKlansman.
The film is based on the 2014 memoir, Black Klansman, by Ron Stallworth. Stallworth is a former police officer who was able to infiltrate the Colorado Springs chapter of the Ku Klux Klan in the late 1970's. He was also the first African-American police officer and detective in the city. Judging by his history of examining race relations and especially racism in America, Stallworth's story is familiar territory for a filmmaker like Spike Lee.
The film begins with Ron Stallworth (John David Washington) becoming the first black police officer in Colorado Springs. Confined to the records room and facing mistreatment from one of the other officers, Stallworth requests to go undercover. Against his better judgment, Stallworth's superior, Chief Bridges (Robert John Burke), agrees to let his rookie go undercover. Stallworth's first assignment is to attend a rally where civil rights leader Kwame Ture (Corey Hawkins) is making a speech. It's here that he also meets his eventual girlfriend and president of the black student union, Patrice Dumas (Laura Harrier). Soon after, Stallworth sees a newspaper ad calling for new recruits to the local chapter of the Ku Klux Klan. Pretending to be white, Stallworth contacts chapter president Walter Breachway (Ryan Eggold) via telephone. A meeting is set up and fellow white detective Flip Zimmerman (Adam Driver) poses as Stallworth and joins the Klan.
Now, there are some serious issues with BlacKkKlansman but let's address the good first. The acting across the board is excellent. John David Washington is extremely likable as Ron Stallworth. Ryan Eggold, Jasper Pääkkönen, and Paul Walter Hauser as the three main KKK members do a great job as well. Particularly, Pääkkönen puts in an excellent performance as a disgustingly hateful villain. The actor who really shines here is Adam Driver. Ever since he burst onto the scene as Kylo Ren in Star Wars: The Force Awakens, Driver has been excellent in every film he's in and turns in one of his best performances here. As Flip Zimmerman, a Jewish police officer, he sees things through Stallworth's eyes in terms of persecution. When around his brothers in the KKK, he puts on a menacing front. Driver's ability to flip the switch between roles is astounding throughout the film.
Of course, we've already established that BlacKkKlansman is based on a true story. For the most part, the film is very engaging throughout. Specifically, the first half of the film hooks you and gets you excited to see where the story goes. Though, there are a few things to nitpick. BlacKkKlansman is easily Spike Lee's best film in years. There are just a handful of things that feel odd about the story being told. Firstly, why does Stallworth continue to communicate with the KKK on the telephone after they've already met Flip in person? You'd think that Flip would just take over every aspect involving his "character." Instead, Stallworth almost gives them away a number of times.
There's also a scene towards the end of the film where one character doesn't remember who Stallworth is but another does remember Flip. It's a strange sequence of events that seems all too convenient to add suspense to the story. We won't spoil the scene here but it feels a tad outrageous even if the real event went down that way. Again, these are nitpicks but they do need to be addressed as they stick out like a sore thumb.
One of the biggest issues with BlacKkKlansman is in its tone. From the very beginning, it's set up as sort of an exploitation dramedy as "Dis joint is based upon some fo' real, fo' real shit" pops up on the screen. The tone is kept somewhat lighthearted as Stallworth and company offer some truly laugh out loud moments. Then, all of a sudden, the film gets real serious and almost preachy. In a powerful scene, clashing ideals are spouted by the Grand Wizard of the KKK, David Duke (Topher Grace), and Jerome Turner (Harry Belafonte). The film cuts back and forth between two different locations as the men give their speeches about white and black power respectively. It's a great piece of filmmaking but the sudden clash in tone is jarring. Not long after, the film offers more humorous moments and leaves you questioning how the film wants you to feel.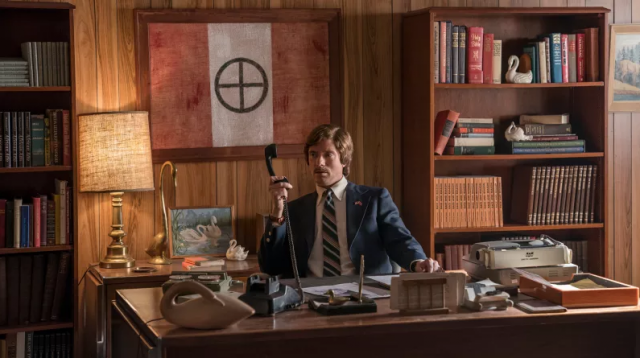 Then, we get to the biggest problem. As we all know, Spike Lee is outspoken and uses his craft to spread a message. We don't usually spoil things here but this will be an exception. Although this has nothing to do with Stallworth's story, consider this a minor spoiler warning about Lee's overall message. There's no question that there's certainly a correlation between the events of BlacKkKlansman and today's society. The film frequently calls into question violence on African-Americans from Caucasian police officers. This is a relevant topic today. The film was even released one year after the white supremacist rally in Charlottesville, Virginia. Lee includes footage of the Charlottesville riots along with statements from President Donald Trump.
Again, this footage has absolutely nothing to do with Ron Stallworth's story. Is there a correlation between the two different periods of history? Yes. However, this is abundantly obvious as you're watching the film by itself. Lee's decision to include footage from the riots is definitely a controversial one. Had BlacKkKlansman been a documentary, it may have had more of a place. Here, though, it feels like nothing more than propaganda. There were even people that walked out of the theater the very second that the footage started playing. As a filmmaker, you don't need to bash an idea over our heads for viewers to understand your message. It was conveyed well enough throughout most of the film. In addition, had Lee kept a more consistent tone to further push his message, he wouldn't have needed to use a ham-handed method such as this to make it "relevant."
Our Score
BlacKkKlansman is mostly a good time at the movies. The comic moments are very good and the more thought-provoking scenes are excellent. It's a shame that a legendary filmmaker like Spike Lee couldn't lean more towards one side or the other though. Then, the shameless propaganda before the credits roll definitely sour the overall experience of the film. As previously mentioned, BlacKkKlansman is definitely Lee's best film in a long time. While Lee has always been outspoken, sometimes subtlety is a much better approach to convey an importantly relevant message. Then again, there's nothing very subtle about Spike Lee.