There has been a common trend in many of the long running television shows these days. As seasons begin to pile up, so do the cast of characters in shows like The Walking Dead and Game of Thrones. Though, it's difficult to even put names to faces in The Walking Dead due to poor character development. Admittedly, Game of Thrones handles this much better. The same can be said for Netflix's Orange is the New Black. Over the course of the first five seasons of the prison dramedy, countless characters have come and gone, yet, the majority of them have made a legitimate impact. In that regard, what happens when you actually split the roster of characters and only focus on a handful of them? This is exactly the case with Orange is the New Black Season 6.
Season 5 saw the inmates of Litchfield Penitentiary involved in a riot following the death of Poussey Washington (Samira Wiley). The prison guards, along with warden Joe Caputo (Nick Sandow), are held hostage by the prisoners. Litchfield is stormed by the Correctional Emergency Response Team who accidentally shoot and kill correctional officer Desi Piscatella (Brad William Henke) before loading the prisoners onto buses and ferrying them away to maximum security facilities by the season's end.
Orange is the New Black Season 6 picks up soon after the events of Season 5. A handful of fan favorite characters are transferred to max and separated into different cell blocks. Much of the season sees federal authorities issuing blame and punishment for the source of the riot. Two inmates, one being Daya (Dascha Polanco), are being charged with the murder of two guards. Three more inmates, one being Taystee (Danielle Brooks), will receive ten more years on their respective sentences for inciting the riot. With the characters being separated, none of them know what the others are saying about their level of participation. Daya, who did shoot CO Humphrey (Michael Torpey) in Season 5, seems to accept her fate. Taystee, however, becomes a victim of circumstance as she worked to end the riot but has the support of former warden, Joe Caputo.
Meanwhile, maximum security is about to become a war zone thanks to Carol (Henny Russell) and Barb (Mackenzie Phillips) Denning. The two are sisters who committed a heinous crime together in their youth. Both women are at odds with one another while also having bad blood with the resourceful Frieda (Dale Soules). Most of the new inmates in max side with either Carol or Barb throughout the season. Carol's henchwoman, Madison "Badison" Murphy (Amanda Fuller), zeroes in on Piper Chapman (Taylor Schilling) as her own personal punching bag. Though, Piper's girlfriend, Alex Vause (Laura Prepon) does her best to keep Badison at bay. Throughout all of this, the prison guards embark on a game of fantasy inmate, an obvious offshoot of fantasy football.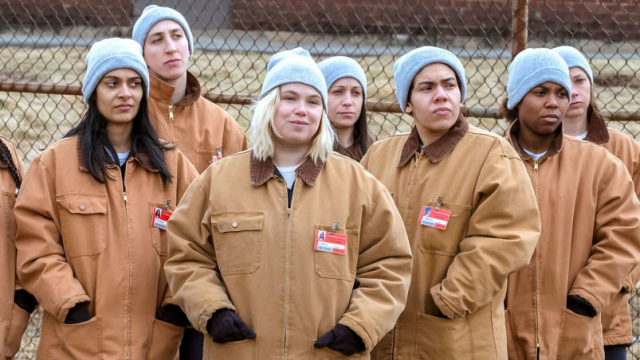 As was previously mentioned, the established cast of previous seasons was cut down significantly for this season. Characters like Soso (Kimiko Glenn), Janae (Vicky Jeudy), Maritza (Diane Guerrero), and Big Boo (Lea DeLaria) are excluded from Season 6. Surprisingly, you don't really notice their absence all that much. At times, characters will reference them but, for the most part, they're not missed. This isn't to say that they weren't good characters. Yet, Orange is the New Black Season 6 does such a good job putting the spotlight back on a smaller number of characters. Gloria Mendoza (Selenis Leyva), Black Cindy (Adrienne C. Moore), and Piper get much more development here. Even Daya's mother, Aleida (Elizabeth Rodriguez), who's no longer imprisoned, gets time to shine.
While the previous two seasons of the show focused heavily on the minimum security inmates battling each other, this new season shows them making allegiances in unfamiliar territory. They begin the season at odds but soon question why the different cell blocks in max despise one another. Carol and Barb spend time recruiting soldiers for their impending war. Some of the fan favorites join in while others try to remain passive. Over the course of the season, more is revealed about the relationship between the sisters and their influence on Litchfield max as a whole. This is the first time since, perhaps, Season 2 where there has been a legitimate villainous character. Here, there are actually three with Badison who tends to be the biggest nuisance to series protagonist Piper Chapman.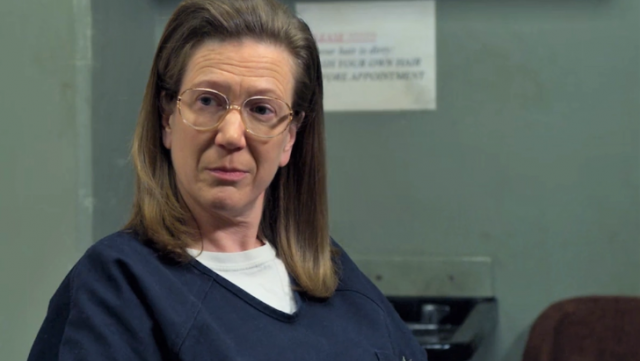 Ultimately, streamlining the cast and simplifying the rules worked well to, once again, make the show fresh. Now in maximum security, the inmates aren't free to do whatever they want as they had during the riot. Legitimate consequences are back on the table. This even makes some of the guards like Joel Luschek (Matt Peters) and Artesian McCullough (Emily Tarver) more complex characters. It may sound strange but stepping back and reestablishing Orange is the New Black back into a more strict prison setting opened up a world of possibilities. This is especially true when you factor in the ending of the season which we won't spoil here. In addition, many of the characters not included in this season could easily make an appearance in future seasons as you'd still like to know what happens with them.
It's hard to say where Orange is the New Black Season 6 stacks up against past seasons. The show has been the very definition of consistent since its inception in 2013. It should be no surprise that Season 6 is good. There's just something about this cast of characters, even if it's cut down, that makes this show tick. Each subsequent season feels necessary and just as enjoyable to watch. Even in the dark times, there are plenty of touching moments and laughs as well as heartbreak. Simple recurring jokes, such as one inmate needing to get completely naked to go to the bathroom, are scattered throughout the entire series and always help lighten the mood. Needless to say, Orange is the New Black Season 6 continues to impress with its bold storytelling and colorful cast of old and new characters.