Over the years, audiences have been given a number of highly anticipated biopics based on legendary musicians. Artists like The Doors and Johnny Cash all the way to N.W.A and Tupac Shakur have had their stories told via cinema. In addition, biopics on Elton John and Mötley Crüe are on the way as well. Though, there has been a ton of buzz behind a biopic focusing on the British rock band, Queen, and one of rock's greatest frontmen ever, Freddie Mercury. Bryan Singer's new film, Bohemian Rhapsody, was finally released this past weekend and, in some ways, it massively delivers on the enigmatic rock icon. However, it also struggles with ingenuity, truthfulness, and, above all, honoring the memory of Freddie Mercury.
Bohemian Rhapsody, taken from the the title of Queen's legendary anthem, was originally announced in 2010 with funnyman Sacha Baron Cohen in the role of Mercury. Cohen left the project in 2013 due to creative differences and the film stalled for a number of years. Eventually, Rami Malek, of Mr. Robot fame, signed on to star with Bryan Singer directing. Adding to the film's turmoil, Singer was eventually fired during the film's production due to habitual absences and frequent clashes with the cast and crew. Dexter Fletcher completed the film with Singer receiving the final director's credit per the Director's Guild of America guidelines. For his work, Fletcher received an executive producer credit.
The film largely follows Farrokh Bulsara AKA Freddie Mercury (Malek) as he goes from being a baggage handler to the lead singer of the legendary band, Queen. In 1970, a young Freddie goes to a nightclub and sees a local band called Smile. Following the gig, the band's singer quits before Freddie meets the guitarist, Brian May (Gwilym Lee), and drummer, Roger Taylor (Ben Hardy). Freddie tells the two that he writes songs and is a capable singer as well. The three join together under their new name, Queen, along with John Deacon (Joe Mazzello) on bass. From here, the band quickly gains popularity with their catchy songs and flamboyant performances from their frontman.
After executive Ray Foster (Mike Myers) refuses to use the band's song, "Bohemian Rhapsody," as a single, Queen leaves their record company, leaks the single themselves, and are soon launched into the rock stratosphere. With this comes internal struggles between band members and drug and alcohol abuse from Freddie. Also, Freddie's sexuality is called into question frequently as he claims that his girlfriend, Mary Austin (Lucy Boynton), is the love of his life. Yet, he finds himself giving into his homosexual urges while on tour with Queen.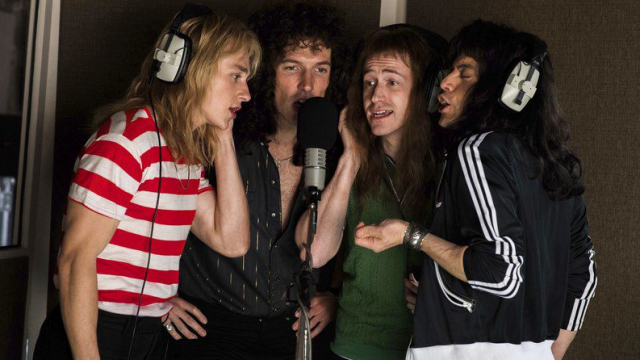 For those familiar with the story of Queen and Freddie Mercury in particular, the plot is pretty standard. It gives a relatively quick outline of the band's inception and meteoric rise. Luckily, it's the film's characters that really allow it to stand out. In multiple ways, Bohemian Rhapsody seems to follow a proven formula established in Oliver Stone's 1991 musical biopic, The Doors. Both films center on enigmatic frontmen in Mercury and Jim Morrison. Brian May serves as this film's Ray Manzarek, played by Kyle MacLachlan, as a level headed intermediary. Freddie clashes with drummer Roger Taylor as Val Kilmer's Morrison did with Kevin Dillon's John Densmore. Then, there was the member who's just along for the ride in Rhapsody's John Deacon and Frank Whaley's Robby Krieger in The Doors. While not overly original, it works and you genuinely like each of the band members in their roles.
Then, you have Rami Malek as Freddie Mercury. From the release of the film's early trailers, there was no doubt that the filmmakers and Malek nailed the look and feel of Mercury. After viewing the film, it's safe to say that the performance was totally as advertised. Malek commands attention every second that he's onscreen and he achieves all of the flamboyance, swagger, and tenderness of Freddie Mercury. During the film's musical sequences, he legitimately comes off as the rock god as he dons garish outfits and mimics the erratic performances of Mercury. In contrast, his emotional moments with Lucy Boynton's Mary Austin give humanity to the character and allow viewers just a peek of what's behind the facade of an icon.
While Malek is excellent in his role, the film would be nothing without its musical performances. For the band itself, Bohemian Rhapsody is essentially a slideshow of every iconic performance they had. The hairstyles and outfits are spot on and, even for casual Queen fans, are instantly recognizable. It certainly helps that the real Brian May and Roger Taylor served as creative and musical consultants on the film. The film culminates with the band's legendary twenty minute performance during Live Aid in 1985. The filmmakers decided to recreate the entire performance for the film. Though, some of the performance was cut down to shorten the film's overall length. Recreating the look and feel of Live Aid is a tremendous accomplishment in the film and it's truly a goosebump-inducing moment in cinema.
Unfortunately, where the film really falls flat is in its execution and storytelling. As previously mentioned, Bohemian Rhapsody operates mostly as a slideshow showing quick snippets of the band's career. This is similar to our recent criticisms of A Star is Born. The film focuses too heavily on appeasing a casual audience with getting to the "Queen stuff." Like Lady Gaga's character's breakthrough moment in A Star is Born, as soon as Freddie sees Smile, the band turns into Queen about two minutes later. There's never any real development between scenes. It's constantly event after event with small bits of drama mixed in here and there. To reference The Doors again, that film covered a band that existed for only six years in its original form. Queen's career with Mercury as the frontman spanned just over twenty years. Although, the film only covers from 1970 to 1985. That's still fifteen years and there are large chunks of time that feel glossed over and/or forgotten completely.
The final and, arguably, the biggest issue with the film is in its portrayal of Freddie Mercury as a person. Sure, there are many good moments with the character. His early days with Queen and his relationship with Mary are done well. As the film progresses, Freddie actually becomes quite unlikable at times as he's manipulated and turns into a diva. Revisionist history doesn't help as Roger Taylor takes offense to Freddie releasing a solo album and, in turn, "killing" Queen. Though, in real life, Roger was the first member of Queen to go solo. Also, Freddie's manager and one-time love interest, Paul Prenter, portrayed by Allen Leech, is the film's pseudo-villain and implied to be largely at fault for his client's downfall. Some of the scenes with Prenter are absolutely ridiculous as he'd be more at home in a psychological horror movie than a musical biopic. Prenter is constantly peering over the shoulder of Freddie and influencing each and every decision. While typically villainized by the real members of the band, this portrayal of the man is almost comical and damages some of the credibility of the film and its portrayal of Freddie Mercury in his latter years.
Our Score
When all's said and done, Bohemian Rhapsody is a mixed bag. Instead of trying to tell the true story about one of rock and roll's biggest bands of all time, it sometimes feels a little too in love with itself. Then, there are other times where it feels almost ashamed. It's a very strange dynamic and it could be anything from the change in direction, the aforementioned revisionist history, or just the members of Queen not being comfortable with laying it all out there. With biopics, there's always added dramatization to make stories more cinematic. However, while watching Bohemian Rhapsody, you constantly get the feeling that there are details missing and/or skewed throughout. Even with its shortcomings though, the film is still entertaining and will keep you invested. If you simply take Bohemian Rhapsody for what it is, it's a mostly good time at the movies. Yet, it leaves you questioning its purpose and the thought of what could've been.