Ever since the release of the first book, Harry Potter and the Sorcerer's Stone (or Philosopher's Stone depending on where you live), the Harry Potter series has been an absolute juggernaut. There have been books, films, video games, theme park attractions, and licensed merchandise up the wazoo. To put it simply, the Harry Potter property is worth billions. It's no surprise then that Warner Bros. and author J.K. Rowling would like to continue their success. Their most recent stroll into the magical world of Harry Potter is with the new film, Fantastic Beasts and Where to Find Them.
While the film is set in the same universe, it can be looked at as a standalone adventure. The title comes from the name of a textbook that Harry must buy for his first year at Hogwarts School of Witchcraft and Wizardry. Some of the characters in the film are names that were only mentioned in the books. It's interesting to actually learn who they were in the context of the wizarding world. Fantastic Beasts is also J.K. Rowling's first foray into screenwriting. David Yates returns as director after helming four of the eight previous films as well.
The aforementioned textbook from the book series is written by the main character of the film yet has little influence on the actual plot. Newt Scamander (Eddie Redmayne) travels to New York City in 1926 with only a battered suitcase. The suitcase is magically expanded and holds numerous magical beasts that Newt studies for the book he's writing. A number of them escape and Newt, along with help from former Auror Tina Goldstein (Katherine Waterston), her mind-reading sister, Queenie (Alison Sudol), and a No-Maj/Muggle named Jacob Kowalski (Dan Fogler) must track them down and return them to the briefcase.
Meanwhile, Auror Percival Graves (Colin Farrell) and others from the Magical Congress of the United States of America try to track down the source of an Obscurus, a destructive force released by children who repress their magical powers. For this, he turns to an abused adopted boy named Credence Barebone (Ezra Miller).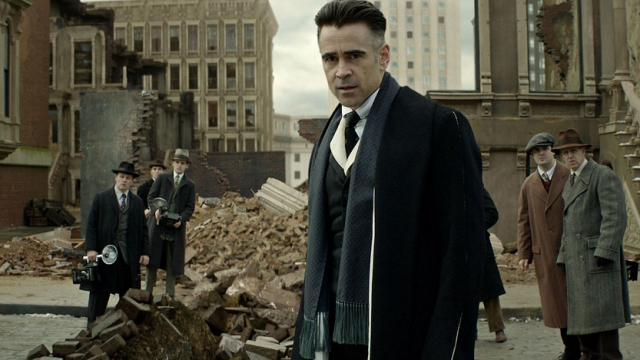 For as much nonsensical jargon as the characters spew out, if you've read the books or seen the movies, you'll be right at home. Even though Harry Potter is nowhere to be found, it still feels like the characters live within that world. Maintaining consistency between the creator, director, and even producers Steve Kloves and David Heyman certainly helped to bring a similar style, and magic if you will, to a new location with different characters.
With that being said, Fantastic Beasts does feel like it's more of the same. Though, it's not done quite as well as the previous films. Technically speaking, the film is beautiful. The locations and costuming look great. The CGI creatures could look slightly better especially when you consider the incredibly realistic CGI in a film like The Jungle Book. However, Fantastic Beasts does a decent job in giving the creatures their own quirks to make them endearing to the audience.
The problems with Fantastic Beasts and Where to Find Them lie in its storytelling and character development. There's always a lot of "stuff" happening but it moves so fast that you're never really sure as to why these things are happening. The film never takes any time to breathe. Also, there's a plot twist that's so blatantly obvious from the very beginning of the film that it's almost laughable when it actually happens. As for the characters, there are a few emotional moments towards the end of the film that fall really flat. This is because it just doesn't seem like you get to know them on a personal level. They're just vehicles to make the plot move forward.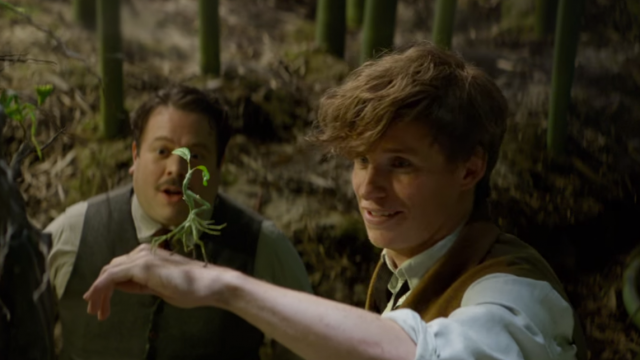 Eddie Redmayne was a huge disappointment in the lead role. After his Oscar winning role as Stephen Hawking in The Theory of Everything, it's amazing how lackluster his performance in this film was. He always has this awkward look on his face as if he doesn't really know if he should be acting or not. The chemistry between him and Katherine Waterston's character (the closest thing to an obligatory love interest) is non-existent. Both of them just seem like they don't know what to feel at any point in the movie. Dan Fogler's Jacob Kowalski plays a comic relief type of character who's just kind of there most of the time.
Our Score
There's no doubt that Fantastic Beasts will make a decent amount of money regardless of its quality. As a property of the Harry Potter universe, fans will go see it in droves. However, don't be fooled. It's an average film at best. At times, it looks nice and it maintains your interest but it's not perfect by any means. Lackluster characters and a flat storyline hold this film hostage. It's inconceivable to imagine that there are five planned films in this series. Five. After just one, it's fair to question why. Without the Harry Potter theme tied to it, Fantastic Beasts and Where to Find Them is an average film at best. With it, it'll probably another successful cash in followed by as many sequels as die-hard fans will allow.