It has finally happened. An actual good movie has been released here in 2019. Shockingly, it's a product of WWE Studios which isn't necessarily known for quality. What's even crazier is that it's actually a welcome glance into the world of professional wrestling. As WWE has grown larger as a company over the years, it has increasingly pushed "entertainment" as the main priority. Wrestling has since taken something of a backseat even though it's still the main draw for fans across the globe. In that regard, maybe it shouldn't be a surprise that Fighting With My Family, a film about wrestling, is hands down the best release from WWE Studios.
Of course, this is not the first cinematic foray into the ring. Over the years, pro wrestling has been spotlighted in films like 1986's Body Slam, 2006's Nacho Libre, and the critically panned World Championship Wrestling film, Ready to Rumble. Wrestling fans may remember that one because it was the catalyst for actor David Arquette winning the WCW World Heavyweight Championship in real life. Ouch. Arguably the best wrestling film came in the form of Darren Aronofsky's 2008 film, The Wrestler. It starred Mickey Rourke in the fictional role of Randy "The Ram" Robinson, an aging wrestler whose life bottoms out due to the abuse he puts his body through over the years. Oddly enough, given the company's knack for separating itself from its own product, Fighting With My Family isn't even the first wrestling film endorsed by the WWE. That "honor" goes to 1989's No Holds Barred which, like Ready to Rumble, was critically panned and also carried over a storyline from the film into real life.
The focus of WWE's new film is on the Knight wrestling family from Norwich, Norfolk, England. It's based on the 2012 documentary The Wrestlers: Fighting With My Family chronicling the dwindling popularity of the Knight family's wrestling promotion and subsequent rise of their only daughter, Saraya-Jade AKA Britani (and later Paige) to the ranks of WWE. The family, which consists of Paige, the patriarch, Ricky, mother, Julia AKA Sweet Saraya, and their two sons, Roy AKA Zebra Kid and Zak Zodiac, runs the World Association of Wrestling. Even at a young age, Paige had been the standout talent from her family and this is where Fighting With My Family picks up.
The film sees Saraya Knight (Florence Pugh) as she's urged to wrestle her brother, Zak (Jack Lowdon), for her father's WAW promotion. Initially uninterested, Saraya gets a taste for wrestling and a strong bond with her brother as they pick up local kids on the streets of Norwich to train as professional wrestlers. Her parents, Ricky (Nick Frost) and Julia (Lena Headey), frequently call trainer Hutch Morgan (Vince Vaughn) at World Wrestling Entertainment to gauge his interest in both Saraya and Zak. Eventually, both Knight children are given tryouts. After a brief encounter with Dwayne "The Rock" Johnson, only Saraya is selected to train in WWE's developmental territory, NXT. Now under the ring name, Paige, Saraya heads to America to train in NXT and achieve her dream of becoming a WWE superstar.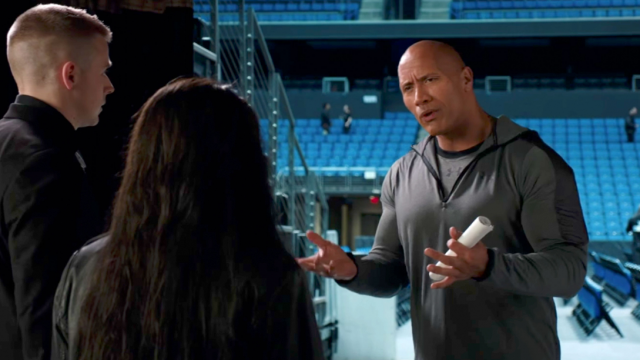 There's no doubt that, outside of The Wrestler, Fighting With My Family is easily the best feature film about the wrestling business that has been released. Yes, there are a number of great documentaries but, for a theatrically released title, this one is really good. As usual, it's not perfect but let's address some of the highlights first. The acting is great across the board. Florence Pugh does a great job portraying a young Paige who's trying to fit into the cosmetic world of WWE. Fans of the product will know that Paige's black hair and pale complexion is quite different than the standard WWE Diva at the time. The film addresses this and works to make Pugh a standout just as Paige was during her time in NXT. Pugh's voice even sounds quite a bit like the real Paige.
The other family members are all really good as well. Nick Frost and Lena Headey provide some comedic moments as Ricky and Julia but they also have their tender moments. Of course, Lena Headey is most well known for her role as Cersei Lannister in HBO's Game of Thrones as one of the show's greatest villainous characters. Headey is truly underrated as she shows off range in all of her roles despite being universally hated as Cersei. Jack Lowden as Zak has an undeniable chemistry with Pugh as siblings. Seeing the two trying to break into the business as a unit with Zak ultimately being passed over is a turning point in the film and you feel for him. Vince Vaughn is surprisingly one of the bright spots of the film as well. His character, Hutch, initially seems tough and strict but there's a depth to him that makes him likable. Though fictional, Hutch is an amalgam of a few trainers that the real Paige encountered during her time in NXT. We can't forget to mention The Rock who has some of the best scenes of the entire film. As everyone should know by now, his charisma is simply off the charts.
Being under the WWE banner, the production value of Fighting With My Family is excellent. For wrestling fans, the company's production is often lauded as one of its best assets. This has translated over to the film world very well. The locations and sets are great. Whether its the streets of Norwich, gloomy warehouse wrestling shows, the sunny Florida locale of NXT, or even a packed arena for an episode of WWE's Monday Night Raw, the look and feel of the film is spot on. It offers up a distinct contrast in Paige's world before her rise to superstardom. While WWE Studios has offered up some serious stinkers, Fighting With My Family feels like a real movie. There's plenty to like with its comedy, drama, and underdog story even for people who aren't fans of pro wrestling.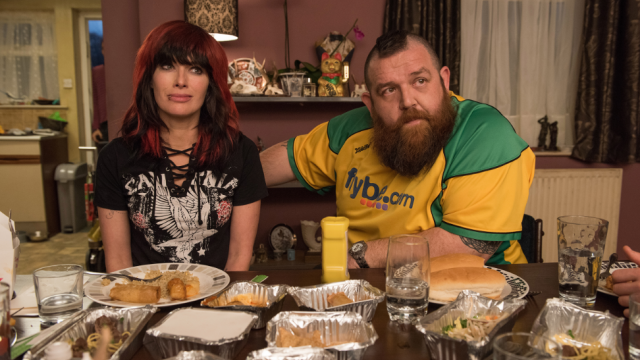 The flaws with the film are relatively few but, for WWE fans, they do detract from the overall product. On a more general note, the comedy is usually pretty good but it doesn't always land as it should. It tries a little too hard to be constantly funny during the first act. The bigger issue is with WWE's penchant for revisionist history. Too many times over the years has the company skewed its own history to tell a slightly different story. In this film, NXT isn't treated as its own brand as it has become known today. It's just a training ground to get people to the WWE. Paige was the inaugural NXT Women's Champion which is never once addressed in Fighting With My Family. She basically graduates from NXT to the main roster of WWE.
When Pugh's Paige debuts on Raw, she's stricken with stage fright even though that never happened in real life. Also, WWE's Zelina Vega (Thea Trinidad) plays former WWE Divas Champion AJ Lee. Yet, the filmmakers didn't try to make her look anything like Lee. She doesn't even wear accurate wrestling gear. If they weren't going to make Vega look like AJ Lee, it's odd that they even decided to include her. Instead, she could've just played a fictional wrestler and it would've worked just fine.
Even with these minor negatives, Fighting With My Family is a satisfying experience overall. It does its job showing the tough nature of the wrestling business while still telling a feelgood story about a real wrestling family. While something like The Wrestler focuses on loneliness, heartbreak, and the self destructive side of the business, this new film paints pro wrestling in a better light. It's a hard business to get into and remain successful in but there are tales of triumph to be told. It's no surprise that this is the approach taken especially when you consider that The Rock, a third generation superstar himself, produces the film. Whether you're a wrestling fan or not, Fighting With My Family has plenty to offer for any type of moviegoer and, again, is the best product to come out of WWE Studios.