By mid-2019, it looked as if we'd be really stretching to round out a top 10 list of films for the year. While things have certainly been up and down in the latter half of this year, there are some very good titles to choose from. Being in the midst of Oscar season will certainly bring about some candidates as well. Coincidentally, this is exactly the case with James Mangold's new Oscar hopeful, Ford v Ferrari.
When it comes to car race films, there aren't many that really stand out. The first that come to mind are The Fast and the Furious, a series that has gone so far off the rails from what it once was, and Talladega Nights: The Ballad of Ricky Bobby, an over-the-top comedy. 1966's Grand Prix nabbed a handful of Oscars for its technical achievements while 1971's Le Mans has gained a following for its realistic documentary approach at covering the 24 hour racing event. From the outset, Mangold was tasked with having to appeal to race fans and car junkies while also finding a solid middle ground for the casual moviegoer. In regards to Ford v Ferrari, he passes with flying colors.
The film centers on retired race car driver and owner of Shelby American, Carroll Shelby (Matt Damon) as he's hired by Henry Ford II (Tracy Letts) to build a car to beat Ferrari at the 24 Hours of Le Mans race in France. Enzo Ferrari (Remo Girone) and his team became the standard bearers of racing in the early 1960's but neared bankruptcy. After Ford fails to purchase the company, an idea spearheaded by Lee Iacocca (Jon Bernthal), the company turns to Shelby. Shelby reaches out to his friend, the hot-headed Ken Miles (Christian Bale), to help develop the car and beat Ferrari at their own game. Though, Ford executives like Leo Beebe (Josh Lucas) don't see Miles as a marketable driver for their team. The bulk of the film focuses on the development of the Ford GT40 Mk race cars as well as the struggle between creators and executives in Ford's desire to best Ferrari at Le Mans.
For viewers who aren't interested in cars or racing, the plot of Ford v Ferrari probably doesn't sound the least bit interesting. While it's certainly some tough territory to navigate, the screenplay never gets too heavy for non-fans to understand. Sure, there's a lot of car speak coming from Matt Damon's Shelby and Christian Bale's Miles but it's not difficult to understand. It's actually quite the opposite. Both Shelby and Miles appear extremely well versed in what it takes to be a driver and win in big situations. In contrast, the executives are nothing more than pen pushers and marketing snobs. Screenwriters Jason Keller and Jez and John-Henry Butterworth collaborate on an exciting, dramatic, emotional, and surprisingly funny script that will appeal to both racing fans and the average moviegoer.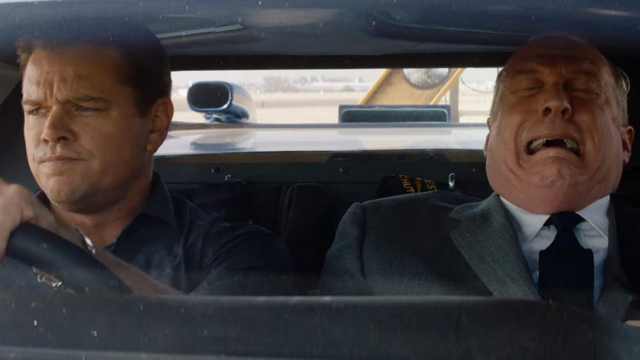 At the heart of Ford v Ferrari is its plethora of wonderful performances. Matt Damon, as usual, is as rock solid as ever and quite charming in the role of Carroll Shelby. He stays true to himself and his job to beat Ford's infallible rival. He displays loyalty and commitment while having to thwart any attempts by Leo Beebe to derail his progress. Tracy Letts, Josh Lucas, and Jon Bernthal do excellent work as Ford's management as all three are very different characters. Letts' Ford is frequently swayed by those around him as he chases headlines and pride as opposed to following a true path to glory. Lucas's Beebe is the closest thing to an antagonist in the film and is truly unlikable as his dislike for Miles is more personal than professional. Bernthal, who's becoming "that guy who's in that thing" due to popping up in bit roles constantly, seems to side with Shelby and Miles but is content with watching them stick it to Beebe from the sidelines. Caitriona Balfe and Noah Jupe have roles as Ken Miles' wife and son respectively and help to ground the film with an idea of family as it's otherwise filled with gearheads and suits.
The true star of the film, though, is Christian Bale as Ken Miles. Over the course of his career, Bale has proven himself to be a phenomenal actor willing to transform himself for every role. He has played a yuppy investment banker, a skeletal insomniac factory worker, a controversially powerful vice president, and Batman during his career. To say Bale has range would be an understatement. After gaining 45 pounds to play Dick Cheney in 2018's Vice, he loses 70 to play the much slimmer Ken Miles here. Of course, this isn't the first time Bale has cut a bunch of weight for a role as he also did it for 2004's The Machinist and 2010's The Fighter. Regardless, the dedication to his craft is what makes Christian Bale the sought after talent that he is. As Miles, he's hot-tempered yet brilliant. He also has a very heartwarming relationship with his family but an undying love for racing and building cars. He basically lives two lives and does all he can to be 100% dedicated to both. It's a mentally and emotionally dense character and Bale should nab himself another Oscar nomination for the role.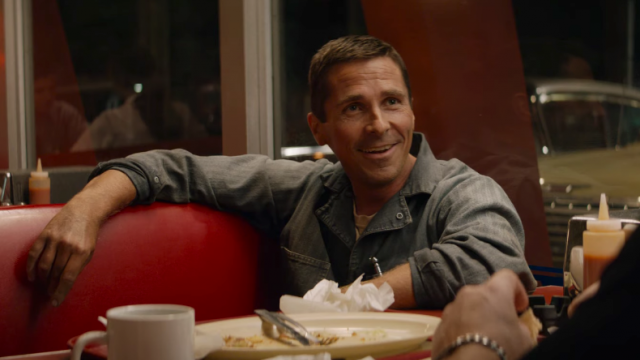 When it comes to racing, Ford v Ferrari is very well structured, exciting, and dramatic all at the same time. The film does a good job of progressing and working its way up to the climactic race at the 1966 Le Mans. Through Ken Miles, viewers experience the races with all of the intricacies and concerns of the newly created Ford car design. It makes for some nerve wracking cinema and, again, will satisfy moviegoers of all types. Though, some of the shots can get a little confusing. There are a handful of times where it's hard to see which car is doing what during a race. You'll think that Miles wrecked but, in fact, it was a different car. With action scenes, this does happen from time to time and it's not a huge distraction but it should be addressed. The film also skimps on some details while Shelby and Miles build their car. There's a particular scene from the trailers where bits of string are taped to the car in an effort to make it go faster but is never elaborated on. There are a number of moments like that which don't hurt the overall story but also go unmentioned beyond the one scene.
Our Score
Despite those very minor nitpicks, Ford v Ferrari is very well shot, directed, acted, paced, and everything in between. Surprisingly, it's a beast of a film at two and a half hours but it never feels that long. The onscreen chemistry of the cast, most specifically that of Matt Damon and Christian Bale, keeps things moving at a brisk pace and the film never feels slow or boring. Similar to his top stars, director James Mangold has proven himself a diverse filmmaker. With titles like Walk the Line, 3:10 to Yuma, Logan, and now Ford v Ferrari, Mangold is capable of directing anything that tickles his fancy. Much of his previous work has been great but Ford v Ferrari may be his best up to this point and, like Bale, it wouldn't be a surprise to see Mangold nab some Oscar nominations of his own for his work on this film.