Lack of originality in Hollywood is something that's talked about very often among moviegoers. When the market is littered with constant sequels, reboots, and spin-offs, it's certainly understandable. There are even some films that get multiple reboots for various reasons. For instance, the Spider-Man franchise has gotten a fresh start a number of times at this point with three live action adaptations and another animated one. Last year's A Star is Born was the fourth time that that particular story was told on the big screen. Well, this year's Little Women puts that one to shame. Written and directed by the uber-talented Greta Gerwig, this is the seventh (!!!) adaptation of Louisa May Alcott's 1868/1869 novel of the same name.
Alcott's novel was published in two volumes released in 1868 and 1869 respectively. It's a semi-autobiographical work about the author and her three sisters as a coming-of-age story set during the aftermath of the Civil War. It also spawned two sequels, 1871's Little Men and 1886's Jo's Boys. The book has been adapted into numerous stage plays, television shows, musicals, operas, and everything else you can think of. Here, we're just going to focus on the film adaptations. The earliest film versions came in the form of a lost 1917 silent film from Alexander Butler and another attempt the following year from Harley Knoles. The first sound adaptation was released in 1933 and starred Katharine Hepburn and Joan Bennett with the first color version coming in 1949 with June Allyson, Margaret O'Brien, Elizabeth Taylor, and Janet Leigh in the lead roles. Forty-five years would pass before the fifth Little Women would be released from Gillian Armstrong and starring Winona Ryder, Trini Alvarado, Samantha Mathis, Kirsten Dunst, Claire Danes, and Susan Sarandon. A modern day retelling was actually released last year but was met with middling reviews.
Little Women focuses on the transition from childhood to adulthood for a group of four sisters. Jo March (Saoirse Ronan) is an independent and strong willed young woman trying to make it as a writer in New York City. She returns to her family home in Massachusetts to help care for her younger sister, Beth (Eliza Scanlen), who falls ill. The film then flashes back to the girls' teenage years with their other two sisters, Meg (Emma Watson) and Amy (Florence Pugh), and their humble beginnings. Their mother, Marmee (Laura Dern), does her best to provide for them while their father is away at war. The girls befriend a neighbor boy, Theodore "Laurie" Laurence (Timothée Chalamet), who falls for Jo much to the dismay of the younger Amy. As the film continues, you see the core family broken up as they enter adulthood and go their separate ways in life.
It's somewhat difficult to describe the plot of the film as there really isn't a main goal or anything specific that anyone is trying to achieve. The film is simply a coming-of-age story and it's a very good one at that. It's told in a nonlinear fashion as it jumps back and forth between the past and present. Much time is devoted to building the characters and the core relationships between the sisters. Sometimes the focus will be on only one of the sisters (usually Jo or Amy) before flashing back to the four of them together during their teenage years. For the most part, this nonlinear style works well as it tells integral parts of the story at opportune times and how the past relates to the present. Though, there are some instances where the jumps in time occur a bit too quickly and may briefly disorient viewers. It doesn't happen very often but given that the cast mostly look the same despite a seven year jump in time, you may get confused once or twice.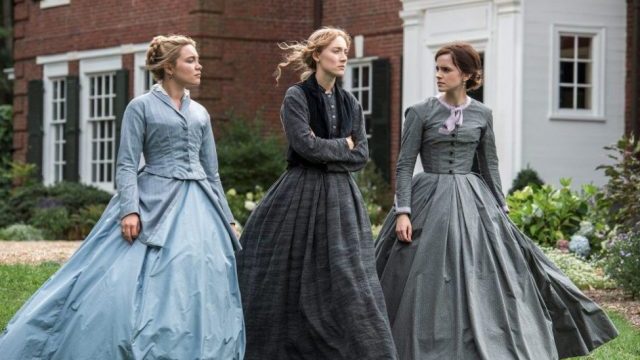 Regardless, Greta Gerwig and company build a lush world that's fully explored throughout the film. Even with all the time jumps, the various locations are always distinguishable. Every single frame offers so much to be explored by the audience. There's excellent costuming and wonderful set design that's packed full of detail. As a period piece, Little Women is relentless in reminding its viewers of the times with its clothing, architecture, and customs. A lot of the credit should also go to cinematographer Yorick Le Saux for his amazing visuals. While much of the focus is on the excellent cast, Le Saux's work provides a subtly gorgeous backdrop for the film's events. Of course, we have to mention multiple nominee and two time Oscar winner Alexandre Desplat for his wonderful score that goes from playful to dramatic as the characters age. It wouldn't be a shock to see Desplat nominated for an eleventh time at the coming awards show.
The real highlight of the film is the cast. This shouldn't come as a shock to anyone judging by the name talent but everyone involved deserves recognition. Saoirse Ronan is the closest thing to a main character and is excellent again here. She was great in Gerwig's previous film, Lady Bird, which landed her an Oscar nomination in 2018. Like Desplat, it wouldn't be surprising if she nabbed another for Little Women. Of the four leading ladies, Emma Watson is somewhat miscast as the beauty of the family, Meg, since she doesn't really look like the other sisters. It could be intentional but it can be a bit distracting. Of course, she's still more than capable of handling the role and, other than her appearance, does a solid job. Eliza Scanlen doesn't quite get to show off the range she had with her character in HBO's Sharp Objects last year but is the emotional center of Little Women. Often overlooked but never forgotten, Beth is the quiet musician and also the glue that holds the girls together. Laura Dern, Chris Cooper, and Timothée Chalamet also put in good performances with Dern being the most motherly mother possible. Chalamet's Laurie has a lot of chemistry with Jo and Amy but also a bit hard to buy due to his continued boyish looks after the seven year time jump.
While Ronan will most likely get a lot of attention as Jo, it's Florence Pugh who deserves the spotlight as Amy. She's absolutely terrific in the role. She's the only one of the four girls who actually looks like she ages during the course of the film and she also displays a growing maturity during her scenes. Always second fiddle to Jo, Pugh's Amy does some cruel things to her sister during their teenage years. She's very pouty, insufferable, and emotionally lost at times. However, this is usually because of the attention put onto her older sister. As a viewer, you understand her plight and it's hard not to like her overall especially as she matures. Pugh has enjoyed a breakout year with starring roles in Fighting With My Family, Midsommar, and now Little Women. She's already set to star alongside Scarlett Johansson in next year's Black Widow and it'll be interesting to see what she does next. Judging by her performances from this year alone, Pugh's destined to be a huge star.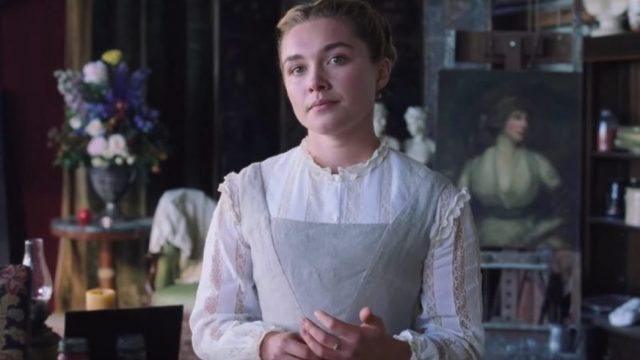 When it comes to negatives, Little Women has very few. One of the biggest ones is the aforementioned confusion in some of the editing. When you play around with time, this is bound to happen. There are just a few scenes that could've been allowed more time to breathe before jumping back and forth. There are also some styles clashing in the film. Though, this is mostly intentional as the film has a lighthearted and whimsical feel during the girls' teenage years which takes a dramatic turn later. Still, some of it may not be everyone's forte. The biggest issue overall is kind of an unfair one. Basically, it's that this film isn't Lady Bird. With how original and heartfelt Lady Bird was, Little Women feels like a step back for writer/director Greta Gerwig. In a way, it's a step forward due to the scope of what she accomplishes but creatively it feels hamstrung. Again, it's a bit unfair to judge the quality of this film based on someone's previous work but you can't help but think about Gerwig's 2017 film while watching this one.
Our Score
That being said, Little Women still displays a filmmaker on the rise. Bolstered by wonderful cinematography, music, performances, and storytelling, Gerwig shows that nothing is too big for her. With six previous adaptations of the Alcott novel, she still manages to carve out her own vision of the story. Yes, it's not as original as her last film but she shows growth from a filmmaking standpoint and proves that she's capable of telling any story she wants to tell. Oddly enough, Gerwig's next announced project is a live action Barbie movie. As cringeworthy as that sounds on paper, if her name's attached to it, it'll probably be worth a watch. As for this version of Little Women, it's a story that shows that family is sometimes the only thing that can get people through the hardest times. Even after all the other adaptations, it still feels like a story worth telling and Gerwig's vision is an expertly crafted film about the innocence of youth and the harsh reality of aging.