*Sigh.* Quentin Tarantino is one of those filmmakers who some people absolutely adore and others despise. Arguments can certainly be made for both opinions on the legendary writer/director. He certainly marches to the beat of his own drum and often does things in his work to intentionally irk modern audiences. Though, you cannot deny the man's natural talent. His unique screenwriting abilities and his onscreen storytelling are entirely his own. No one even comes close to matching his trademark style. Simply put, Quentin Tarantino doesn't make films for you, the audience. He makes films for himself. Due to this, he reaches soaring heights and some miserable lows in his new film, Once Upon a Time… In Hollywood.
Tarantino burst onto the scene back in 1992 with his universally praised debut, Reservoir Dogs. From there, he changed the game with his 1994 opus, Pulp Fiction, which landed him his first of two Academy Awards for Best Original Screenplay. Films like Jackie Brown, Kill Bill: Volume 1 & 2, and Death Proof, one half of 2007's double feature, Grindhouse, would follow. 2009 marked something of a change in Tarantino's cinematic legacy. Beginning with that year's Inglorious Basterds, he retained his penchant for riveting filmmaking but began tacking on wildly insane endings. Sure, films like Kill Bill and Death Proof featured some gory finales. Yet, those films seemed to call for something of that nature. The ultraviolence in his newer films sometimes works (i.e. Inglorious Basterds) but sometimes it doesn't (i.e. Django Unchained). Either way, this trait has become a staple in all of Tarantino's recent films and has seemingly led to a divide between fan appreciation for his early work versus his newer releases.
Billed as the ninth film from Tarantino, Once Upon a Time… In Hollywood stars Leonardo DiCaprio as fading actor Rick Dalton. As Rick struggles to find new opportunities in 1969 Hollywood, he's supported by his friend and personal stunt double, Cliff Booth (Brad Pitt). Rick lands gigs on some television shows but, due to his worries and alcoholism, has problems remembering lines and continues to lose faith in himself. Meanwhile, budding actress Sharon Tate (Margot Robbie) and her husband, director Roman Polanski (Rafal Zawierucha), move into their 10050 Cielo Drive home next door to Rick. In addition, Cliff has some run-ins with Charles Manson (Damon Herriman) and the infamous Manson Family along the way.
Unlike most Tarantino films, Once Upon a Time… In Hollywood sorely lacks a cohesive plot. Alongside the star power of DiCaprio and Pitt, the trailers for the film seemed to want to sell the retelling of the real-life Manson Family murders as one of the big draws of the film. We won't spoil any details here but viewers should go into this film knowing that it's not about the murders. This film centers on Rick Dalton and Cliff Booth with the Manson Family as an odd ancillary fascination. Other than the 1976 made-for-TV miniseries, Helter Skelter, there really hasn't been a definitive cinematic portrayal of the Tate-LaBianca murders. For those hoping to see one from Tarantino, you're going to be disappointed. Though, there is one chilling scene that flirts with what viewers expected coming into this film.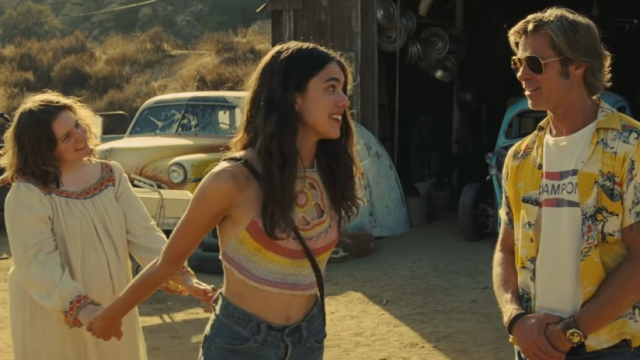 Instead, the film chooses to meander around a wonderfully recreated late 60's Hollywood for its massive 161 minute runtime. Tarantino and company bring their cinematic world to life and have no qualms about exploring every nook and cranny of it. In fact, it actually feels as if it was a film legitimately made in the 1960's. As per usual in Tarantino films, there are pop culture references and homages galore. All of the glitz and glamour of the time is represented constantly throughout the film. There's also the soundtrack. It's a given that Tarantino films have good music and Once Upon a Time… In Hollywood has, perhaps, the largest and most impressive soundtrack of all his work.
Along with the great technical aspects of the film, there's the superb cast led by DiCaprio and Pitt. Both men are phenomenal in their roles and give the film a jolt of some laugh-out-loud comedy as well. Pitt may be the biggest standout of the film as many of the film's best scenes focus on his character. DiCaprio does give him a run for his money in one particular scene where he criticizes himself in his trailer after a botched performance. The film is also chocked full of talent up and down the board beyond the two leads. Name actors like Timothy Olyphant, Luke Perry, Dakota Fanning, Emile Hirsch, and Al Pacino appear along with Tarantino alum, Kurt Russell, Michael Madsen, and Bruce Dern. While the acting is very good in general, Margot Robbie really gets a bum deal in her role as Sharon Tate. She looks great as the late actress but just isn't given much of anything to do. This is an even bigger letdown considering the length of the film and the opportunity that Tarantino had to utilize the character in a deeper manner.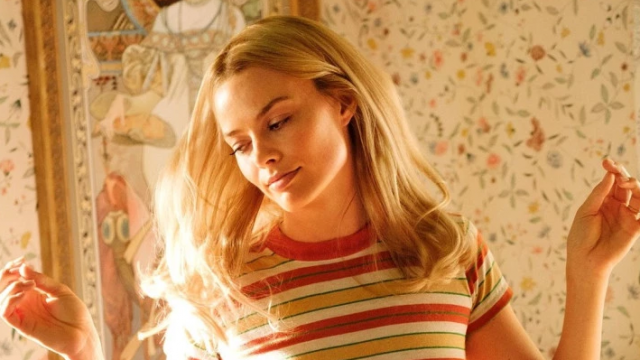 In a nutshell, the Sharon Tate issue is a metaphor for the film as a whole. There just isn't a whole lot going on. A very interesting first act that builds the relationship between Rick and Cliff is followed up by an agonizingly slow and dreary second act. The scenes in the film feel episodic and disjointed. It's as if each scene is a snapshot of different aspects of Hollywood living. However, this is a feature length film. This isn't a TV or web series dedicated to providing short form content. Previous Tarantino flicks have had disjointed storytelling and brief diversions from the overarching stories but never like this. There are times when Once Upon a Time… In Hollywood is, frankly, boring and difficult to watch. The film has no premise. There's just a lot of "stuff." Then, when the film fails to deliver on the hyped Manson storyline, it makes you wonder why it was even there in the first place.
Our Score
In terms of story alone, Once Upon a Time… In Hollywood might actually be Tarantino's worst film to date. It's highly unlikely that anyone will claim this as their favorite. Tarantino apologists are going to argue up and down that this film is a director's vision and he wants you to feel certain ways about it. That may be true but that shouldn't trick anyone into calling Once Upon a Time… In Hollywood a necessarily good movie. There are some really great things about it. This includes the ending, which entirely makes up for its slog of a second act, but it fails to connect at a level that most Tarantino films do. The phrase "self-indulgent" continuously comes to mind while watching this film. For better or for worse, Once Upon a Time… In Hollywood is Quentin Tarantino doing whatever he wants. Even through its glaring detractors, the film is still going to get out of this review with a pass. However, this is not Tarantino's best work by far and it may even be his worst yet.