Just last year, an editorial questioning whether or not Hollywood was in the midst of a horror renaissance was posted on this site. With films like A Quiet Place and Hereditary bringing an auteur style flair to the genre in 2018, the slate of 2019 horror releases was looking brighter than ever. However, horror fans may be slightly disappointed with the releases so far this year. Big name films like Pet Sematary and other intriguing titles like The Prodigy failed to deliver the goods. Luckily though, the highly anticipated Scary Stories to Tell in the Dark received positive reviews upon its August 9th release and, now, we suddenly have another surprise hit. Matt Bettinelli-Olpin and Tyler Gillett's new film, Ready or Not, oddly hit theaters on Tuesday and is some of the most fun that you can have at the movies this year.
One thing that's really shocking about Ready or Not is its lack of promotion. This may be one of the least promoted horror films of the year. Other horror titles like Child's Play, Midsommar, and the aforementioned Scary Stories had trailers playing constantly before seemingly every theatrical release. It could be that Ready or Not really wasn't expected to do all that much business. After all, the last release from this duo of directors was 2014's uninspired found footage film, Devil's Due. However, their new film has already been certified fresh on review aggregator Rotten Tomatoes.
Ready or Not centers around Grace (Samara Weaving), a young woman who rushes into marrying her boyfriend, Alex (Mark O'Brien). Though, to be accepted into Alex's family, Grace must participate in the Le Domas family ritual of playing a game on her wedding night. Unfortunately for Grace, she randomly picks the one card naming the game that has deadly consequences in the Le Domas household: hide and seek. Unaware of the family's intention, Grace is sent to hide while Alex's father, Tony (Henry Czerny), mother, Becky (Andie MacDowell), brother, Daniel (Adam Brody), and a handful of other relatives choose weapons to hunt down the blushing bride.
On paper, the plot isn't overly original as it brings to mind something like 1999's House on Haunted Hill. No, it's not the same film by any means but there are certain plot elements that are kind of similar. Instead, Ready or Not turns the serious horror tone on its head and separates itself from its contemporaries. While it definitely is horror, there's a ton of comedy that goes along with it. The unsuspecting Grace plays along with the silliness of the game before discovering the shocking reality behind it. You sympathize with her in this regard but you also get fixated on the bumbling Le Domas family unintentionally sabotaging their efforts in the hunt. The true absurdity of the hunt is the fact that they aren't the least bit prepared. Say, if Grace had gotten Checkers instead of hide and seek, they'd all be playing a simple board game instead of participating in attempted murder.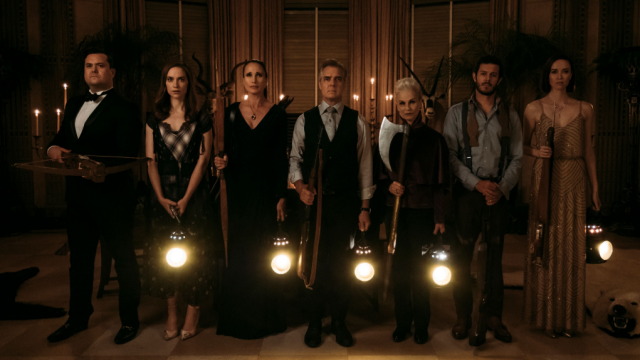 The cast throughout the film is very good. Their respective characterizations also aren't very original but, like the plot, everything is done so well that it doesn't really matter. There's the traditionalist father, the caring mother, the strangely sinister aunt, and the airheaded sister complete with a doofus husband. Each character has a role to play and their interactions within the family and with Grace are enjoyable to watch. Among the family members, the biggest standouts are Melanie Scrofano as Alex's sister, Emilie, thanks to her deadly mishaps and Adam Brody as Alex's alcoholic brother, Daniel. Of course, Samara Weaving deserves praise as she's excellent as Grace. She goes through many emotions and her reactions are perfect throughout the film. She goes from being a terrified victim to a bad ass action hero and you buy it as a viewer. Even her character's own reaction to her transformation is priceless in the film. Weaving has been very good in other horror/comedies in her young career as well. She made an appearance in a few episodes of the wonderful Ash vs. Evil Dead series and also starred in Netflix's The Babysitter. To date, she has proven herself as a talent to keep an eye on.
For a film with such little promotion and, most likely, a low budget, Ready or Not looks fantastic. The Le Domas mansion is beautifully ornate and simply feels like a horror location. Given the number of people searching for Grace, the mansion suspends disbelief by providing her with many places to hide. There's also some really great gore to go along with the impressive set design. It's not necessarily constant but there's more than enough to appease horror fans. In the case of horror/comedies like Sam Raimi's Evil Dead trilogy, the gore is often used for humor and is something that fans clamor for. The same can be said for Ready or Not. Viewers will live for the brutal, humorous, and well executed death scenes as they are what make the entire experience.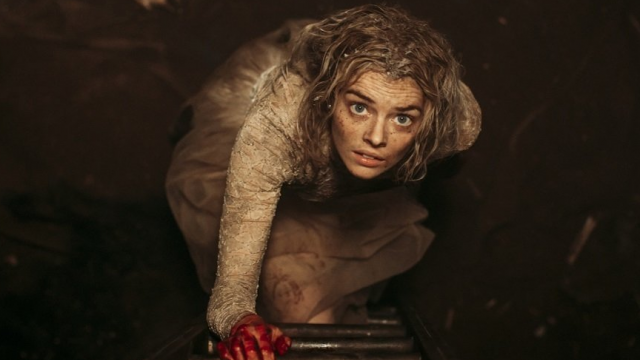 If there's any issue with the film, it's that it does sort of drag during the second act. The introductions and buildup to Grace selecting a game all move along at a good pace. Then, the commencement of the hunt leads to a lot of fun and laughs. It's after this that Ready or Not gets a tad slow. There's always something going on but it feels like the filmmakers are trying to stretch 60 minutes of material into a 90 minute movie. It's not boring but there's something missing from the middle portion. Without getting too much into spoiler territory, you'd think that there'd be a series of unique events between Grace and each family member. However, this isn't always the case. This may have been a missed opportunity by screenwriters Guy Busick and Ryan Murphy to add some more meat to the film and generate even more laughs from the audience.
In a lot of ways, Ready or Not feels like a mix of the Evil Dead trilogy mixed with Quentin Tarantino's Kill Bill films. Samara Weaving's Grace toes the line as a combination of Evil Dead's Ash Williams with her one liners and Kill Bill's blood spattered bride for obvious reasons. This is definitely some great company to keep and, ultimately, it may be one of the biggest surprises of 2019. In a bad year for film, this is one that stands out from the pack. If nothing else, it's certainly one of the better horror films of the year. While Ready or Not may not quite match the artistry of something like A Quiet Place, Hereditary, or this year's Hereditary follow-up, Midsommar, it's a welcome addition to the genre and one of the most entertaining moviegoing experiences of 2019.