Today, it's commonplace for CGI animated films to be popular moviegoing experiences. Considering that the majority are family oriented, it seems that nearly everyone loves them. With the new animated film, Sausage Party, though, it's safe to say that this one is strictly for adults and there's nothing else like it.
Sure, the animation is familiar and there's a great voice cast but, believe it or not, this is one of the most vulgar, crude, and disturbing films to be released in quite some time. All of these things are what make Sausage Party a ridiculously entertaining, laugh-out-loud romp.
Seth Rogen stars as Frank, a packaged sausage who dreams of heading to the Great Beyond with his lady-love, Brenda (Kristen Wiig), a hot dog bun. The great beyond is the world outside of the grocery store where they're waiting to be purchased. When Honey Mustard (yes, Danny McBride voices a jar of honey mustard) is returned to the store, he relays the horror story of the Great Beyond to the other products. Frank and Brenda accidentally fall out of a shopping cart and embark on a journey to return to their shelves to await purchase once again.
If the plot sounds the least bit ridiculous, it's because it is. It's one of the most ridiculous things that you'll probably see in your life. It's just so clever and funny that you'd be hard-pressed to find someone who wouldn't be amused. The film is loaded with innocent looking grocery products cursing, making sexual innuendos, and rifling through puns and stereotypes, many of which are racial in nature. The tequila is Mexican, the lavash is Middle Eastern, and the sauerkraut is a "juice" hating German. The humor in Sausage Party is lewd but that's its entire appeal.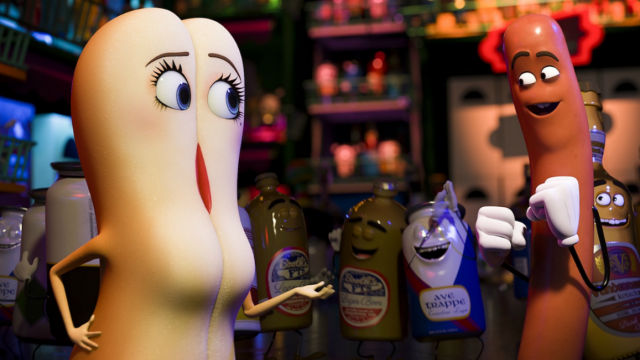 On top of its raunchy humor, Sausage Party is also packed with constant pop culture references. Whether it's a hazy, flour induced war zone paying homage to Saving Private Ryan, a moment straight out of Gulliver's Travels, and even some T-1000-esque shapeshifting à la Terminator 2: Judgment Day, there are a ton of Easter eggs thrown in. In a film co-written by Rogen and Superbad partner, Evan Goldberg, along with Kyle Hunter and Ariel Shaffir, what would you expect?
The aforementioned voice cast must be mentioned among the best things about the film as well. Along with Rogen and Wiig, frequent Rogen collaborators like Jonah Hill, James Franco, David Krumholtz, Bill Hader, Michael Cera, and Craig Robinson all have recognizable roles in the film. Also, Edward Norton appears as the soft-spoken Sammy Bagel, Jr., Salma Hayek as Teresa Taco, and Nick Kroll as the main villain, Douche, who is, in fact, a bro'd out douche. It's actually fun to try picking out actors based on their voices and characters in the film.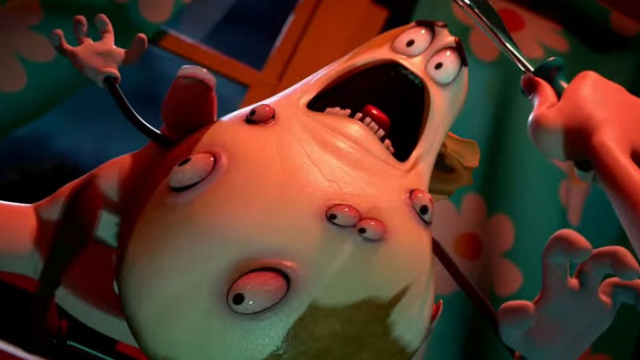 There really aren't many bad aspects to Sausage Party unless you're not a fan of vulgar, sexual, and racial humor. If you're easily offended, this is definitely not the film for you. The film earns its R rating in every way possible. There are even some horror-esque moments in the film where food is basically "murdered" by human consumers. It's quite shocking to see how gruesome the animators were able to make these scenes. Yet, they're also some of the most hilariously memorable moments. What's even more shocking is how both directors, Greg Tiernan and Conrad Vernon, collectively have previous directing credits from installments of Thomas & Friends, Shrek, and Madagascar.
Our Score
The only real criticism that can be made is that the film runs just a tad bit too long. Without spoiling anything, there's an explicit scene at the end of the movie that feels like a fitting end to the madness that the audience experiences. Yet, there's one more brief scene tacked on afterwards that just feels out of place and unnecessary.
That being said, Sausage Party is a delightfully provocative surprise of a watch. With a film like this, you shouldn't have any expectations going into it. Just know that, once again, this is not a movie for children. This is the type of movie that will scar a child for life if seen at an early age. The language, jokes, and content are all adult in nature and they're seemingly meant to offend and disturb. However, it's when Sausage Party is doing its worst that it's at its absolute best.