With all of the on-demand television shows from Netflix, Amazon, etc. how does network television even survive these days? Once again, Netflix has hit it out of the park with its new series, Stranger Things.
Stranger Things premiered all eight of its episodes on July 15th and audiences have taken notice. Since its debut, it has been nearly universally praised and how could it not be? The show has a great story, superb acting, likable characters, and an overall nostalgic feel.
The events of the show are set into motion when a young boy named Will Byers (Noah Schnapp) goes missing under mysterious circumstances. From there, many groups of characters set out on their own paths to discover what happened to Will. His best friends, Mike, Dustin, and Lucas, played by Finn Wolfhard, Gaten Matarazzo, and Caleb McLaughlin respectively, consider his disappearance a byproduct of their game of Dungeons & Dragons while Mike's mother, Joyce (Winona Ryder), discovers secrets through a paranoid episode reminiscent to an alien invasion. There's also Chief Jim Hopper (David Harbour) who must cope with his own past losses while trying to maintain a level state of mind in his attempts to locate Will.
Meanwhile, there's also Will's brother, Jonathan (Charlie Heaton), and Mike's sister, Nancy (Natalia Dyer), who set off on their own path of discovery as well. Finally, there's the young girl, named Eleven, played by Millie Bobby Brown. She breaks away from the secretive Dr. Martin Brenner (Matthew Modine) and befriends Mike, Dustin, and Lucas. Eleven proves to be the key to unlocking the bizarre occurrences in the small town of Hawkins.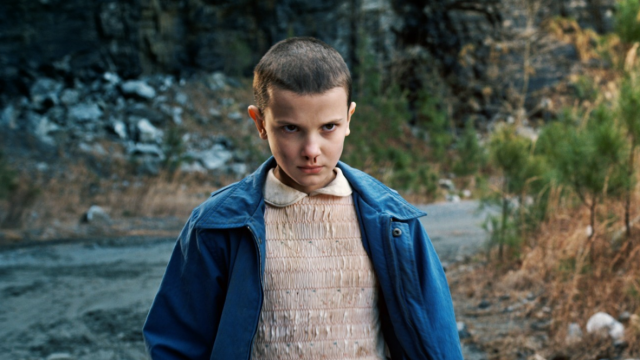 The first thing that must be addressed is the character of Eleven. Eleven has special abilities that allow her to be a crucial asset to the others. Millie Bobby Brown does an astounding job as the short-spoken, confused, yet powerful little girl. She does not have many speaking lines but is able to convey emotions through her eyes and actions. She often protects the boys but also learns from them. You see their relationships blossom into true friendships as meaningful as any ever put on screen. While all of the child actors are very good in Stranger Things, Brown absolutely steals the show.
That isn't to say that the other actors and actresses don't pull their own weight on the show. Every character goes through a learning process of some sort. Each of them completes a certain piece of the puzzle but they eventually must work together to solve the show's mystery. Hopper is the voice of reason who must be convinced of conspiracy. Joyce instinctively and supernaturally knows that Will is trapped somewhere. The kids believe that they're the only ones willing and able to find their friend despite many of the adults' attempts to foil them. Every character has a role to play and they're each able to contribute to an important piece of the plot.
If there's one way to describe Stranger Things in general, it's that it's the best Stephen King story that Stephen King never wrote. In fact, the show creators, Matt and Ross Duffer, originally wanted to direct the upcoming remake of King's story, IT. Instead, they made Stranger Things and filled it to the brim with homages to the popular supernatural horror writer. Often, the show feels like many of King's works such as the aforementioned IT, Dreamcatcher, and The Body (AKA Stand By Me). At one point, one of the characters even asks another if they've read any Stephen King. In all honesty, there really aren't any bad aspects of the show at all. If anything, it's maybe too much like a King story but that really isn't a negative in this case.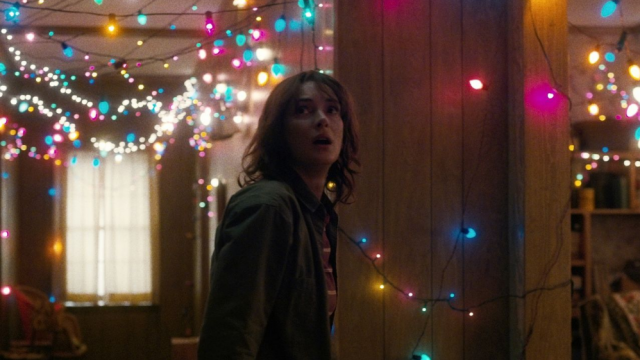 Overall, Stranger Things is an amazing throwback show. It truly feels like a different time period. Everywhere you look, there's vintage technology, old music, and pop culture references. Even the title card for the show and the theme song feel like something out of the 1980's. This show simply feels like a passion project for the Duffer brothers. They clearly know the time period that the show focuses on and the popular culture of the times.
While a second season for the show hasn't been officially confirmed, it can be assumed that it will happen. With the overwhelmingly positive reviews, it'd be surprising to see it end after only eight episodes. The first season has a relatively definitive and concise ending but there are a few questions that remain. With a show like Stranger Things, seemingly anything could happen. They could even spotlight a whole new time and place if the Duffer brothers so choose. The one thing that would be nice to see if another season does happen is a little bit more of its own identity. While the show is an excellent nostalgia trip, it'd be nice to see a semblance of its own original identity moving forward.
If one thing's for sure, Netflix is still dominating the world of on-demand television. If they continue to release outstanding shows like Stranger Things, there's no end in sight. Stranger Things is a beautifully crafted supernatural drama with plenty of thrills and chills for any type of fan. Do yourself a favor and watch this show immediately.