It's not completely uncommon for there to be quality PG-13 horror titles. Films like The Ring, Drag Me to Hell, and A Quiet Place have proven that vulgarity, nudity, and gore aren't the only things that horror fans look for. What is uncommon is for a legitimate horror film to be adapted from a series of children's books. Most recently, R.L. Stine's iconic Goosebumps series was adapted into a pair of fun, but flawed, family films. Though, those movies didn't focus on individual titles from Stine's extensive list of novels and dropped most of the horror. However, we now have Guillermo del Toro to thank for bringing another popular children's series to the big screen in Scary Stories to Tell in the Dark. This time, though, the film adaptation remains faithful to the horror roots of the books.
The Scary Stories series, written by Alvin Schwartz and illustrated by Stephen Gammell, was comprised of three books featuring collections of short horror stories. Schwartz's short stories drew heavily from folklore and urban legends to tell their tales. The first book, Scary Stories to Tell in the Dark, was released in 1981 and followed by More Scary Stories to Tell in the Dark in 1984. Finally, Scary Stories 3: More Tales to Chill Your Bones was released in 1991; one year prior to the author's death. Since being released, the books have generated something of a cult following. Even if you haven't read them, it's likely that you're at least familiar with them and especially with the art. As for the film adaptation, CBS Films acquired the rights back in 2013 with Oscar winning director Guillermo del Toro set to spearhead the production. André Øvredal later signed on to direct with del Toro producing and developing the screenplay along with Dan and Kevin Hageman of The Lego Movie fame. Even Marcus Dunstan and Patrick Melton from the Saw franchise get story credits on the film.
Scary Stories to Tell in the Dark opens on Halloween night in 1968. Three teenagers, Stella Nicholls (Zoe Margaret Colletti), Auggie Hilderbrandt (Gabriel Rush), and Chuck Steinberg (Austin Zajur), agree to go trick-or-treating for potentially the last time. Instead of going out to get candy, the three plan to exact their revenge by pranking the school bully, Tommy Milner (Austin Abrams). They successfully do so but then find themselves on the run from Tommy. They meet a young man named Ramón (Michael Garza) at the drive-in movie theater while hiding from Tommy. Afterwards, Stella asks the mysterious Ramón if he wants to see a haunted house. The group goes to the local haunt where the mythical Sarah Bellows lured in children with her scary stories before brutally murdering them. Tommy returns to lock the group in the house, along with Chuck's sister, Ruth (Natalie Ganzhorn). While inside, Stella finds a book with Sarah's stories written in them. Soon after, the group starts to experience some terrifyingly monstrous occurrences in the small town of Mill Valley, Pennsylvania.
Right off the bat, fans of the original books may be torn on this adaptation. While the books serve as an anthology series, the film has an overarching narrative connecting each of the short stories told within the film. It can be a bit choppy in places with details being glossed over or even repeated seconds after being revealed a first time. The narrative of the film isn't very original either. It's essentially a mixture of the first Goosebumps film mixed with The Ring. The plot plays out like a mystery that the teens must solve to break the curse of Sarah Bellows' book. For those that haven't read the books, Scary Stories to Tell in the Dark is your somewhat typical horror fare but it's done better than most films of this ilk. Again, the plot isn't entirely original but it does its job holding you over until the next short story kicks off and the real fun begins.
The characters of the film are all relatively likable and, like the plot, get the job the done. There's legitimate chemistry between Stella, Auggie, and Chuck and they're fun to watch. Zoe Margaret Colletti's Stella is the main character and Colletti does a fine job as the loner/writer/horror fanatic. Austin Zajur's Chuck is the comic relief for most of the film. Most of the humor is perfectly timed so that his character never really becomes annoying. Michael Garza is decent as Ramón but the implied romance between him and Stella feels a bit odd. Despite the actors only being two years apart in age, Ramón seems too old to be messing around with the teenage Stella. Dean Norris also makes an appearance as Stella's father, Roy, but his character arc is never fully realized. There's a story between father and daughter which doesn't get fleshed out enough to make the audience care. Norris does a good job but is somewhat wasted in this film.
Like most films with Guillermo del Toro's fingerprints on them, Scary Stories looks and sounds great. Viewers will get lost in the 1960's time period that feels tailor-made for this type of horror story. There's a sort of Stephen King vibe throughout the film and it works wonders at giving it a classic identity. The soundtrack from Marco Beltrami and Anna Drubich is very good and complements the horrific imagery onscreen. Speaking of which, the visuals are also terrific. We'll get into the creature effects shortly but, aesthetically, the film is even sometimes disturbingly beautiful. While there are some scenes that are maybe a little darker than desired, they're always countered by something like a labyrinthine cornfield or an intricately detailed old mansion. Even the usage of color can be quite disturbing and accentuates some of the film's best moments.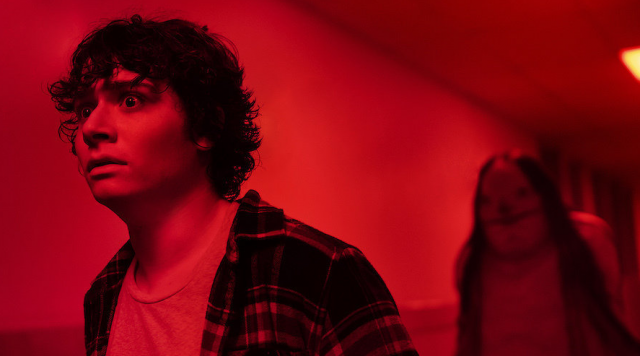 When it comes to creature effects, no one does it better than del Toro. While he's not actually the director of the film, it's obvious that his influence went into recreating the monsters originally drawn by Stephen Gammell. Most of the effects appear to be practical with some nice looking CGI mixed in when needed. Faithful recreations of creatures like Harold the Scarecrow and the Pale Lady serve as some of the film's marquee moments but there aren't any real underwhelming scenes featuring Schwartz and Gammell's creations. Ultimately, the film is at its best when it's giving fans the horror shorts that they've come to see.
Our Score
While there are elements that will drag Scary Stories to Tell in the Dark down for fans of the books, the film is a very solid adaptation of the popular series. Sure, its plot isn't spectacular and fans may have liked to see more of the shorts on the big screen. Yet, the film has a wide appeal. It knows who its audience is and it's perfectly balanced in horror, comedy, drama, and thrills. It will certainly scare little kids but will be a hit with adolescents and adults. For such a highly anticipated release, Scary Stories is a rock solid cinematic rendition of a cult classic series. In a down year for quality films, it may even be one of the best of 2019 for some viewers. If you're a fan of the books, Guillermo del Toro, or just horror in general, Scary Stories to Tell in the Dark is one not to miss.