Crowdfunding has become an increasingly popular way for filmmakers to see their creative vision through on the big screen. This way of financing films isn't necessarily reserved for any specific type of filmmaker either. Auteurs like Spike Lee and David Lynch have crowdfunded their films while popular titles like Super Troopers 2 and Veronica Mars received enough fan support to make a comeback after years of dormancy. This type of financing has also been important for independent filmmakers. Something like James Rolfe's Angry Video Game Nerd: The Movie is a perfect example as fans of the popular web series raised over $325,000 and allowed Rolfe full creative control. Today, Oliver Mann's crowdfunded family drama, Such a Funny Life, premieres theatrically and does so to the beat of its own drum.
The film centers on aspiring stand up comedian David Gutierrez (Gonzalo Trigueros) and the challenges he experiences throughout his life. A young David, (Jesse Ray Sheps), his sister, Gabriella (Caitlyn Stellwagen), and their mentally challenged mother, Mariah (Nastasha Strang), experience abuse at the hands of David's father, Ralph (Tom Ashton). Soon, the family is hit with tragedy that changes all their lives. As an older David struggles to make ends meet with his comedy, he befriends some old classmates and takes to packaging drugs to get by. He falls for a young woman, named Marcella (Wilma Rivera), who has her own ongoing issues. Ultimately, David attempts to shed his painful past and move forward with his life.
What writer/director Oliver Mann strives to achieve with Such a Funny Life is quite impressive. It's not your typical crime or family drama but it is a familiar and timeless story. Instead of focusing on major events or twists and turns, viewers simply experience what it's like to be in David's shoes. There aren't a lot of crucial scenes that shape the story's narrative. The film is mostly a depiction of life and what you make of it. There are positives, negatives, triumphs, and tragedies but it's up to each person to forge their own path. That's not to say that there aren't any events that change characters but, again, the portrayals of every day life are what make the film stand out.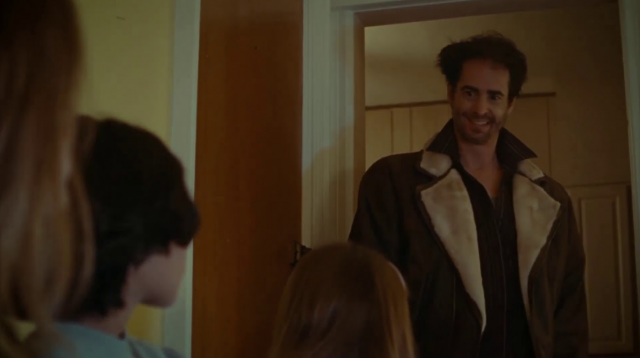 The film's success also continues with its characters. The supporting cast is quite talented with a lot of sympathetic performances. Nastasha Strang as David's mother, Mariah, is the emotional center of the film. David constantly desires her attention and approval much to the dismay of his father. Speaking of which, Tom Ashton's Ralph is a despicable character throughout most of the story but there are some effective scenes that show him as a man who has lost his way. Wilma Rivera is excellent as Marcella but seems like one of the most inconsequential characters. Marcella appears seemingly out of nowhere as David's love interest and the two characters never seem to quite build up any chemistry. Yet, Marcella's story is quite possibly the most upsetting and trying of the bunch. It's not uncommon to meet these types of people that inhabit David's world. This is what makes Mann's characters resonate so well as you view the film.
Gonzalo Trigueros as David is a difficult performance to place. Trigueros is very good. It's not his acting ability that requires discussion. It's the character. David is a man who must overcome a lot of adversity in life but he also can't seem to get out of his own way either. You frequently sympathize with him but then he'll do something boneheaded shortly after. It's as if David is both the protagonist and antagonist of the film. It's because of this that you may sometimes find yourself actually disliking him. Oddly enough, this actually kind of works for a film like Such a Funny Life. Sticking with the aforementioned idea that people must forge their own path in life, this is absolutely the case with David. It's understood that humans make mistakes and can often be the cause of their own unhappiness. Trigueros knocks this idea out of the park as David and you can't help but get angry with him for his mistakes. It's possible that David's twofold personality is a happy accident in this film but it certainly seems intentional.
Of course, Such a Funny Life isn't perfect. Some of the events feel a bit rushed and character relationships, such as David and Marcella, aren't always fully fleshed out. The story's progression often suffers greatly from this. Additionally, the stand up comedy act feels almost second fiddle to most of the other things happening throughout the film. David just doesn't seem like a very good comedian. Most of the jokes aren't very funny so it's difficult to ever see that character actually achieving his goal. This could be attributed to the film's serious overall tone but it remains an issue nonetheless. It should also be mentioned that this film is shot on super 16 millimeter film which gives it its darkness and soft focus. This isn't exactly a negative but the look of the film may deter some people. Though, it adds to the implied reality of the story and gives the film almost a 1970's/documentary type of vibe. This one will be left up to personal preference based on individual viewers.
Our Score
Frankly, Such a Funny Life is at its best when Mann is focusing on the family drama that he efficiently crafts. When it starts to dabble in subplots and comedy, it loses some of its luster. However, the acting from the great cast along with some relatable themes and ideas make the film an overall success. For a feature length debut, being able to create something that should resonate with audiences like this is a feat in itself. While Such a Funny Life has its flaws, it will often hit close to home by posing deep questions about family, relationships, and human imperfection.
Check out the theatrical trailer for the film below.