This past fall, the long-awaited sequel to a cult classic film was released. It exceeded all expectations and even topped Cinema Smack's Best of 2018 list. That film was Blade Runner 2049. You may be asking, "What does that have to do with Super Troopers 2?" Other than the circumstances behind its release, absolutely nothing.
Yes, Super Troopers 2 is the long awaited sequel to Broken Lizard's 2001 quasi-cult comedy. It has been in development hell for years as the quintet was unable to find a studio willing to release the film. In March 2015, Broken Lizard announced that they had received permission to shoot a sequel but needed to fund the production themselves. They launched an Indiegogo crowdfunding campaign with a goal of $2 million. In a little over 24 hours, the film reached its goal and was on the way. While Blade Runner 2049 set new standards for what a sequel could be, Super Troopers 2 nestles safely in the shadow of its predecessor.
The film sees the five former highway patrolmen, Thorny (Jay Chandrasekhar), Foster (Paul Soter), Mac (Steve Lemme), Rabbit (Erik Stolhanske), and Farva (Kevin Heffernan), take up their old jobs once more. After being fired from the Spurbury Police Department, Captain O'Hagen (Brian Cox) gets them together for a fishing trip. When they arrive, O'Hagen and Vermont Governor Jessman (Lynda Carter) give them their old jobs back as state troopers due to the border mistakenly being identified as Canadian when it's technically on US soil. From here, the troopers discover hidden caches of drugs, cell phones, and weapons. They mingle with the Canadian locals, the town mayor, Guy LeFranc (Rob Lowe), cultural attaché, Genevieve (Emmanuelle Chriqui), and a group of mounties to locate the smugglers.
When it comes to the plot of Super Troopers 2, it's a mess. The initial idea for the film is already ludicrous but it often feels like the story is simply forgotten for most of the runtime. In all fairness, the plot for the first Super Troopers isn't anything to write home about either. Yet, it's much better than this. The film focuses more on the troopers' antics than it does telling anything resembling an actual story. Basically, the mounties serve as this film's local police force. Though, they're extremely cliched and far less memorable than the antagonists of the last film.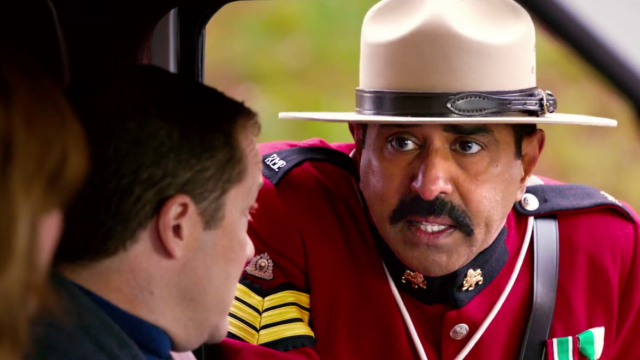 As for the troopers themselves, it's actually great to see them back in the uniforms. Unlike many distant sequels, the five Broken Lizard actors still look and act the part. For being 17 years later, it's actually quite impressive. As the five of them are real-life friends and partners, it's no surprise to see their chemistry onscreen hasn't dwindled a bit. It's also nice to see Brian Cox return as O'Hagen and even Lynda Carter coming back as the governor. Marisa Coughlin makes a way-too-brief cameo as Foster's girlfriend, Ursula. She drops Foster off in her motorcycle's sidecar and is never seen again. It seems like a missed opportunity as she was such a big part of the first film.
The film's new characters actually aren't terrible additions to the series either. Rob Lowe is quite amusing as Guy LeFranc. One reason is because he's Rob Lowe but he's also just ridiculous. He's simply an American caricature of a Canadian onscreen. The same can be said for the mounties. Played by Hayes MacArthur, Tyler Labine, and Will Sasso, the mounties and troopers prank each other back and forth throughout a good portion of the film. In the end, though, the mounties are definitely made to look much dumber than the troopers. While understandable since you're expected to root for the troopers, it makes them appear as less of a threat than the local cops in the first movie. Emmanuelle Chriqui is this film's Ursula and she's ridiculously charming as Rabbit's love interest.
Now, many of you may be wondering if the film is any good. In all honesty, it really depends what you're looking for in a sequel to Super Troopers. Firstly, it's unbelievably dumb. That's not to say that the first wasn't dumb but this one is over the top. It's also a rehash of its predecessor. However, it's mostly in a good way. They revisit almost all of the original's jokes but not as directly as you may think. They're moreso alluded to in clever ways. For big fans of the first film, you'll get a chuckle out of the little nods and homages to the original in the context of the second. Ultimately though, Super Troopers 2 is not a good movie whatsoever BUT it will make you laugh. A lot.
This is truly a hard film to put a rating on. When it comes down to the plot, it's no more than a two star movie. When you factor in how enjoyable and stupidly funny it is, it's at least a four. For the sake of this review, we're going to split the difference and call it a three. Again, Super Troopers 2 is a horrible movie in general. Though, it's not horrible in the way a film like Red Sparrow was horrible. There's actually a lot of fun to be had despite how dumb it is. There are a lot of scenes that will have you laughing out loud and shaking your head. While Super Troopers 2 is definitely no Blade Runner 2049 in terms of sequels, it's still undeniably entertaining. When it comes down to it, what else could you really expect?