One of the problems with horror is that studios and filmmakers just don't know when to call it a day. It's been proven in the past that horror sequels can rake in big returns at the box office when striking while the iron's hot but, sooner or later, the successes become less and less. It appears that we may finally be hitting a cool down period for creator/writer James DeMonaco's action/horror Purge franchise. With the release of The Forever Purge, directed by Everardo Gout, this past weekend, viewers get more of what they've come to expect with perhaps less intrigue than ever before.
This new film is the fifth in the franchise that started with 2013's simple home invasion thriller, The Purge. While nothing spectacular, The Purge provided an interesting commentary on class struggle and the assumed charmed lives of America's upper crust. A sequel, The Purge: Anarchy, was released the following year and again focused on class disparity as the wealthy aimed to legally murder the poor. The action took place across an entire city instead of just one home and, since Anarchy, the series has followed this general structure. 2016's The Purge: Election Year added some obligatory political flair given that it was, in fact, an election year and 2018's curiously named The First Purge introduced more racial tension despite the series never going too heavily into that territory before. There was also a television series that premiered in 2018, simply titled The Purge, that ran for only two seasons. Unfortunately for the franchise, it appears that the overused and cliched issues introduced in Election Year and The First Purge continue to be the present and probably future of a franchise that once had something interesting to say.
The Forever Purge (or Ever After Purge depending on which character you ask) takes place eight years after the events of Election Year and sees the New Founding Fathers of America re-instituting the annual purge event. Two illegal immigrants, Juan (Tenoch Huerta) and Adela (Ana de la Reguera), flee a Mexican drug cartel and build a new life in Texas. The two successfully take refuge with a migrant community during the purge but, this time around, the participants of the event have chosen not to end their murderous crusade after the allotted twelve hour time period. Adela is attacked by purgers the following day while the Tuckers, the family that Juan is employed by, are taken hostage on their own ranch. Despite resentment from Dylan Tucker (Josh Lucas), Juan and fellow migrant worker, T.T. (Alejandro Edda), helps to save Dylan, his wife, Cassie (Cassidy Freeman), and his sister, Harper (Leven Rambin). From here, the Tuckers aid Juan in his quest to find his wife and subsequently escape to Mexico whose borders are opened to refugees during the extended purge.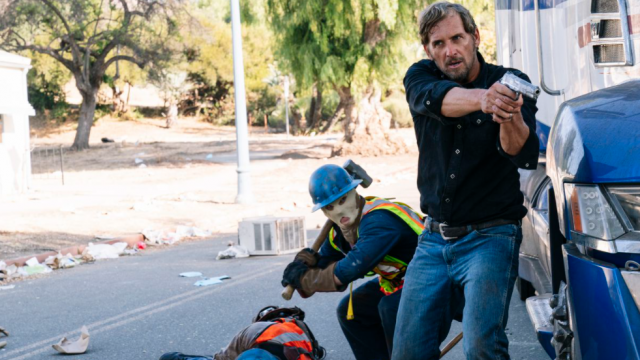 For those who thought that The Forever Purge would be something different compared to the last few entries in the franchise, think again. Other than location and some character motivation, there's not much to separate The Forever Purge from its numerous predecessors. The film is still a ragtag group of people coming together to survive the worst that the country has to offer on purge night. This time, though, there isn't an end in sight which, ironically, is how this franchise is beginning to feel. There could literally be a Purge film for every city, state, nationality, culture, etc., at this point. The creativity and purpose of this series is long gone and its political and/or cultural critiques are outdated, regressive, and, frankly, boring.
Creator James DeMonaco, who has surprisingly written every installment, ran out of things to say a long time ago while also offering very little continuity or connective tissue between all five films. It's quite astounding for one franchise to tackle numerous different ideas but not really do any of them justice across its entire existence. It's also amazing that a film series written all by one person has almost no identity either. Again, the 2013 Purge isn't anything spectacular but there was a unique idea at its core. Anarchy upped the ante a bit and introduced a decent protagonist in Frank Grillo's Sergeant while arguably being the best film in the bunch. Since then, it feels like each new entry focuses on a hot button issue but without anything intelligent or unique to say about anything. Then the same old story is repackaged into something as equally generic for the next go-round. This isn't to say political opinions or social issues aren't important in general. Yet, there's so little substance to these Purge films that it's difficult to take them seriously, let alone take away any powerful message.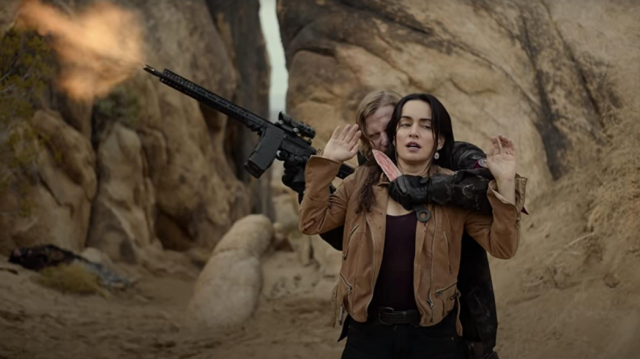 That being said, let's look on the brighter side for a moment. As has been the case with all the films, The Forever Purge is a very competently made film. Everything from the acting to the cinematography to the special effects is done quite well. Even with all of the criticism we lumped onto this film and the series in general, we can't say that any of the installments are particularly bad. There's still an appeal and the purge event in general is an interesting discussion point. However, it's still just spectacle. The big action scenes, gore, and especially the purge masks all promote a "style over substance" mentality. While Juan and Adela could be the two most interesting characters to ever be featured in a Purge film, their societal issues and tragic backstories have basically no impact on the film's outcome. The film is largely devoid of any of the culture that it's trying to promote and it just doesn't have anything interesting to say about, well, anything.
Our Score
While our criticisms here may be quite harsh, The Forever Purge is still a perfectly watchable film. If you liked the rest of the films in the franchise, there's really no reason not to like this one. Though, if you're looking for something more out of your action/horror films, The Forever Purge will fall seriously flat. The tension between characters like Dylan and Juan is so stereotypically overdone to the point of being laughable. As previously mentioned, the series' creativity is long gone at this point and there's no need for any more Purge flicks. Still, very little gets resolved by the end of the film meaning that there will probably be another one anyway. Even though the first few films had some interesting ideas, James DeMonaco has been coming back to a well that has been dried up for a long time now. It's hard to believe that this series would attract any new viewers at this point and, at some point, fans are bound to get tired of the same old schtick. Despite a name like The Forever Purge, we can only hope that this is a series that has taken its last ride for its own sake.