Does anyone remember a little 1988 film called Rain Man? It was only the highest grossing film in the United States that year and went on to win Best Picture at the 61st Annual Academy Awards. It also featured some of the best performances of both Tom Cruise and Dustin Hoffman's respective careers. The latter even won an Oscar for his work on the film. So, what does any of this have to do with a movie called The Peanut Butter Falcon? At its core, The Peanut Butter Falcon is the 2019 version of Rain Man with its winning formula of drama, comedy, and heart. It also marks possibly the best performance of Shia LeBeouf's strange and eccentric career.
The film was written and directed by Tyler Nilson and Michael Schwartz. The duo met the eventual film's co-star Zack Gottsagen at a camp for disabled actors back in 2011. After expressing mutual interest in working together, Nilson and Schwartz shot a proof-of-concept video before landing funding for their feature. This film also marks the feature length narrative debut of both Nilson and Schwartz.
The Peanut Butter Falcon is essentially a modern retelling of Mark Twain's work with the character of Huckleberry Finn. It sees Zak, a young man with Down syndrome, living in a nursing home while constantly rewatching old wrestling VHS tapes and dreaming about becoming a professional wrestler. Zak obsesses about being trained by his favorite wrestler, the Salt Water Redneck (Thomas Haden Church), at his wrestling school in North Carolina. He enlists the aid of an elderly resident named Carl (Bruce Dern) to help him escape to live out his dream. Zak escapes the nursing home in only his underwear and stows away on a fishing boat. Here, he meets Tyler (Shia LeBeouf). Tyler is a rough-around-the-edges fisherman and thief who sparks confrontation between himself and other fishermen, Duncan (John Hawkes) and Ratboy (Yelawolf). He steals their crabs and burns their equipment which causes him to flee to Florida.
Upon discovering Zak on his boat, Tyler begrudgingly allows him to tag along temporarily before acknowledging that they're both on the same path as men on the run. The two strike up a friendship and learn from each other on their journey to escape from the oppression they've faced. Tyler promises to get Zak to his wrestling school while on his way to Florida. Duncan continues to search for Tyler while Eleanor (Dakota Johnson), a nursing home employee, tries to track down Zak and bring him home.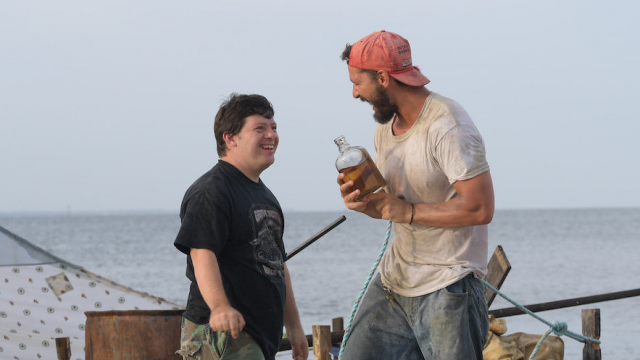 While the whole wrestling side of the plot seems kind of ridiculous on paper, it doesn't dominate the bulk of the story and it plays out well in execution. For anyone who may be turned off at the idea of The Peanut Butter Falcon being a "wrestling movie," it's definitely not that. It's more of a mix between the aforementioned Rain Man and 2016's Swiss Army Man. This film is about friendship, differences, and acceptance. There aren't a ton of events that drive the film as it's all about interaction. Tyler and Zak do meet an interesting cast of characters on their journey but the story rarely strays from the bond that the two have created with one another.
The characters are certainly what drive The Peanut Butter Falcon. Of course, Shia LeBeouf's Tyler and Zack Gottsagen's Zak (who we'll get to) steal the show but they're not without some great support. Dakota Johnson's Eleanor is a great addition to the duo of runaways. She comes from a place of caring and responsibility but doesn't realize that she's also part of a bigger problem. Without spoiling anything, there's a wonderful scene where Tyler explains to her why her words come off as almost derogatory even though she's only trying to help. Again, we won't spoil the scene here but it's one of the highlights of the film and a very moving assessment by Tyler. Bruce Dern is also excellent during his limited screentime. It would've been nice to maybe see a little more of him. Thomas Haden Church has an amusing role as the Salt Water Redneck and also is able to bring some more emotional weight to the story. Also, WWE Hall of Famers Jake "the Snake" Roberts and Mick Foley make cameos in the film to contribute to the wrestling storyline in the film.
Shia LeBeouf's Tyler and Zack Gottsagen's Zak are an unlikely duo but their relationship is the emotional crux of the film. Frequently, Zak reminds Tyler that he has Down syndrome but Tyler explicitly states that he doesn't care. Given Tyler's coarse nature, this should come off as being rude. Yet, LeBeouf's maintains a perfect balance with his straight shooting, tough guy persona dashed with a troubled past. Viewers learn more of Tyler's story as he opens up to Zak and his barriers are broken down. Tyler isn't a bad guy but he has experienced a heartbreaking past. This very well could be LeBeouf's best performance of his wild career and it's definitely good to see him refrain from some of the volatility of his other recent work. Zack Gottsagen in his first feature length role is outstanding. Films like 1998's There's Something About Mary and 2005's The Ringer feature characters with disabilities to play for laughs. While Gottsagen is very funny in The Peanut Butter Falcon, the comedy isn't poking fun at disabilities. Again, it's all from interactions between the characters. The film understands how to make viewers laugh without being vulgar or offensive.
There's not much negative to say about the film overall. However, it does drag slightly at the end. At only 97 minutes, it starts to feel long as the story reaches its climax. The events onscreen are important to the story and fun to watch but the ending is the only part of the film that seems to stray from the relationships. It may only be for a few minutes but, unfortunately, it's very noticeable. Also, the story itself doesn't really offer much in terms of surprises, twists, or turns. Everything is pretty straightforward and about what you expect. Though these things can be looked at as negatives, they're extremely nitpicky in a film that's this good.
Our Score
Overall, The Peanut Butter Falcon can be ranked among the year's best movies up to this point. The film is probably closer to a 4.25 out of 5 stars but, since we don't do quarter star ratings, we'll leave it at a 4.5. If it wasn't for the other recently reviewed emotional dramedy, The Farewell, The Peanut Butter Falcon would no doubt be a 4.5 on this site. Regardless, this film is simply excellent and a must watch in 2019. The cast of characters alone are worth the price of admission. In addition to the story and characters, the film looks and sounds wonderful as well. There's some breathtaking cinematography and a great soundtrack backing Tyler and Zak's journey. Once again, The Peanut Butter Falcon ranks among the top films of the year and is an absolute standout as we approach Oscar season.