Well, it has finally happened. Hell has frozen over. Pigs are flying. A legitimately good adaptation of a popular video game franchise has finally hit the big screen. It may even be the best adaptation to ever come out of Hollywood. Seriously. Roar Uthaug's Tomb Raider is a surprisingly fun adventure that aims to satisfy gamers and moviegoers alike. While many adaptations have aimed to do this in the past, the 2018 version of Tomb Raider actually succeeds for the most part.
The franchise got its start in 1996 with the release of Tomb Raider on the PC, PlayStation, and Sega Saturn. The game was critically acclaimed following its release and series protagonist Lara Croft became a household name in the gaming world. There are sixteen games in the series with the seventeenth, Shadow of the Tomb Raider, on its way this September. Lara Croft has been through a number of ordeals over the years as the series has gone through a few "eras." The character has spanned across a handful of different consoles and has, of course, gone through the remake/reboot treatment as well. The most recent era of games began in 2013 and has been critically and commercially successful.
Obviously, with the continued success of the video game franchise, there were going to be movies. In 2001, Angelina Jolie's portrayal of the main character hit the big screen in Lara Croft: Tomb Raider. That film is an absolute disaster and most certainly a product of its time. It feels like a cheap ripoff of films like The Matrix and The Mummy without any of the charm. Though, Jolie does look and act the part as Lara. You can tell that the filmmakers tried to make the movie like the games, right down to Jolie's ridiculously padded bra, but it comes off as lifeless and isn't a suitable first foray for the character. Somehow, a sequel was made, Lara Croft Tomb Raider: The Cradle of Life, which didn't pan out any better than its predecessor.
Now, in 2018, the series has gotten a fresh coat of paint. The plot of this new film sees a new Lara Croft played by Alicia Vikander. Lara lives a carefree and destitute life following the disappearance of her father, Richard (Dominic West). Richard's business partner, Ana Miller (Kristin Scott Thomas), convinces Lara to claim her inheritance by acknowledging her father's death before everything is sold off. He leaves Lara a puzzle box which she solves and then gains access to his secret office. She discovers that he was researching Himiko, the Queen of Yamatai, who's said to have power over life and death. Lara decides to seek out Lu Ren (Daniel Wu) in Hong Kong to help her sail to the dangerous island where her father was searching for Himiko.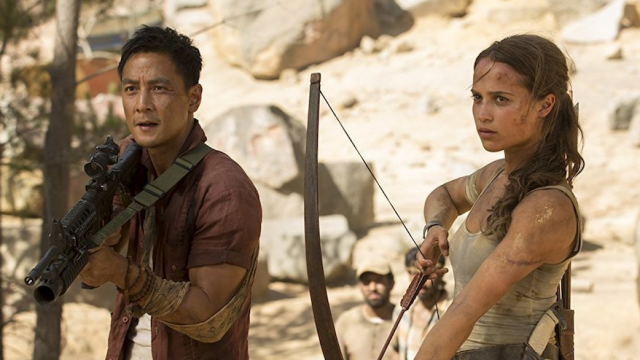 For the most part, the plot of the film is pretty standard. When broken down to its core, it's about a girl searching for her father. Unlike many films based off of video games, this one actually follows the plot of the first game in the reboot series with some slight changes. Unsurprisingly, Tomb Raider is all the better for it. There's a reason that these video game franchises have the success that they do. It it's not broke, don't fix it. The filmmakers stick to what the series is known for here and, although the plot is a little bland, it gets the job done. It's not like 2008's dreadful Max Payne where the filmmakers essentially changed the entire character. Tomb Raider does everything just right.
In April 2016, it was nice to hear that Alicia Vikander would be taking on the role of Lara Croft. She was fresh off of an Oscar win for Best Supporting Actress and a legitimate talent. Angelina Jolie did a decent enough job for her version of the character but the objectified sex symbol approach wasn't going to work this time around. Vikander's Croft takes an absolute beating throughout this film and displays her cunning intellect and toughness in nearly every scene. One minor complaint could be that she just kind of has these abilities from the get-go. However, for gamers going into this film, you don't really need much of an explanation if you're familiar with the character. Either way, Vikander does a good job with the character and feels like a legitimate action hero.
The rest of the cast is pretty good as well. Daniel Wu as Lu Ren provides the closest thing to a comic relief character as a drunken sailor. Dominic West has a legitimately schizophrenic performance and drives the plot forward through flashbacks and voiceover. He's good in the role overall but he's basically just spouting off exposition for most of the film. That's not really his fault as he's just following the script. His exposition isn't necessarily distracting but it's definitely something to note. Walton Goggins stars as the film's villain, Mathias Vogel. As per usual, Goggins does a great job being likable, yet sleazy, as he uses Lara to locate Himiko. Goggins has consistently been underrated throughout his career but it's nice to see him get a bigger role in this film.
The best thing overall about Tomb Raider is its tone and style. The film itself looks wonderful and it accomplishes something that very few video game adaptations do. It actually feels like a recreation of the video game. As obvious a goal as this should be, very few adaptations come even remotely close. There are parts of Tomb Raider that feel like the cinematic elements of video games like the Uncharted series, which is kind of a spiritual successor to Tomb Raider anyway. For instance, there's a scene where Lara escapes captivity and comes across an old rusty plane near a waterfall. While on the plane's wing, it starts to break off. Then, after she makes it inside the plane, it begins to dislodge from its resting place. Again, this is something you see often in cinematic video games and it makes sense to include it here.
Our Score
While it's almost a certainty that Tomb Raider will polarize fans of the franchise, it's truly not a bad movie. In all honesty, it's as good as they come for a video game adaptation. When it comes to adaptations, fans look back fondly on films like Mortal Kombat despite being unbelievably hokey. At the time, it worked and sort of enhanced the video games themselves. This is definitely the case with Tomb Raider as well. While watching this film, gamers will get the itch to play their favorite titles in the series or even other adventure games like the aforementioned Uncharted series. Not only is Tomb Raider a legitimate film adaptation of a video game, it succeeds at being an entertaining adventure for anyone to enjoy.