When it comes to films about motherhood, there are so many options to choose from. They span across numerous genres and their content ranges from simple, down-to-earth stories to the bizarre. Titles like Rosemary's Baby, Stepmom, We Need to Talk About Kevin, and all the way up to the insanity of last year's aptly named mother! each offer different approaches to motherhood but also have interesting things to say about the subject. Jason Reitman's new film, Tully, is no different in this respect and is an amalgam of all things good and bad about being a parent.
Surprisingly, this is the first time Reitman's name has come up on this site. Sure, he doesn't push out new films as frequently as some filmmakers and he hasn't had a lot of buzz around him in a while. Yet, he has proven himself to be a very solid filmmaker in the past. The most impressive examples of his work come in the form of 2007's Juno and 2009's Up in the Air. Both films were nominated at their respective Academy Awards ceremonies for Best Picture and Best Director among others awards. In addition, screenwriter Diablo Cody brought home the Best Original Screenplay Award for Juno. Reitman and Cody teamed up a second time for 2011's Young Adult. Though, Young Adult didn't receive the accolades that Juno had previously. It's no surprise, then, that the two attempt to catch lightning in a bottle once more with Tully.
The film centers around a struggling mother named Marlo (Charlize Theron) as she attempts to raise three children. Her husband, Drew (Ron Livingston), is busy with work and is somewhat blind to the burden of motherhood that Marlo must overcome. Following the birth of their third child, Marlo's brother, Craig (Mark Duplass), and his wife, Elyse (Elaine Tan), hire a night nanny for Marlo and Drew. The nanny, Tully (Mackenzie Davis), arrives on the scene and immediately shoulders the weight of Marlo's problems while also helping Marlo to rediscover herself.
Firstly, the acting is absolutely stellar across the board. Charlize Theron has shown incredible range in recent years with her diverse roles in films like Mad Max: Fury Road, Atomic Blonde, and now Tully. For her role as Marlo, Theron put on nearly 50 pounds of weight to look the part of a depressed woman who has given up on herself. Ron Livingston almost plays an older and more submissive version of his character, Peter, from Office Space. Drew is basically Peter had he not made his transformation in that film. In addition to Theron, though, Mackenzie Davis is excellent as the free-spirited Tully. She embodies the very idea that most people have in their mid-20's of doing whatever they please without repercussion. She also complements Theron's Marlo extremely well as they establish a close friendship throughout the film.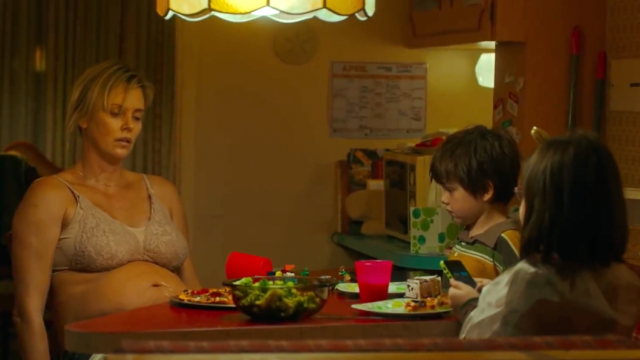 Other than the acting, the best thing about Tully is in its realistic portrayal of motherhood. Drew and Marlo's marriage isn't a particularly strained one but they are somewhat distant towards each other. While Drew appears to be the primary breadwinner of the household, Marlo is on maternal leave from her job and is stuck at home 24/7. On top of having a newborn baby, their son, Jonah (Asher Miles Fallica), has special needs (presumably some form of autism) and is having trouble at school. While Jonah takes up much of Marlo's time, the eldest daughter, Sarah (Lia Frankland), is sort of lost in the shuffle. The film exceeds at showing the sheer exhaustion of motherhood and the inability to focus on one's own needs in addition to children's. For you single mothers out there, you'll feel right at home with Tully.
Speaking of the single mothers audience, this film certainly feels like the spiritual successor to Reitman and Cody's teen pregnancy dramedy, Juno. With Juno being released in 2007, Tully is the eleven years older version of a similar story. Much of the teenage and young adult crowd that the former film attracted have aged to the point that the struggles in Tully now feel more pertinent. This time around, raising children is at the forefront of the story as opposed to the pregnancy itself. One would have to believe that Jason Reitman and Diablo Cody knew that the two films would be linked by audiences. If so, it was definitely smart of them to target a similar demographic but over a decade down the road.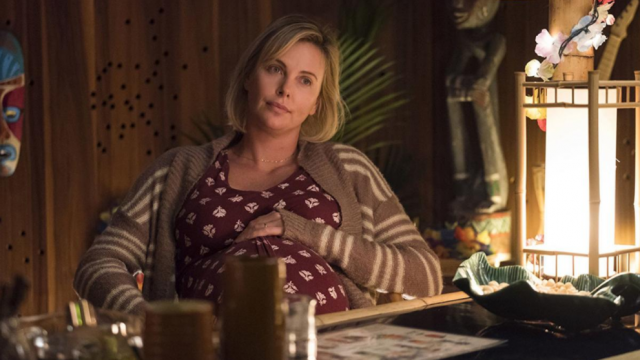 When it comes to negative aspects about Tully, there aren't many. Sure, there are going to be people who aren't fond of the film's portrayal of mental illness. There are also many who may be offended by how neglectful both Drew and Marlo appear to be at times as they're willing to pawn their kids off on a complete stranger. However, humans are not perfect and when your life is littered with constant difficulty, you hit a breaking point. That's clearly what Tully is. It's the breaking point for an exhausted mother who can't seem to get ahead. While it is sad that her children suffer, Charlize Theron's Marlo suffers just as much.
Our Score
With Tully, Jason Reitman and Diablo Cody may not reach the heights that they had with Juno, but this is still a great effort. The thing that will hold this film back the most is in its relation to its spiritual predecessor. It's unfortunate but there's also no shame in keeping such good company either. Charlize Theron is in top form along with an excellent performance by Mackenzie Davis in the title role. The portrayal of real-life struggles in a realistic way will resonate with anyone that is a parent or has been around a similar situation. For fans of Juno or people who finds themselves in the throes of parenthood, Tully is the film for you.