For most of you reading this, you'll likely remember the public scrutiny that befell George W. Bush's time as president. Following the events of the terrorist attacks on the World Trade Center and the Pentagon on September 11th, 2001, patriotism overtook the nation. Not long after, though, Americans soured on the borderline buffoonish Bush administration and, of course, Hollywood hasn't held back in spoofing it. Will Ferrell famously portrayed the 43rd President of the United States of America frequently on Saturday Night Live while Josh Brolin starred in W., the 2008 Oliver Stone biopic on Bush. In addition, he has been spoofed on shows like Family Guy and South Park. Apparently, Hollywood isn't done with this era of the presidency as moviegoers return to the Bush administration via Dick Cheney in Adam McKay's new Oscar nominated film, Vice.
Before continuing, it should be noted that the intents and purposes of this review are not to critique George W. Bush's presidency or to engage in any political speak whatsoever. After all, McKay's film is a biopic about Cheney, Bush's vice president. Though, it's obvious that the buildup of the film leads to the inevitable terrorist attacks and the goings-on in their wake. Frankly, it's tough to talk about Bush or Cheney without these things coming up. Going forward, the focus of this piece will be a discussion of the film's performances, structure, tone, and overall message.
The film opens with Dick Cheney (Christian Bale) and other White House officials responding to the attacks on September 11th before flashing back to Cheney's time working as a lineman in 1963 Wyoming. His struggles with alcohol lead him to drop out of Yale University and put his marriage to his wife, Lynne (Amy Adams), on the rocks. Lynne gives Cheney an ultimatum to either get his life together or she'll leave him. In 1969, Cheney finds himself as an intern during the Nixon administration working under Donald Rumsfeld (Steve Carell). The film continues to chronicle Cheney's ups and downs in politics as he moves up the ranks through the Gerald Ford era before successfully winning Wyoming's sole seat in the House of Representatives during Jimmy Carter's presidency. Later, as the CEO of Halliburton, an oil field service company, Cheney removes himself from politics until George W. Bush pursues him to be his running mate.
As a whole, the film does a good job touching on the highlights of Cheney's career while also balancing out politics with home life. The film delivers a united front for the Cheney family as Lynne spearheads the representative campaign following Dick's heart attack and, later, their daughter, Liz (Lily Rabe), wins the same spot in the House that her father held previously. Albeit, this is to the dismay of Cheney's other daughter, Mary (Alison Pill), as Liz speaks out against gay marriage despite Mary being a lesbian. As writer and director, Adam McKay cobbles together an interesting cinematic experience about Cheney who has become known as, arguably, the most powerful vice president of all time. Cheney's manipulative tactics found him instrumental is pursuing the War on Terror during which he insisted a connection between the terrorist group al-Qaeda and Saddam Hussein in Iraq.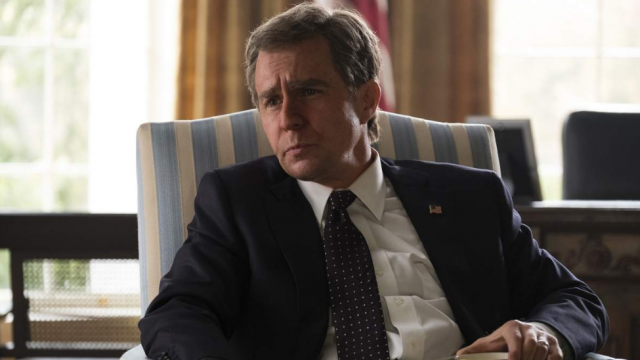 The best thing about Vice overall is its performances. Fresh off of his Academy Award win for Best Supporting Actor in Three Billboards Outside Ebbing, Missouri, Sam Rockwell lands himself another nomination for his portrayal of George W. Bush. While Josh Brolin was decent in the same role in the aforementioned W., Rockwell blows him away here. He looks and acts the part of a relatively inexperienced and impressionable figurehead for the country. Rockwell shows his range here as he reins in a more subdued performance than his usual quirky approach to his characters. Amy Adams also excels as Lynne Cheney. After being snubbed during the 2016 awards seasons for both Arrival and Nocturnal Animals, Adams lands her fifth Best Supporting Actress nomination at this year's Oscars for Vice. As much as the focus of the film is on Dick Cheney, Lynne's support and resolve is often the foundation of her husband's successes.
Obviously, Vice would not be what it is without the work of Christian Bale as the former vice president. Bale's dedication to his craft is often unrivaled in Hollywood. In the past, he has undergone significant body transformation for his roles. For 2004's The Machinist, Bale looked absolutely sickly as he lost 63 pounds. He made a quick turnaround for 2005's Batman Begins where he actually bulked up too much and had to cut weight before filming. For this role, he gained 45 pounds, shaved his head, bleached his eyebrows, and performed exercises to thicken his neck. His calculated mannerisms and speech define his performance as Cheney and landed him a much deserved second Best Actor nod and his fourth Oscar nomination overall. It's Bale's first nomination since his role in Adam McKay's 2015 film, The Big Short.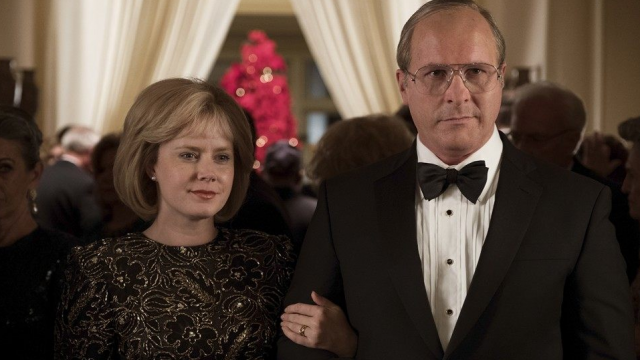 Where Vice really falls short, though, is in its overall tone. Much of writer/director Adam McKay's work throughout his career has been in comedy. With films like Anchorman, Talladega Nights, and Step Brothers under his belt, McKay, on paper, has made quite a transition into his more recent films. Yet, he substitutes bouts of comedy in both The Big Short and Vice for quality storytelling. In The Big Short specifically, he dumbed down some of the more in depth details to pander to the audience. He frequently does the same in Vice as the story is narrated by Kurt (Jesse Plemons), a war veteran. While Kurt's significance to the story is somewhat clever, it too often feels like McKay is treating his viewers like idiots. There's also a moment where the film "ends" halfway through and the credits roll. It's by this time that you realize what Vice truly is. It's just a well made spoof.
Our Score
Overall, Vice certainly isn't bad but, again, it's hard to take seriously. What's unfortunate about McKay's overall approach is that it has been proven in the past that politics in cinema can be absolutely riveting. Even something like Netflix's House of Cards has the now blacklisted Kevin Spacey breaking the fourth wall and speaking to the audience. The difference here is that the early seasons of House of Cards are so suspenseful and you want to know what's going to happen. There are moments of this in Vice as you see Cheney testing the boundaries of his political power. Even other titles like The Post and Frost/Nixon have tackled shady tactics in politics much more seriously than McKay's biopic caricature. It's likely that you won't hate the time you spend watching Vice but if the movie isn't going to take itself seriously, then why should its audience?